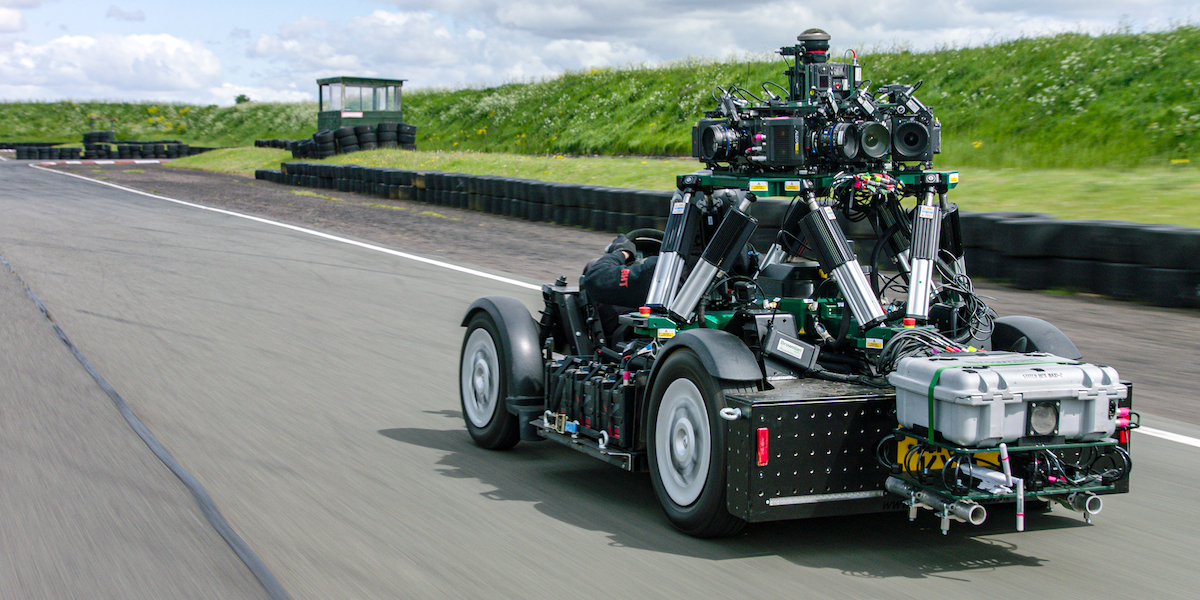 Motion Impossible: Stabilisation on another level
Posted on Jul 7, 2023
Motion Impossible, in partnership with Brownian Motion, has developed ReACTIVE – the world's first 6DOF camera stabiliser to dramatically improve 360 plate production
Advertisement feature
REACTIVE IS A dynamic 6DOF stabilisation platform that helps keep your camera array steady when filming on the go. Minimising the need for post-stabilisation, ReACTIVE takes care of the shakes and bumps while filming. Whether driving or filming from a moving platform, ReACTIVE ensures that your video remains stable and high-quality, so productions can focus on capturing the perfect shot.
Not only does ReACTIVE stabilise multicamera content, but it also collects valuable information about the movement in your shot. ReACTIVE makes it easier to create VFX shots using natural and computer-generated objects, building virtual cameras, or recreating vehicle motion in-camera.
Jeff Brown, CEO of Brownian Motion, explains, "ReACTIVE is a bespoke solution for 360° camera arrays and other large payloads. We specialise in plate shoots for VFX and needed a 360° unobstructed stabiliser that can carry a 65kg payload while keeping the interocular distance of the cameras as small as possible. Most other heads can't provide this – at least not without compromise.
"When the cameras are more spaced out, it increases parallax, making it harder to stitch up footage for volume work. Up to now, we've been hard mounting using rubber dampening to take out high-frequency vibration but acknowledging the limitations of hitting potholes and big bumps in the camera vehicle, which means we can't use those sections of footage due to pixel shear."
REACTIVE CONFIGURATION
ReACTIVE is an octopod platform with silent, high-frequency magnetic actuators. Its pneumatics lift the payload on an air bed and record accurate inertial measurement units (IMU) in the base and top-plate. These maintain stability in reference to the camera vehicle's base.
"One of the reasons we had to develop this was because we couldn't find a system that stabilises a platform from below only. Everything else was coming in around the sides or from above, like standard heads that work for single cameras. And obviously, they're designed to carry a payload in one direction only. To remove all the excess gear around the cameras, Motion Impossible had to come up with a whole new idea of how we stabilise
from below," Brown continues. "With the top-plate system and the payload being up to 65kg, there is now the option to put a rig of any size and configuration on the top, while negating the worry about how those cameras are configured or what directions they face. The result is a clear, unobstructed view around that covers everything in one pass without the need for splitting into multiple stabilised heads."
Key to the system are the actuators that provide force relative to the IMU data. The 6DOF system provides an actively stabilised camera rig platform that stabilises vibrations and shakes in forward/backwards (surge), up/down (heave), left/right (sway) directions and all rotational axes – yaw, pitch and roll.
Most stabilisers do not offer the simultaneous combination of positional and rotational. Vertical travel is always an issue – something generally done with passive spring-mount systems.
The system grants the potential for the IMU data to further power applications. "We could look at using this in volume stages; the exact same data we recorded on location could power a vehicle for the actors to sit in," adds Brown. ReACTIVE is set to radically transform the way we stabilise camera equipment, enabling many shots that were previously inconceivable.
"This is a turning point for Motion Impossible as we release our first stabilisation product in partnership with Brownian Motion via their VFX services. With ReACTIVE, we have fundamentally streamlined and opened up the creative options when producing high-quality 360 plates used in LED volumes," concludes Rob Drewett, CEO.
For more information, please contact [email protected] or [email protected], or visit Motion Impossible's website.
This article appears in the July 2023 issue of Definition. Read the full magazine here.