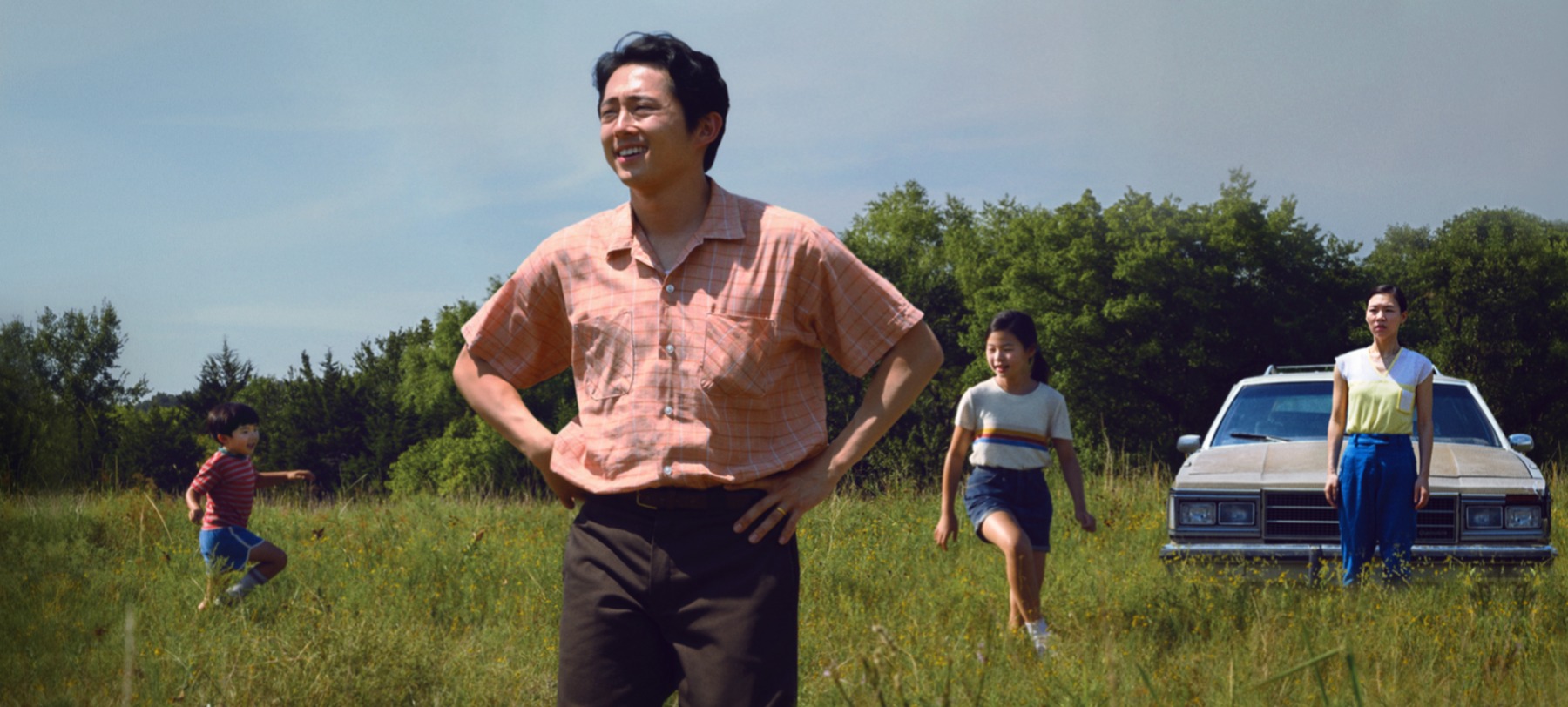 Minari: Organic filmmaking
Posted on Apr 1, 2021
Oscar-tipped Minari pairs a heartfelt, coming-of-age story with beautifully understated cinematography from DOP Lachlan Milne.
Words Chelsea Fearnley / pictures A24 Films
The film Minari almost didn't happen. Before directing the affecting drama about Korean immigrants making a new life on an American farm, Lee Isaac Chung was at a crossroads in his life – debating whether to continue as a filmmaker. A career that was, until recently, largely unknown outside industry circles.
As you may know, Minari won Best Foreign Language Film at the 2021 Golden Globes. This was an achievement the film's DOP, Lachlan Milne, describes as "phenomenal catharsis" for Chung, who is finally receiving the international recognition he deserves.
However, Minari wasn't without its share of controversy. Although it is an American film, directed by an American, more than half the dialogue is Korean. But the Hollywood Foreign Press Association is a conversation for another time, because this Golden Globe win has made Minari a leading contender for multiple Academy Awards, with six nominations. We'll find out the winners on 26 April.
Like Chung, Milne nearly didn't get to work on the film. He had just finished Love and Monsters, when his US agent advised him: "Whatever you do, don't go to the wrap party, don't go out to dinner with everybody. Go home and read this script immediately – I've set up an interview for you with the director tomorrow morning."
Within weeks, Milne was on location in Oklahoma to film Minari. He recognised something special in Chung's semi-autobiographical story about growing up as the son of Korean immigrants in rural Arkansas during the eighties. He recalls: "I'd been desperate for a film like this – purely script-driven, performance-based and simply executed. It was a quick 25-day shoot, but everybody who signed on was doing it for the right reasons and brought a lot of sweat and dedication."
When Milne says sweat, he is speaking literally, since filming took place in the middle of the day at the peak of summer.
"Because of the short production schedule, I didn't have the luxury of shooting at the beginning and end of the day, as most cinematographers prefer," he explains. "So, I decided to lean into the severity of the environment that Jacob [played by Steven Yeun], in particular, was trying to harness on his own. I kept the lighting harsh, I didn't diffuse it or make it feel any more pleasant than it should have, because it was belting hot. Almost 40°C every day. When you see Jacob covered in sweat, he's actually covered in sweat."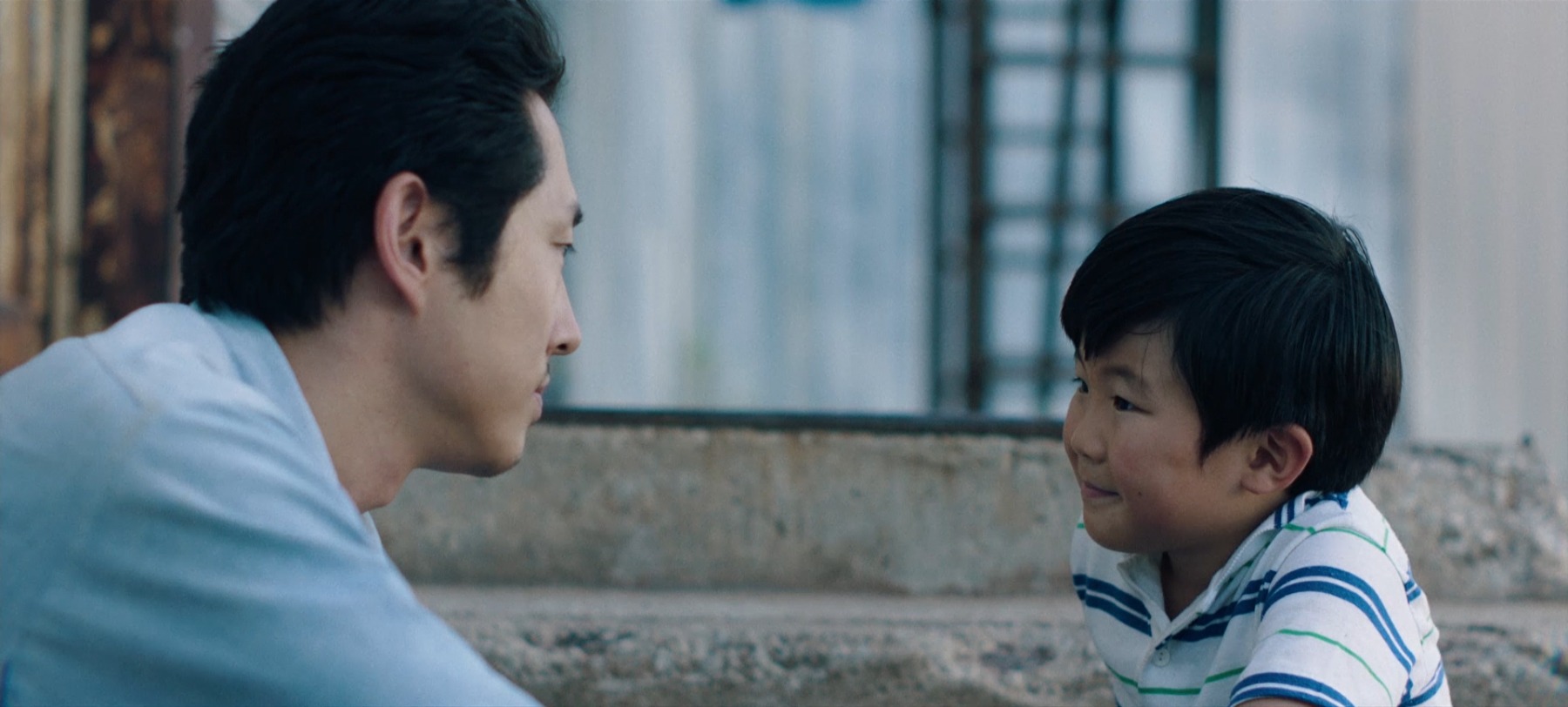 This honest, almost restrained approach to lighting is also how much of the film was executed. There are few cutaways with dolly or crane shots, as Milne was keen to make Minari feel like
a single-camera shoot.
"I'm a huge fan of holding shots for longer and minimal coverage, particularly if the performances are working as part of an ensemble, like they are in this film," he says. "It's an ideal way of controlling editorial pace and giving the viewer the opportunity to look around, picking up extra details in the background that are good for character development."
In addition, some of the most beautiful scenes in the film – in terms of imagery and performance – happened by chance. The shot of Jacob smoking a cigarette on his farm after sunset, for example.
"We had some night scenes to shoot, so, while waiting for nightfall, I decided to get some B-roll images of the sunset. Steven was stood just behind me in the field, still in wardrobe and smoking a cigarette, so I pulled out my camera and started shooting," he explains.
"Isaac peppered it in at a really critical point in the film; a moment of reflection for the character, battling with the question of whether he'd made the right decision to leave the city and pursue the so-called 'American dream'. But it wasn't scripted. I just thought it was a nice image of a man, sweat-stained and smoking, in a huge, empty field by himself, as the sun was about to go down."
"Close ups had to be earned, I don't like shooting coverage for the sake of it"
With shot framing, Milne mostly kept his lens wide, leaning into the beautiful location vistas and encouraging the ensemble performances. "Close-ups had to be earned. I don't like shooting coverage for the sake of it, if it doesn't work with the editorial of the film," he says. "Only go in close when you want an exclamation mark on certain scenes to get the audience to sit up, which we did for key arguments between Monica [Yeri Han] and Jacob."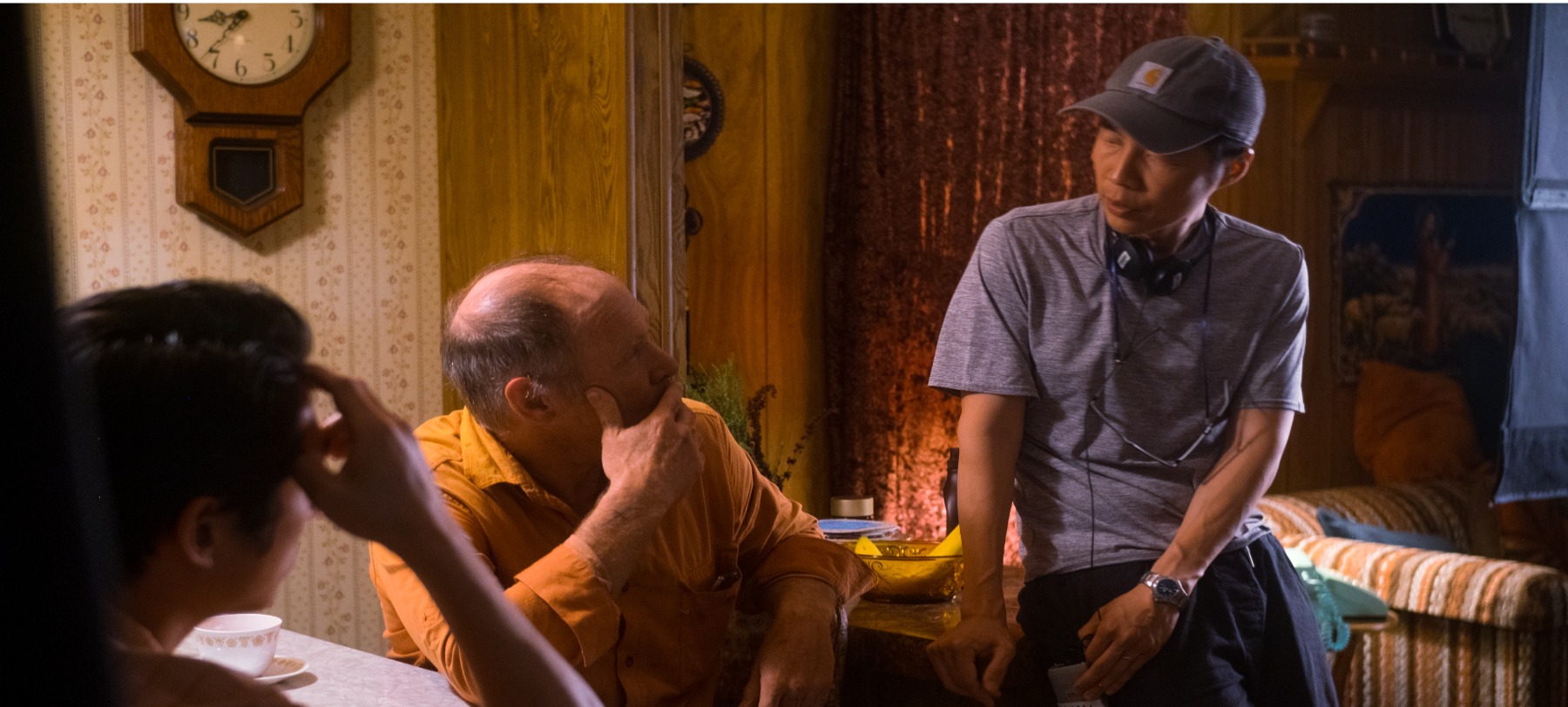 This meant lens focal range was crucial for Milne, and Panavision's vintage primes, which sit between 20mm and 50mm, were perfect. "They've got some fantastic abnormalities, which also benefited the period nature of this film. They're fast, low-contrast and, if you shoot at a wider aperture, tend to be sharp in the centre and fall out of focus around the edges, which we enhanced slightly for a few scenes," he explains.
Milne's camera choice was also logistically driven, because – as well as the beautiful landscape exteriors – a lot of the film takes place in a practical trailer.
"We weren't able to pull the trailer's walls, like you would on a studio set build, where it doesn't matter how big or small your camera is, because you have the freedom to adjust the set and move around," he says. "Most of my work is on the Arri Alexa these days, and I'm really familiar with the Mini, so that seemed like a great choice. Plus, it has internal NDs, which helps when you're working with minors like Alan Kim [who plays David]. He's really great, but often when you put glass filters on lenses, it can become distracting, especially for kids, since it automatically turns into a reflection."
Industry tricks like this also helped Milne when it came to lighting the trailer interiors: "I leaned on practical lighting as much as possible, so I could shoot wide, but also give Alan and the other actors as much freedom to do things on their own terms. In my experience, if you tell a child actor that they can only stand in a certain spot and look in a certain direction, it limits their ability to react and be fluid in their performance," he explains.
"I dressed areas of the kitchen, under the counters and around the bannisters of the hallway with LEDs. It's hard to imagine life without them now. They have such a low profile and can be operated remotely, so my gaffer doesn't need to be standing next to them and occupying space."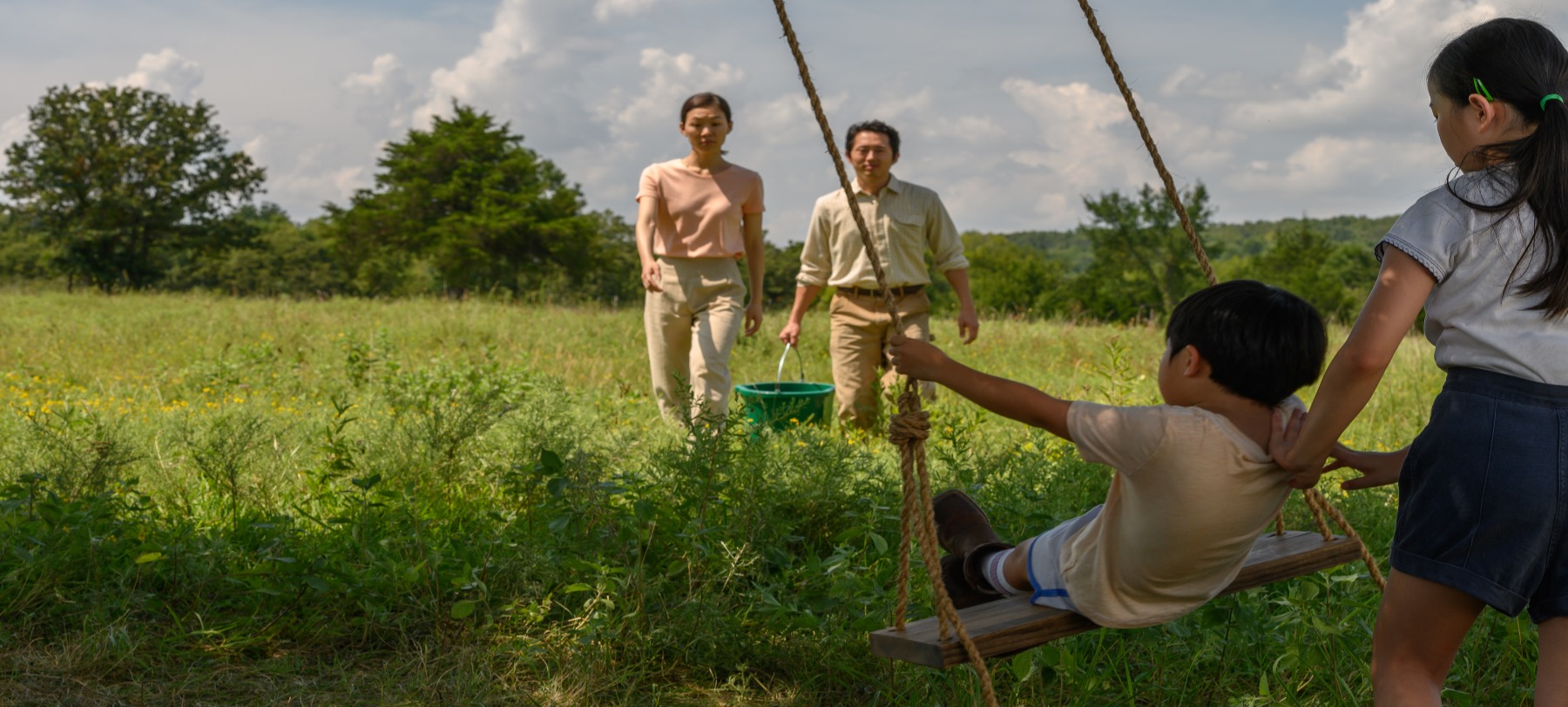 When reflecting on the fantastic performances in Minari, Milne says the final argument between Monica and Jacob is his favourite. They walk out of a Korean supermarket – where Jacob has just secured a deal with its owner – and into beautiful, low sunlight, before Monica reveals to Jacob that she wants to part ways.
"I had scheduled that scene for the blazing sun, so it would be glorious, despite being sad. But it was so hot that day, none of us could even stand in it. We looked around and found shade a few metres away from the back entrance of the supermarket. We got Monica and Jacob to walk over to it, and they end up having this amazing scene behind what is essentially a bland wall, in the interest of it not being so hot," he says.
"But creating that space between them actually worked out better. When the owner takes out some trash, he ends up catching them off guard a bit more, as opposed to almost bumping into them when he walks out, which is what was in the script."
Little moments like this are certainly refreshing, and while hopeful for an Oscar win, Milne is not getting carried away, given the strength of other films contending for best cinematography. He is just hoping Chung will be recognised. "I'm thrilled for Isaac and the success he's getting, given how personal a story this is for him," he concludes.
Minari is now available to rent on Amazon Prime.
Check out our April 2021 issue to see more images from the set of Minari, and to watch the official trailer.