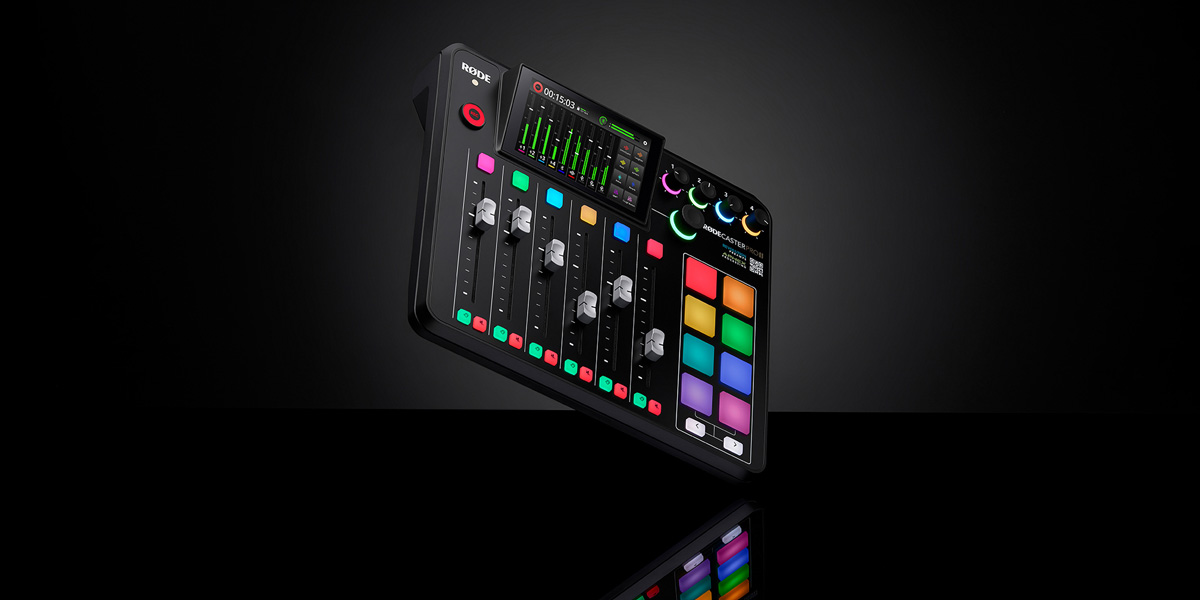 On the RØDE again
Posted on May 25, 2022 by Samara Husbands
Gear up for the world's most powerful all-in-one audio solution for streamers, podcasters, musicians, and all other content creators.
RØDE has devised the most revolutionary innovation in audio to date with the release of its RØDECaster Pro II.
Back in 2018, RØDE revolutionised podcasting when the original RØDE CasterPro was launched, continuing a legacy that traces all the way back to the release of the world's first podcasting microphone, the Podcaster in 2004. Through ingenuous design, the RØDECaster Pro effortlessly combined all the elements typically found in a professional broadcast studio in a single easy-to-use console. Anther world-class achievement. From beginners to seasoned pros, the RØDECaster Pro enables anyone to create high-quality recordings with ease – a familiar sight for podcast consumers, it has become the go-to recording console for the world's podcasters. Its genius doesn't stop there. Since its inception, it has constantly evolved with regular firmware updates delivering enhanced performance and cutting-edge features not purely for podcasters, but gamers, livestreamers and other content creators.
Revolutionary sound, with incredible speed
Unparalleled feature set designed to provide only the best sound for creators as soon as they hit record. It requires minimal editing with itsfour studio-grade Neutrik ® combo inputs for connecting microphones as well as instruments, including guitar, bass, keyboards and others, unlocking a whole new world of creative potential.
With world-class preamps, you can expect pristine audio with any input device. These rival boutique designs, but are a fraction of the price per channel. With an incredibly low equivalent input noise rating of just -131dBV and a whopping 76dB of gain on tap, they deliver stunning clarity and transparency, eliminating the need for lifters, boosters or external processing – even when working with the most demanding of microphones.
There is a full suite of studio-quality APHEX® audio processors which form the foundations, which have been completely remodelled from the original using component level analysis of analogue units to deliver dynamic signal processing.
You may be concerned that these features will come at the expense of usability. Well, worry not as the RØDE CasterPro is very simple to use. Every feature has been engineered to minimise fuss and maximise creativity. The high-definition, full-colour touchscreen works in perfect harmony with the tactile rotary encoder to deliver effortless navigation and control.
Endless customisation, means endless creative freedom
RØDE CasterPro II is fully customisable. It can be adapted to suit any creative recording application, from livestreaming and gaming to podcasting and music production. With its nine individually assignable channels, six broadcast-quality physical faders and three virtual faders, users can design their ideal mixer configuration.
There are eight SMART pads which can be customised to do everything from triggering on-the-fly voice effects like reverb, echo, robot and pitch FX, send MIDI commands to external software and hardware, activate automated mixer actions, and more. There are other on-board effects which also contribute to full cusotmisation. Every setting, from the mixer configuration t SMART pads, as well as entire recordings, can be saved on-board as a 'Show', meaning set-up can be achieved in a matter of seconds.
This makes the RØDE CasterPro incumbent for all types of content creators, multi-functional studios, or production or education facilities that require different setups for different uses.
Unrivalled connectivity
Connect with a wide array of devices to unlock more creative possibilities, streamlined workflows, and easier integration than ever before. The four analogue inputs can accommodate everything from a single microphone for a solo podcast to a full band for a live-streamed concert.
Dual USB-C interfaces work to connect multiple devices with an extra virtual USB channel for connecting chat applications. This unlocks bags of potential for remote podcasting to complex streaming setups.
Advanced Bluetooth® and Wi-Fi connectivity means crystal-clear audio streaming and wireless capabilities, along with superfast data transfer.
The most feature-packed audio production solution
RØDE CasterPro leaves no stone unturned in the feature game. On-board audio editing, mix-minus on the Bluetooth® and USB channels, bi-directional MIDI communication, ten language options, and mute and listen buttons are just some of the features on offer.
This is not all – the quad-core audio engine unlocks a field for feature upgrades and enhancements, and the console will continue to evolve with updates.
The RØDECaster Pro II will be launched alongside a suite of accessories, including the RØDECover 2, a high-quality protective cover, as well as a VESA mount, carry bags, coloured cables, and more.
The next chapter of the RØDECaster story has only just begun.
The RØDECaster Pro II is available to pre-order now for US$699 and will be shipping in June.
To find out more, head to their website.