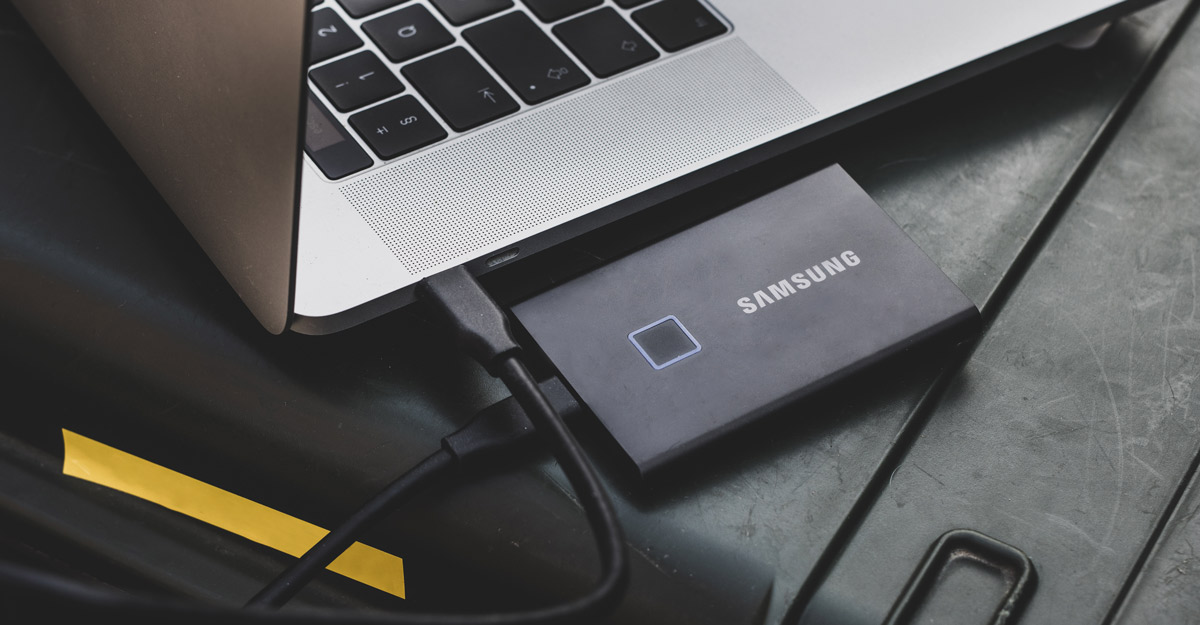 Samsung: The perfect trifecta
Posted on May 26, 2022
Multifaceted creative Matty Graham demands the most from his professional tools – with a fast-paced, light-footed, ultra-secure workflow. Can the Samsung Portable SSD T7 Touch keep up?
Advertisement feature
Matty Graham is the Swiss army knife of filmmakers. He shoots, edits, publishes technical writing, and can even handle the behind-the-scenes stills. He's versatile, to say the least, and expects the same from the tech he employs.
"On the video front, I work for a few YouTube channels and create corporate video. Anything from social media to heavy, documentary-style filming. The pandemic also opened a new door in the education sector: schools saw the benefit of virtual tours and visual marketing. Across the board, it's very multiplatform with a mix of needs," Graham explains.
"I used the Samsung Portable SSD T7 Touch on a recent automotive film. On most jobs, my workflow is to shoot, transfer all the footage to SSD when we've wrapped, then edit directly from the drive back at the studio. Using internal storage is one of the most common pitfalls for many videographers."
Naturally, Graham's rationale hinges on pace. With write speeds of 1000MB/s courtesy of USB 3.2 Gen 2 and advanced internal technology, this SSD is almost 10x faster than many external hard drives. Pitting this against professional editing software, leaving the computer's internal storage unhindered, leads to seamlessly smooth post-production.
"Before I can even begin an edit, the first step is transfer. That's where the Samsung Portable SSD T7 Touch really came into its own," Graham continues.
"I shoot a lot of 4K footage in a day. We're looking at anything up to 400GB. We'll be shooting an A and B camera, plus two action cameras, often.
"Transfers can't take too long. I've got a lot of projects at the same time and am really time-poor. Watching a download isn't getting work done. I need to edit this footage and return it to the client. Anything that streamlines the process is a massive plus.
"I also found the Samsung portable drive has universally fast performance," he adds. "It's not just quick with one device or a single file type."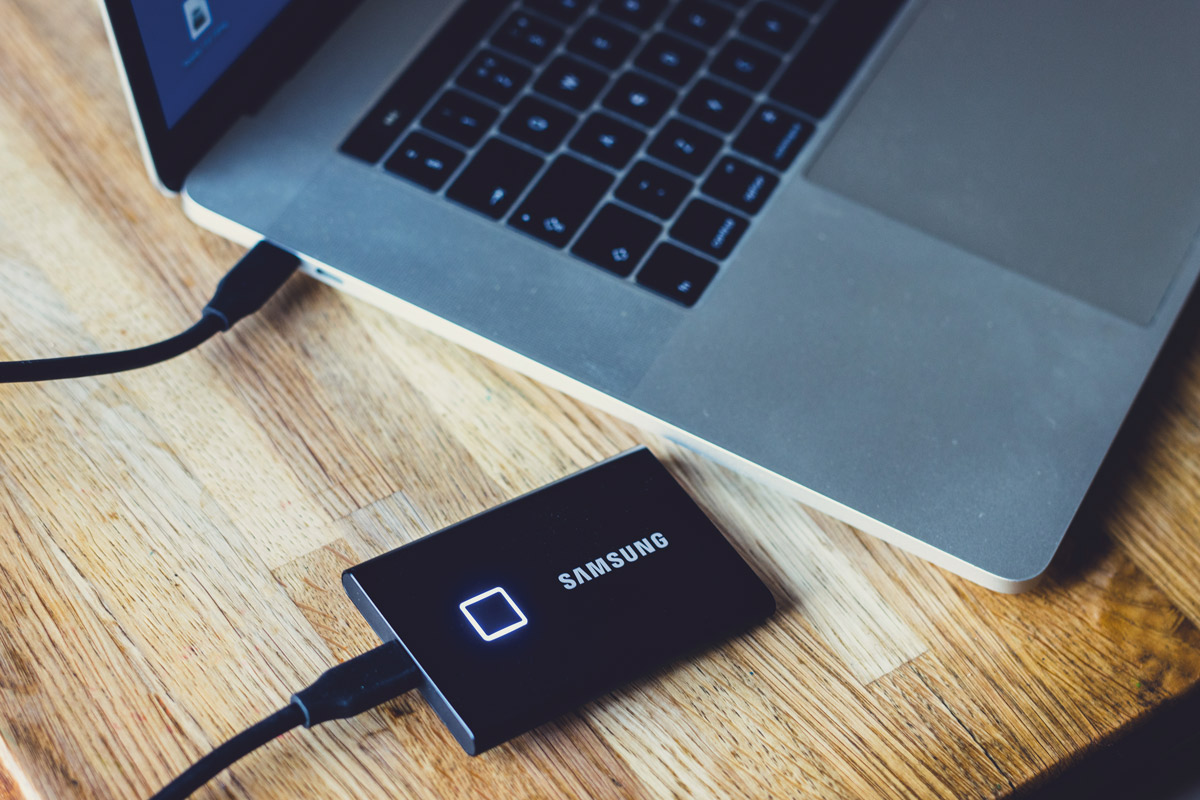 Physical feats
There's more to the Samsung Portable SSD T7 Touch than speed, important as it is. For countless filmmakers like Graham, creation is a dynamic process. The need to grab the essentials and head to the next location is always present.
"If you live inside the studio, the size of an SSD may not be quite as important, but I travel for shoots all the time. You buy a big case and think it's going to hold a lot of kit, but once you start filling it up, you realise every inch is precious," Graham muses. "If I fill a section with a huge hard drive, it means I can't take a lens, so I've compromised on my creative tools. But, I can easily pack six of these in the space I'd fit an ordinary drive."
At 85mm in length and just 8mm deep, the Samsung Portable SSD T7 Touch truly lives up to its title. Camera bag aside, it could be slipped into a laptop sleeve or carried in a pocket if need be. And, at such a compact size, the portable drive's light weight is only natural.
"When editing on a laptop, I typically put a strip of Velcro on the back of the screen, another on the drive itself, then attach them," Graham says. "It keeps things nice and tidy – ideal if you're in a confined space, like an aeroplane seat. With a hard drive, it's not possible – the weight drags the screen down. A 58g SSD, though? That sits there quite nicely.
"One thing that surprised me about the Samsung Portable SSD T7 Touch was how well it dissipates heat. I used it for five or six hours at a time and it barely even got warm. In the past, I've had SSDs that get uncomfortable, and wouldn't want to leave them running at my desk."
It's all part of a refined construction, including sturdy metal casing protecting against drops from 2m. Digital security is another question – and one that Graham stood to benefit from more than most.
"There's a huge onus of responsibility on the videographer to protect footage shot inside schools. Safeguarding is just as important as maintaining the confidentiality of commercial projects. So, the added layer of protection from a fingerprint scanner really appeals. What's clever is, I can add up to four individuals, give the school access to the files without physically being there, or work securely in a small crew on other projects."
Graham concludes his experience with the drive in eloquent fashion.
"An SSD isn't the sexiest accessory in your kitbag, but it is essential. Without one, I can't edit videos – and that's my business. How do we build on that? Well, I want one that's small, offers protection and works fast. The Samsung Portable SSD T7 Touch checks all those boxes."
Visit the Samsung website for more information.