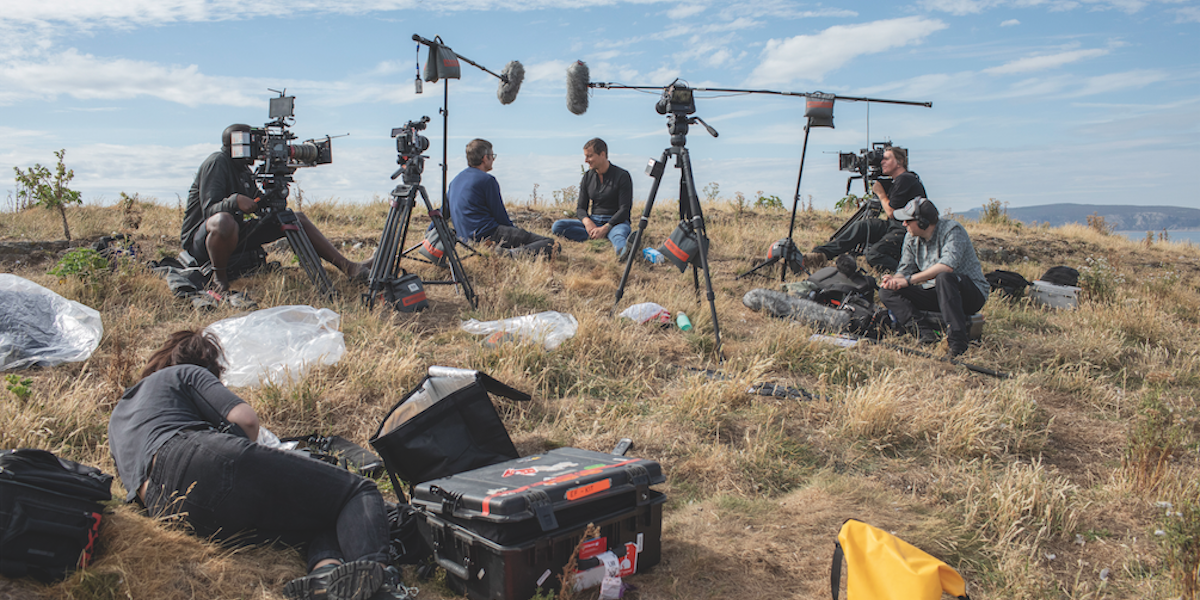 Theroux the looking glass
Posted on Mar 9, 2023
Duncan Stingemore fulfils a career ambition by filming with national treasure Louis Theroux
Advertisement feature
CAMERAMAN DUNCAN STINGEMORE says he owes his career to being in the right place at the right time. The very first email he sent to any production company after leaving university in 2006 was to a production manager at ITV Studios in London – who'd had a runner quit that morning. "She replied immediately asking if I was free to come in right away, and within a couple of hours I was on a train to London to meet her and get started," he says. "She put me on a week-long contract, which became six months, and somehow I've been (more or less) constantly busy ever since."
"Looking back," Stingemore says, "I was amazed to find that in factual TV even the runners and researchers were occasionally given handheld Sony Z1 or EX3 cameras to go off and shoot B roll, vox pops and pickups." What's more, because he had a film degree and past camera use to his name, he gained a lot of filming experience very early on in his career. "That's despite not really knowing what I was doing half the time."
After cutting his teeth on the road with an assistant producer, shooting development taster tapes or short sequences for all kinds of different programmes (the vast majority of which would never see the light of day), Stingemore also assisted highly experienced DOPs on the main shoots, learning all he could along the way.
"After a few years on the production side, I eventually set up a company in 2011 and went out on my own – which was a fairly daunting prospect," he adds. "Fortunately, though, I'd made just about enough contacts by that time to pick up work through the early years – and I've muddled through ever since."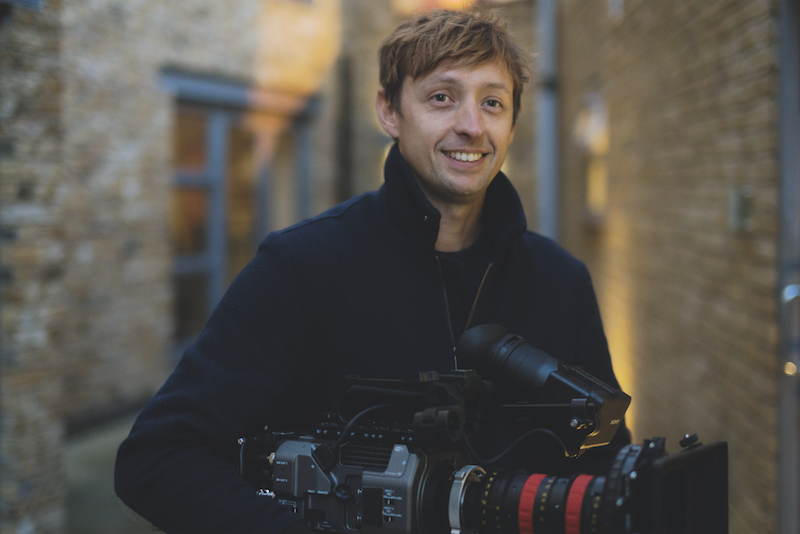 RISING THROUGH THE RANKS
From a 'send-and-hope email' to working on Louis Theroux Interviews… for BBC Two at the end of last year is some career journey, but that's exactly what happened.
The six-part series features a new celebrity subject each week (Stormzy, Dame Judi Dench, Yungblud, Bear Grylls, Katherine Ryan and Rita Ora), with episodes structured around a searching sit-down interview, plus several observational sequences woven throughout.
"I actually came onto the series quite late in the day, once the first three episodes had already wrapped," Stingemore recalls. "I'd been on a different production for Mindhouse [founded by Theroux, Arron Fellows and Nancy Strang], working on a show called Gods of Tennis since the spring, and I knew the production manager Mari Hardwick from a Discovery series we both worked on several years previous.
"She called me in July to see if I was free to cover a shoot one Sunday for the Rita Ora episode," he says. "Having been a huge fan of Louis' films since I was at school, I jumped at the chance."
After getting on well with the team, Stingemore was invited back for another shoot – this time with Bear Grylls a few weeks later. "Then, when the Katherine Ryan episode started filming in September, I was happily free to work it from the start."
Not only was Stingemore brought on quite late, but Theroux's films tend to be shot by their directors rather than DOPs. However, he believes he was fortunate because the programme-makers took a slightly different approach on this series.
"The change in format and high-profile nature of the guests on this series meant that there was a chance to work with a larger crew – and more kit than usual," he explains. "My role on the Katherine Ryan episode was to shoot the observational sequences in a comedy club and day spa, as well as operating on the main interview in her home. The interview itself was beautifully lit by DOP Johann Perry and gaffer Rob White."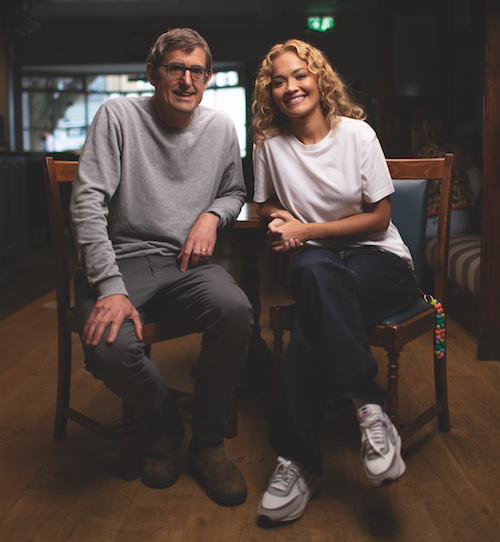 NATURAL LIGHT
Stingemore explains that, when filming observational sequences, the main challenges centre around elements the crew can't control. "Outside the main sit-down interview we would only ever use available light – which can make things quite awkward and unpredictable," he says. "With two or more people moving around any space, it's inevitable that at least one person will end up in either a dimly lit or very bright area. This would mean that, in addition to focus and framing, I'd also have to constantly adjust the iris or variable ND during these very long conversations."
The observational sequences were predominantly shot on prime lenses. As Stingemore describes: "These could be challenging, too, given the erratic nature of what we were filming. But I often prefer using primes to zooms, as in some ways it's one less thing to think about."
He says that using a 35mm on the full-frame Sony FX9 worked best, as it allowed him to get close to the action and still get a nice two shot, but it wasn't so wide that he couldn't move in to get decent singles when necessary. "We would generally start recording and not cut for well over an hour, often until the card or battery needed changing," Stingemore asserts. "This makes it all the more important that the balance and ergonomics of the camera are spot on, and you're not carrying around anything unnecessary. Also, as we typically had no specialist camera assistant and sometimes little idea where the sequence would end up, it could be quite hard to find a balance between packing light and getting everything we needed."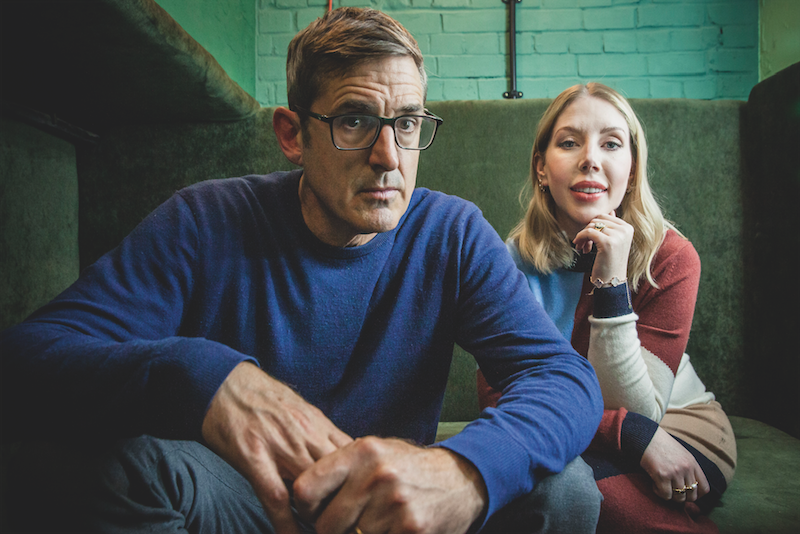 BUYING THE KIT
Once Stingemore decided on what kit he needed, he went back to where he's been going for as long as he can remember.
"I've been buying kit from Aaron George at CVP for years, and have always found his sales support team to be incredibly easy to deal with," he says. "I really should stop buying so much kit!"
Stingemore shot the Ryan episode on his Sony FX9 and Sigma FF Primes. He has a five-lens set (24/35/50/85/135mm), but spent the majority of time on the 35 and 50mm. "Having the variable ND function on the FX9 really came in handy, as it allows you to seamlessly add or take away five stops of ND with the turn of a dial. This was useful when following Louis from outside to inside, room to room, especially if we were unable to control the lighting on location."
Also among Stingemore's arsenal was an Arri LMB matte box, often with a circular polariser, plus a Teradek Bolt 500 sending video wirelessly to the director's SmallHD monitor. In stark contrast to the elaborate master-interview set-ups with five cameras and a lighting truck outside, he explains: "The idea for the observational sequences was to be as light on our feet as possible, so we tried to keep kit to a minimum."
Occasionally, during the more chaotic moments, series director Tom Barrow would film B roll or cross shoot with his Canon EOS C300 Mark III. But for the most part, the team covered everything with a single camera. "I enjoy this style of shooting on the whole. It adds a feeling of spontaneity to the footage, and makes the viewer feel like they're right there in the room," Stingemore adds.
Lately, the fast-paced nature of the industry means opportunities come and go quickly, so Stingemore finds himself needing to get hold of specific items, both large and small, at very short notice. "CVP holds an enormous amount of stock – and the website is brilliantly maintained, saving my skin more than once," he adds.
CVP is home to a full spectrum of production equipment that's ready to see, combine and evaluate. Its creative and technical staff are committed to finding the right solution for every production need. To arrange an online demo, or book a one-to-one consultation, call 0208 380 7400 or visit cvp.com.
This article appears in the March 2023 issue of Definition. Read the full magazine here.