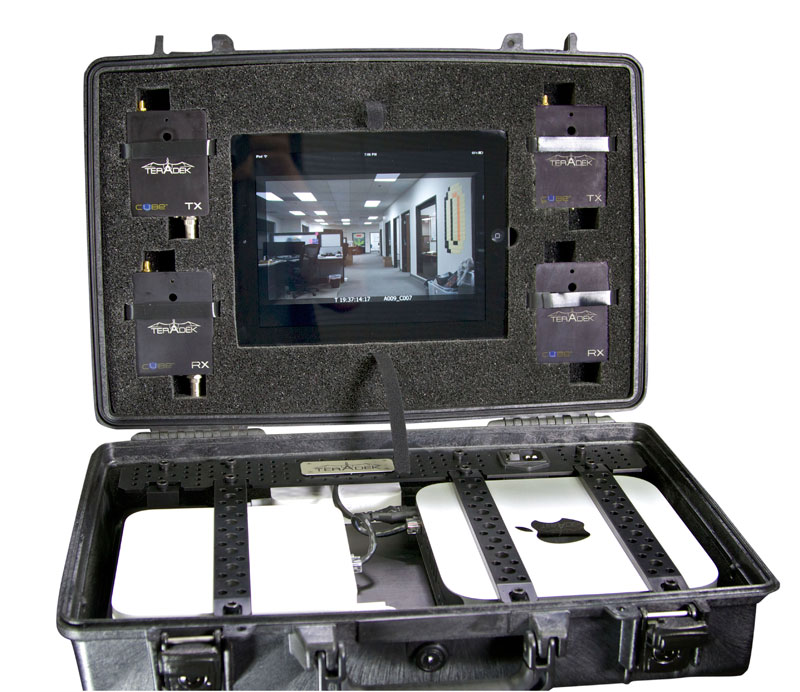 New Gear: Teradek boxes wireless video assist
Posted on Feb 23, 2012 by Alex Fice
The Teradek 'Case' is a bundled product for cinema or broadcast. It will add a proxy file to an Apple computer so you can replay scenes. But could you then use Metadata to write back to the camera's media? iPad not included in the price.IP video specialists Teradek are discovering new ways to incorporate their ability to stream video from cameras with a bundled product seen at a London trade show last week called Case. This new turnkey video assist system uses their original product, the Cube's wireless encoding technology to transmit video with almost instant multi-user wireless access and remote iPad monitoring. Prices start at a £2,495 + VAT.
Cube is pre-configured to begin recording a proxy file automatically the moment record is pressed on the camera. An instant daily is created on a built-in Mac Mini server in .MOV or .MP4 formats. The recorded file shares the file name, start and stop times, and timecode as the original full resolution master. The proxy is available for immediate review on directors' monitors.
Case adds a new level of interactivity to monitoring: with LivePlay, iPad users are able to view takes and add comments with a touch of a button in completely customizable data fields with managed user privileges. Notes are recorded on screen enabling directors to record their commentary directly to the proxy file.
However having that metadata on the Macs and not the camera's media might be a problem if you're trying to attached any usable metadata for use in the edit. XML file compatibility might be a problem when ingesting in to an EDL.
Equipped with Teradek encoding technology, Case is preconfigured for optimal wireless video streaming performance with a powerful wireless access point which can transmit HD video over a range of 300m. It also enables remote analysis over the Internet and video monitoring on up-to 20 iPads.
Teradek also showed their Bond product which uses up to four different mobile phone access points to stream video. This redundancy method was used on the Superbowl final recently to great effect and can only be further developed to give broadcasters a 'go anywhere' cheap solution for live television.