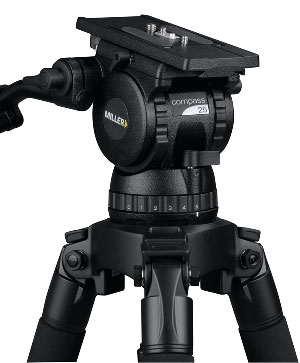 NEW COMPASS 25 FLUID HEAD RELEASED AT NAB2010
Posted on Apr 13, 2010 by Alex Fice
The Compass premium fluid head range will now include a new Compass 25 model with 100mm ball-levelling to suit camera payloads from 4 to 14kgs (8 to 30lbs). The Compass range has proved to be a perfect match for the latest XDCAM, P2HD and highly-accessorised DSLR cameras and now even larger cameras can benefit from the award-winning fluid head design.
The stylish and operator friendly design of the new model Compass 25 Fluid Head incorporates many features including a wide payload range, selectable pan and tilt drag settings and illuminated bubble level in a low profile and lightweight 100mm ball levelling fluid head.
The Compass 25 fluid head has a selectable 4-14kg (8-30lbs) payload range which provides for a variety of camera configurations to be used with Miller's lightweight and compact tripod systems. From XDCAM and P2HD cameras to lightweight HDCAM setups; the Compass 25 fluid head is one of the most versatile fluid heads available. The Compass 25 incorporates 5 settings of pan and tilt fluid drag combined with a four-position selectable counterbalance system.  A quick release camera mounting system utilising the standard Euro camera plate, common to the Arrow range of fluid heads allows the Compass 25 Fluid Head to integrate easily into existing camera support inventories.
Grant Clementson, Managing Director of Miller is excited by the popularity of the Compass and reflects. "Both of our Compass 15 and 20 Fluid head models have been strong performers during their first year on the market. With such a positive reaction for the performance and design of the new Compass range, we are pleased to now offer users with larger camera configurations the option of using our Compass 25 Fluid Head."