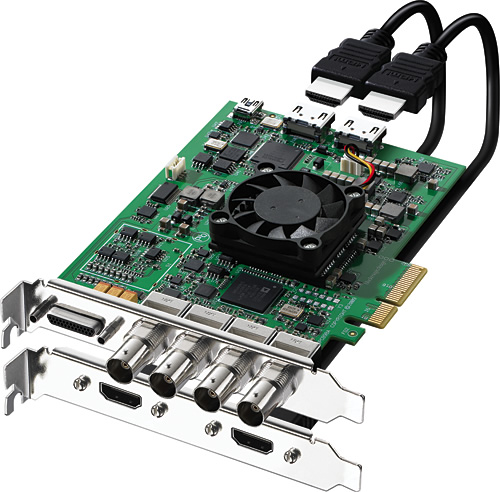 Blackmagic's HDLink Pro 3D
Posted on Apr 13, 2010 by Alex Fice
Blackmagic Design has announced HDLink Pro 3D, a new model of the popular HDLink Pro family of monitoring converters that allows regular and 3D stereoscopic SDI monitoring using low cost DisplayPort displays and the world's first HDMI 1.4 SDI monitoring for the latest 3D televisions. HDLink Pro 3D is available now for only $495.
HDLink Pro 3D supports both interleaved/side by side or dual stream 3D inputs via the two SDI inputs, and supports 3D on compatible computer monitors and 3D HDMI televisions. If customers are using HDMI televisions they only need a DisplayPort to HDMI adapter to allow connection to a HDMI television.
HDLink Pro 3D supports HDMI 1.4 as well as older HDMI 1.3 based televisions. HDMI 1.3 televisions requires customers to select the interleave format for 3D display, while the new HDMI 1.4 standard means HDLink Pro 3D will automatically set the 3D mode in any HDMI 1.4 capable television and allows 3D video for both left and right eyes is sent to the television in full resolution.
HDLink Pro 3D also includes features such as 17 point lookup tables, 6 channel audio monitoring out, and support for 30 inch DVI and DisplayPort displays which allows real time 2K pixel for pixel monitoring. HDLink Pro 3D is ideal for regular HD monitoring using normal 24 inch computer monitors!
HDLink Pro 3D's powerful 17 point 3D lookup tables allow any feature film stock to be simulated so editors can always see the correct colour of the final film output. Popular 3D lookup tables can be loaded for various film stocks, and HDLink Pro DisplayPort is compatible with third party software products for generating lookup tables. HDLink Utility software on Windows and Mac OS X allows full control for adjusting tables and generating custom "looks" for download into HDLink Pro.
When editing with complex 5.1 surround sound audio tracks, HDLink Pro 3D includes 6 separate channels of consumer level audio output which can be connected to a wide range of HiFi equipment for low cost audio monitoring.
"With new exciting 3D workflows, we know there is a need for a full resolution 3D monitoring solution everyone can afford", said Grant Petty, CEO, Blackmagic Design. "HDLink Pro 3D is the perfect solution for perfect quality monitoring in 3D and regular HD and 2K. With the new HDLink Pro 3D, and new DeckLink HD Extreme 3D, Blackmagic Design has a full rage of products ready for 3D work!"
HDLink Pro 3D will be available in late April for US$495 plus a new 3D software update will be released for all current HDLink Pro DisplayPort models that will add the same features as the new HDLink Pro 3D model. This update will be provided at no charge.
HDLink Pro 3D Key Features
Dual Link SDI/HD-SDI input with 3 Gb/s SDI compatibility works in SD, HD and 2K.
Loop though SDI/HD-SDI output with 3 Gb/s SDI compatibility works in SD, HD and 2K.
Monitor using 24 and 30 inch DisplayPort and DVI monitors.
Supports HDMI 1.3 and HDMI 1.4 televisions.
Supports both interleaved, side by side and dual stream SDI inputs for 3D monitoring.
DVI and HDMI displays are supported when used with adapters, not included.
6 channels of RCA audio out, great for monitoring 5.1 surround sound.
Built in 3D lookup tables, also compatible with 1D lookup tables.
HDLink Utility software allows lookup table, settings and software updates via fast USB 2.0 connection on Windows and Mac OS X platforms.
12 volt universal power supply included.
3D lookup table processing available on SDI loop output.
Availability and Price
HDLink Pro 3D will be available in late April for US$495 from Blackmagic Design resellers worldwide.