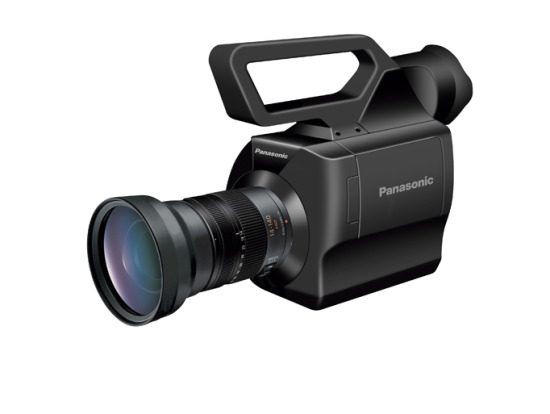 PANASONIC INTRODUCES AG-AF100 4/3" PROFESSIONAL HD CAMCORDER
Posted on Apr 13, 2010 by Alex Fice
Panansonic's new 4/3″ pro camcorderPanasonic Solutions Company has announced a potentially game-changing AVCCAM HD camcorder, the AG-AF100, the first professional micro 4/3-inch video camcorder optimized for high-definition video recording Scheduled to ship by the end of 2010.
Targeted at the video and film production communities, the AF100 delivers the shallow depth of field and wider field of view of a large imager, with the flexibility and cost advantages of use with a growing line of professional quality, industry standard micro 4/3-inch lenses, filters, and adapters. The full 1080 and 720 production camera offers native 1080/24p recording, variable frame rates, professional audio capabilities, and compatibility with SDHC and SDXC media.
The design of the AF100's micro 4/3-inch sensor affords depth of field and field of view similar to that of 35mm movie cameras in a less expensive camera body.  Equipped with an interchangeable lens mount, the AF100 can utilize an array of low-cost, widely-available still camera lenses as well as film-style lenses with fixed focal lengths and primes.
"Designed in consultation with the filmmaking community, the AF100 eclipses the video performance of other cameras in this price range," said Joe Facchini, Vice President of Sales & Product Management, Media & Production Services, Panasonic Solutions Company.  "Ideal for film schools and independent filmmakers, this affordable, digital cinematography camera employs an advanced professional AVC/ H.264 Hi Profile AVCHD codec compatible with a wide range of editing tools and affordable players."
The AF100 incorporates a 4/3-inch, 16:9 MOS imager. The camcorder records 1080/60i, 50i, 30p, 25p and 24p (native) and 720/60p, 50p, 30p, 25p and 24p (native) in AVCHD's highest-quality PH mode (maximum 24Mbps). Ready for global production standards, the camcorder is 60Hz and 50Hz switchable.
The AF100 maximizes the potential of its high-resolution imager with built-in ND filtering and dramatically reduced video aliasing. Standard professional interfaces include HD-SDI out, HDMI, time code recording, built-in stereo microphone and USB 2.0. The AF100 features two XLR inputs with +48V Phantom Power capability, 48-kHz/16-bit two-channel digital audio recording and supports LPCM/Dolby-AC3.
This newest Panasonic AVCCAM camcorder is the first to enjoy the benefits of advanced SDXC media card compatibility in addition to existing SDHC card support.  (SDXC is the newest SD memory card specification that supports memory capacities above 32GB up to 2TB). With two SD slots, the AF100 can record up to 12 hours on two 64GB SDXC cards in PH mode
The AG-AF100 will be available by the end of 2010. Panasonic will support the AF100 with a three-year limited warranty (one year plus two extra years upon registration).