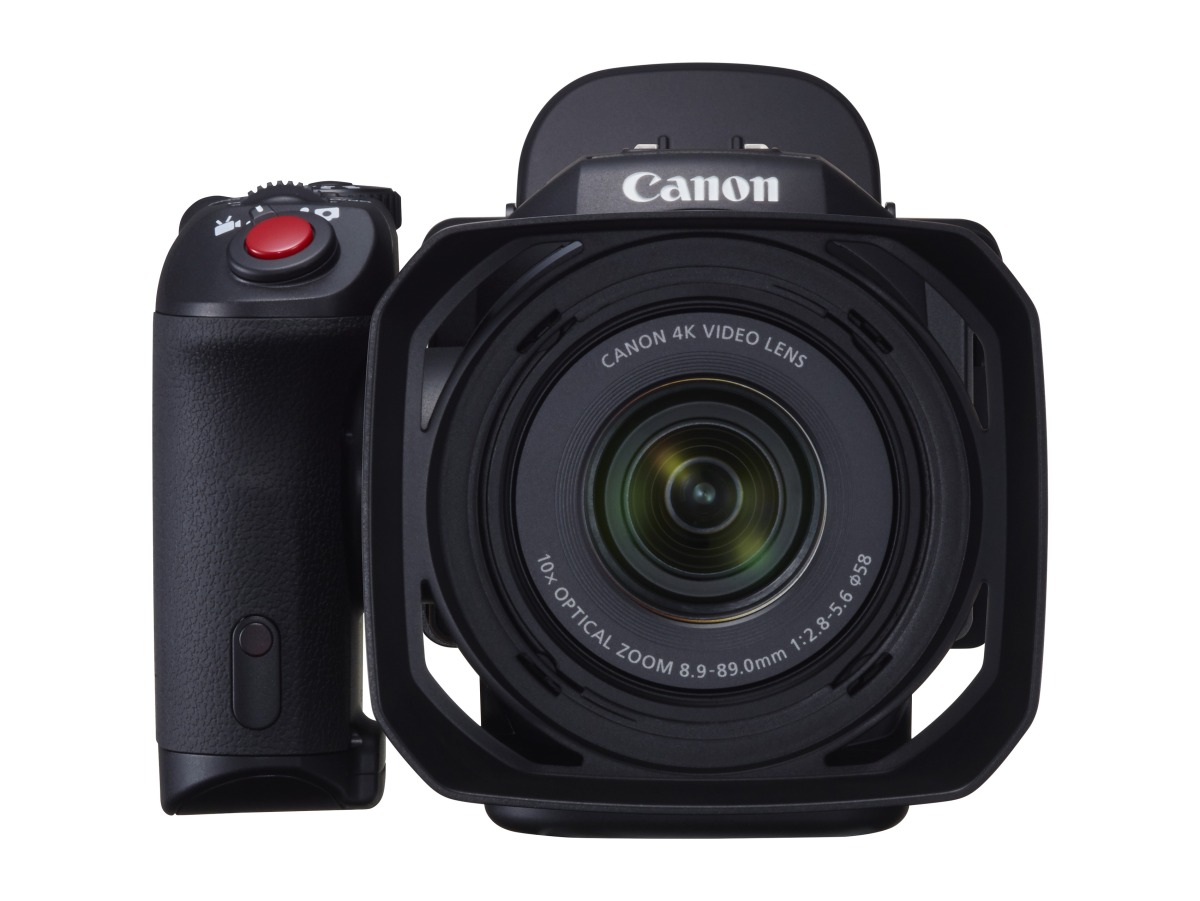 New Canon XC10 4K Hybrid Could Find Drone Home
Posted on Apr 8, 2015 by Julian Mitchell
Some of you may have seen the preview of Canon's new 4k, fixed lens camera in China – an event noted by the presence of Jackie Chan.
Canon have now released full details of the camera (and we've had a brief hands-on). The simplest description of the XC10 that we can come up with is that's it's kind of a DSLR in reverse. Instead of being a stills camera that also does video, it's a video camera that also does stills. So, you get a UHD (3849×2160) 4k camcorder with a fixed zoom lens (27mm to 270mm 35mm equivalent when shooting video) that can also shoot 4000×3000 pixel stills – whereupon the lens becomes 24mm-240mm. The lens aperture ranges from f/2.8 to f/5.6 over the zoom range, with optical image stabilisation, and a handy 3 stop ND built in.
There is a fairly conventional 1" sensor with 12 stops of dynamic range, but none of the fantastic dual pixel autofocus of the camera's bigger brothers. Still, the contrast detection AF seemed to do a reasonable job on the pre-production unit we played with. The lens has a mechanical manual zoom ring and an electronic manual focus ring (of the endless encoder type). I prefer the focus to be coupled directly to the optics – it just feels better that way – but most other video cameras in this price bracket take this approach and it works well enough.
The camera records onto a CFast 2.0 card or SD card – though you need CFast for 4k as the data rate is up to 305Mbps in an 8 bit 4:2:2 version of the new MXF wrapped XF-AVC that is in the C300 MK II. You also get full HD recording at up to 50fps, 50Mbps (H.264 long GOP).
On the back of the camera is a 3" capacitative touch screen LCD with a 2 axis hinge mechanism. There is no optical viewfinder, or EVF, but the camera comes with a detachable loupe for this LCD – though it tricky to use the touch screen with this attached, of course! Fortunately, the menus don't rely on the touch screen.
The grip on the right of the camera has a good range of controls, including the exposure mode selector, click wheel for parameter adjustment (e.g. aperture mode), a cursor control under your thumb, some assignable buttons and the Run/Shutter Release button. The grip rotates with no detents and no locking mechanism – there is simply enough friction to hold it wherever you put it. It's not built for someone with giant mitts, but we found it reasonably comfortable, and the combination of the rotating grip and the articulating LCD makes for some fun shooting angles.
There is basic timecode support (sync through HDMI) and 2 channel, 16 bit 48kHz audio from the built-in mic, or a 3.5mm stereo jack. The XC10 has Canon's browser based WiFi remote control built in – combine that with its light weight (1040g with battery and cards) and I suspect the drone market will go nuts for it.
The XC10 is cute, shoots 4k with a decent CODEC, and will have a MSRP of £1599.99 when it hits the shops in June.