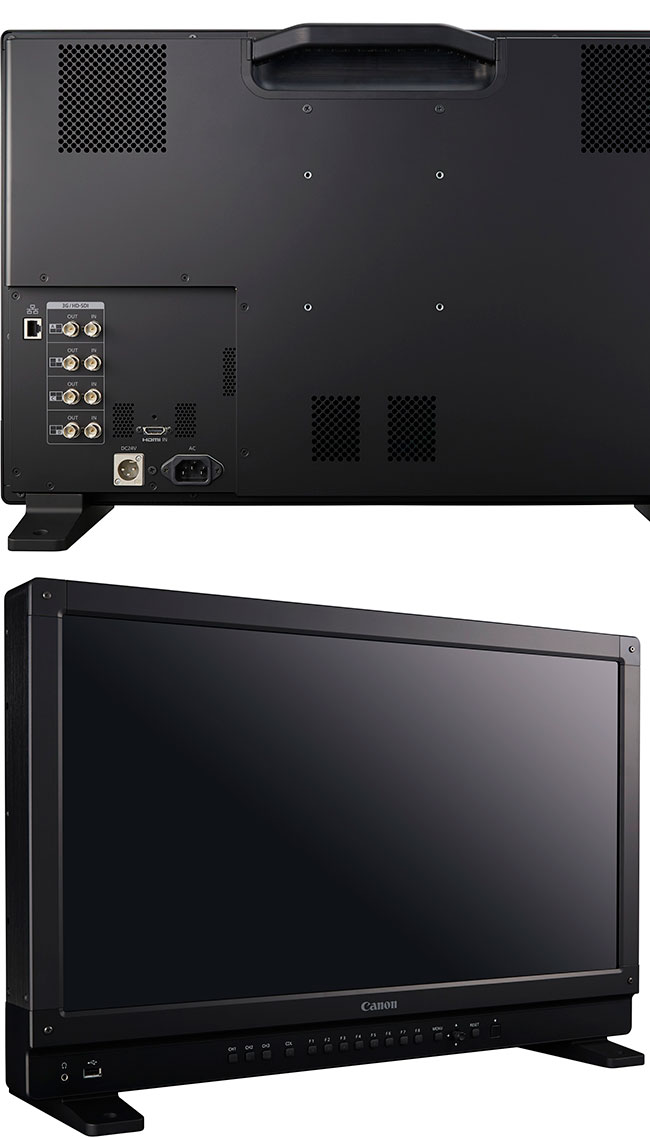 Canon Gets Close To The DITs
Posted on Apr 8, 2015 by Alex Fice
The new DP-V2410 has a built-in debayer and a very big handle.
To complement Canon's 30", 4k monitor, they have announced the DP-V2410 – a 24", 4k monitor aimed squarely at on-set/DIT applications.
The V2410 is a true, grade 1, 4096×2160 resolution display, with up to 400cd/m2 brightness, and 2000:1 contrast ratio. It has a matte screen finish, to reduce reflections in conditions where it's difficult to control ambient lighting, weighs about 12kg and has a rugged construction and sturdy handle for chucking around on location. The unit can be powered by 24v DC.
The brightness available allows the V2410 to display HDR (ish) images, plus there is a built-in debayer for Canon RAW, so you can route a cable from your C300 Mk II, through the monitor to your external recorder for easy on-set monitoring. Of course, 1D and 3D LUTs can be loaded by USB, but the monitor talks to any compatible Canon camera to which it's connected to prevent settings errors.
Inputs are 3G-SDI and HDMI and the display includes a 4k waveform monitor and vectorscope, as well as on-screen audio meters.
The V2410 covers BT.709 and about 81% of BT.2020, which is pretty par for the course with current products.
Expect the DP-V2410 for be around €15,000 when it hits the shops in Q4 this year. So that should be about £11,000, or £12.50 if the Greeks leave the Euro…