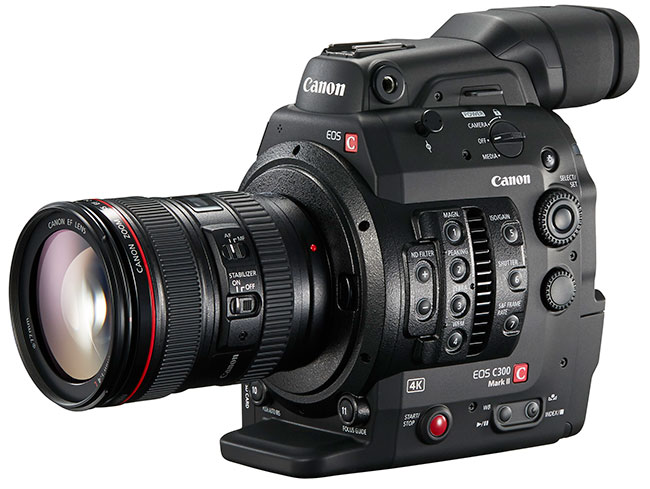 Canon Announce Their C300 MkII For the 4k World
Posted on Apr 8, 2015 by Julian Mitchell
Canon's new C300 MkII brings 15 stops of dynamic range and a 4K performance but no global shutter.
Billows of steam and loud clunking noises have been issuing from the Canon rumour mill for several months, but today Canon have formally announced the details of the C300 MkII.
For the nerdy (like us), we've published the full specifications below, but the headlines are:
A brand new, Super 35mm, 4k sensor offering a fabulous 15 stops of dynamic range. This sensor doesn't have a global shutter, unfortunately, but read-out speed has been doubled over that of the C300 Mk I to reduce rolling shutter artefacts.
A new gamma curve – Canon Log2 – allows the encoding of the full 15 stop dynamic range, and the ISO range has been extended – it now covers ISO 100 to ISO 102400. Canon claim that noise has been reduced, across the ISO range, by the new sensor and in-camera image processing.
The camera now records 4k (both 4096 and 3840) to on-board CFast 2.0 cards (2 slots), using XF-AVC Intra (wrapped in MXF) at up to 410Mbps. This CODEC is 10-bit 4:2:2 YCrCb, plus you can simultaneously record 4k RAW to an external recorder. You can also record 2k (2048) and 1920×1080 at up to 12 bit 4:4:4. Framerates are up to 30fps at 4k, and up to 120fps at 2k.
The 2k/1920 recording downsamples the entire sensor for reduced moiré, except at the highest framerate, when it's a crop.
The camera also features SD card recording of 2k/1920 – and you can record a 2k/1920 proxy at the same time as 4k, for simpler workflows. Canon have included the new H.264 Long GOP standard (at 35Mbps) which seems set to replace 50Mbps MPEG-2 for broadcast TV acquisition.
The camera also includes Canon's dual pixel, phase detection CMOS autofocus, covering 80% of the sensor's picture area. This system gives faster and more accurate autofocus than the contrast detection that most video cameras use – basically the camera is able to calculate the focus point and go straight to it, like a stills camera, rather than hunting for final focus.  Coupled with the increased processing power in the camera, autofocus should be accurate and stable – provided you are using compatible lenses. Canon have even included the ability to customise the autofocus speed, to give a more 'manual' feel to autofocus pulls. This should help continue the C300s reign in high-end documentary where the C300 Mk I has done so well.
The body is an all new die cast design, with O-rings on the controls for better durability and weatherproofing in the field. It features a new, dual turret, electronically selected ND filter giving 0 to 10 stops of ND in 2 stop increments, and the same EF or PL (optional) lens mount of the Mk I. In another nod to durability – or, at least, repair-ability – the cables for the handle unit are now detachable, and hence replaceable.
Audio recording is now 4 channels at up to 24 bit, 48kHz – as well as the included Handle Unit (with LCD), there is a light-weight, audio only version as an option.
Add the optional WiFi unit, and the C300 Mk II can be controlled from any tablet, phone or computer. The camera has a web server built in, so you don't need a special app – just point a browser at the camera and you'll see all the controls and a feed from the camera. There is a latency on the feed and it's only a couple of frames per second so it's not a Director's monitor, but camera assistants and drone operators should be happy.
Few complained about the image quality of the C300 Mk 1, so increasing the dynamic range from that camera's 12 stops to 15 stops should produce excellent images. The dynamic range and colour rendition has allowed Canon to include preset image looks so, for instance, of you are using the C300 Mk II as a B camera, you can select the 'Alexa Look' or the 'F55 Look' to make it easier to match the A and B cameras in post.
The C300 Mk II looks to be a worthy upgrade to a very popular camera. It will go on sale in Q3 of this year at an MRSP of £11,299 ex VAT. I'll leave the clunking, hissing blogosphere to debate that against Sony's troubled PXW-FS7, whilst we wait to get our hands on one for review.
ADAM GARSTONE.