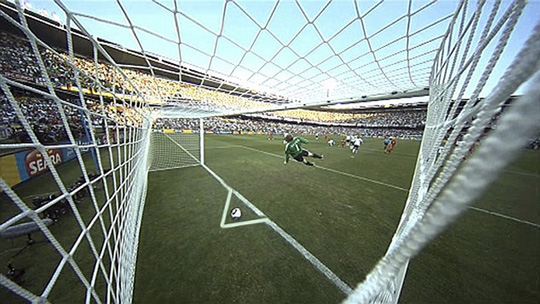 Net-Cam Captures The 'Ghost' Goal
Posted on Jul 1, 2010 by Alex Fice
Camera Corps' new Net-Cam cameras entered football history on Sunday June 27 when an estimated 26 million viewers saw Frank Lampard's disallowed goal during the England team's defeat by Germany in Bloemfontein. Referee Jorge Larrionda and his assistant Mauricio Espinosa did not realise the ball had entered the goal until they watched the video replay at half-time.
"With the game delicately balanced at 2-1 to Germany, the disallowed goal had a huge impact on the outcome of the game through its adverse effect on the morale of the English team and corresponding spur to the German players," observes Camera Corps Managing Director Laurie Frost. "The crucial images from Net-Cam were captured by broadcasters, online newsmedia and the worldwide press as proof that this goal should quite definitely have been allowed. The referee has been quoted as responding "Oh my God!" when he eventually found time to watch the camera output. A lot of viewers will be wondering why he waited until half-time to do so."
A total of 20 Net-Cams were operational during the first weeks of the South African international football tournament, two at each of the ten tournament venues, and will continue in this role until the games end on July 11. Their
 Net-Cam is a miniature HD camera with a high-quality ultra-wide-angle lens, designed specifically to capture the entire goal-mouth from the rear corner of the net. Each Net-Cam captures the entire goal-mouth plus the full length of the goal interior without wide angle distortion or aberration. An integral ultra-compact remote-controlled pan, tilt and roll head which allows the viewing angle to be adjusted in the event of direct collision from a football. Both Net-Cams are controlled remotely by an operator using the Camera Corps CCU panel rather than requiring anyone to supervise the camera at each goalside for the entire duration of a match.