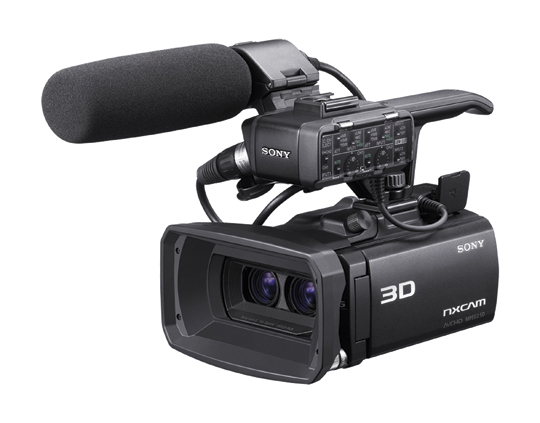 More Sony 3D Camcorders
Posted on May 12, 2011 by Alex Fice
SONY's new PMW-TD300 shoulder mounted 3D camcorderSony has expanded its range of 3D production solutions with two new 3D camcorders; the PMW-TD300 shoulder mounted 3D camcorder (pictured above) and the more compact HXR-NX3D1 3D NXCAM camcorder pictured below.

The PMW-TD300 features a dual 1/2-inch Exmor 3CMOS sensor design with full HD 1920×1080 pixel resolution. Sony also announced a new 3D-Link option for the PMW-F3 digital cinema camcorder, enabling more efficiency for shooting 3D using a rig system. The HXR-NX3D1E is available this summer.
NEW ENHANCEMENTS FOR PMW-F3 – New features for its PMW-F3 camera include a 3D-Link capability, options for RGB 4:4:4 and S-LOG output and a wide angle, high power zoom lens.
The 3D-Link option (CBK-3DL01) will be available later this year via a firmware upgrade and 10-pin cable connection. Two new lenses include the SCL-P11X15 PL mount wide angle 1.5x zoom with a focal length range of 11-16mm and a speed of T3.0; and the SCL-Z18X140 FZ mount high power 14.0x zoom, with a focal length range of 18-252mm and a speed of T3.8.