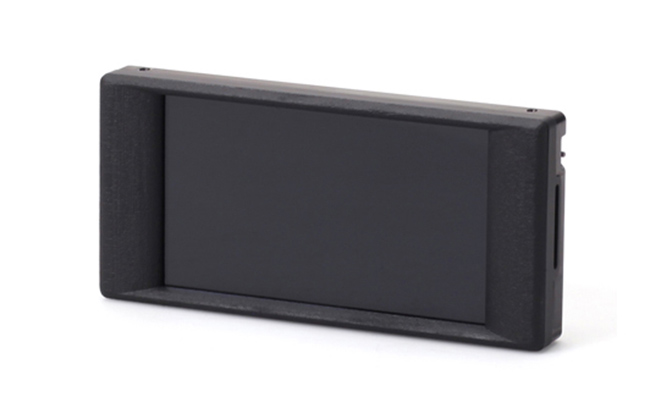 'iPhone' Sized OLED Monitor Can Record Too
Posted on Apr 29, 2014 by Alex Fice
Palm sized OLED monitor with recording to SD card.
The tiny 'iPhone' form factor of Transvideo's five inch StarLite monitor has touch screen controls and an embedded recorder.Features include 3G-SDI, a waveform, an OLED monitor and it runs on 5-44 volts.
With cameras reducing in size and portable systems becoming more and more compact so Transvideo has created this small 5inch HD OLED monitor, which is about the size of a smartphone and weighs only 190 Grams (0.4lbs).
Built-in tools include a high-resolution waveform monitor and a precision vectorscope, while an embedded recorder delivers dailies in H.264 on to SD cards.
The housing is extremely rugged, machined in avionics aluminium – a wide range of accessories is planned, from battery support to detachable sun hood and more.
• 3G / HD-SDI input + reclocked output
• 5" OLED touch screen with wide colour gamut (EBU)
• 190g / 0.4lbs
• 5-44v DC power input through Lemo2 "mini"
• Low power consumption.
Price – EURO 1,470 plus VAT – you can pre-order now@ www.transvideo.eu/starlitehd