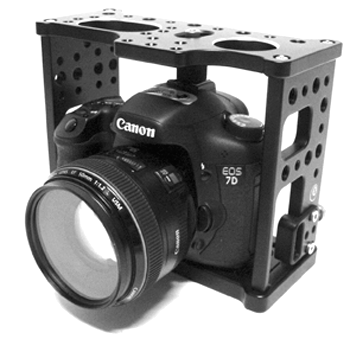 Hollywood DSLR Cage
Posted on May 25, 2011 by Alex Fice
Alan Gordon Enterprises and their new DSLR cage for Canon EOS camerasAlan Gordon Enterprises in Hollywood has launched a DSLR cage just in time for the annual gear fest that is Cine Gear. The cage has been designed just for the Canon EOS 5D and 7D camera bodies and features an HDMI cable protector and accessories like a battery mount and mini rod adapter.
From the images we think the engineering looks pretty sound but it's hard to say about the weight but anodized black is always a favourite. Of course like the best cartoon cheese you have multiple 1/4″-20 and 3/8″-16 thread holes for mounting all those accessories that make up a proper camera.
Their introductory price is USD$489.00 which seems really good if the engineering is as good as its looks.
More views and Ecommerce site at:
http://www.alangordon.com/sales/hd_slr_cameras/accessories/cage/index.html