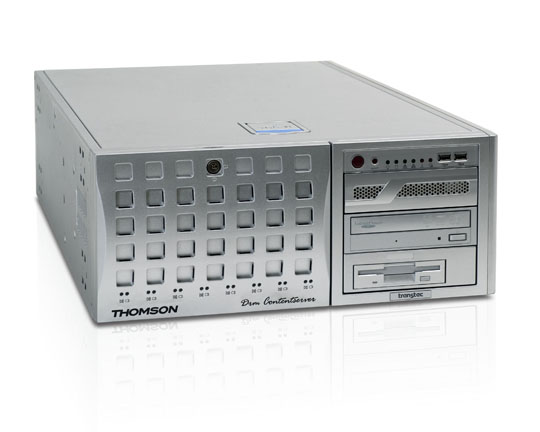 Grass Valley Gets A Buyer But Without Head-End Business
Posted on Jul 27, 2010 by Alex Fice
The DRM Content Server is an integrated, all-in-one content server and transmission control system for DRM radio transmission. This part of the business may not be included in the saleFrancisco Partners, a San Francisco, California-based private equity firm focused on investments in technology-based companies, has made a binding offer to Technicolor for the acquisition of the Grass Valley Broadcast & Professional business activities.
With nearly $5 billion of capital under management, Francisco Partners is one of the world's largest technology-focused private equity funds. The firm was founded to pursue structured investments in technology and technology-based companies with a strong foundation and secure market position.
"We are excited about this opportunity, as Grass Valley's market leadership is clearly evident," said David Golob, Partner at Francisco Partners.  "The business has an unrivalled brand identity and company heritage, a long history of innovation, team members that are dedicated to their customers' success, and an impressive product portfolio. We are looking forward to the opportunity to work closely with Grass Valley's management to create a company that leverages the strong entrepreneurial spirit within Grass Valley, allowing them to achieve even greater success."
The binding offer from Francisco Partners is for 100 percent ownership of the current Grass Valley Broadcast & Professional business, which would operate as "Grass Valley" going forward. This includes the camera, content repurposing, editing, master control, modular, news production, production automation, routing, servers, storage, and switching product lines including their entire product portfolios, the R&D centers and factories around the world, the Sales & Systems activities and Customer Support organization worldwide, as well as the management and administrative support functions dedicated to the business.
The Transmission and Headend businesses, which are in the process of being separated from the Grass Valley Broadcast & Professional business, are not included in the offer received.  Technicolor will continue the planned divestiture of these businesses separately.  These businesses plan to individually operate going forward.
Subject to final agreement, regulatory approval, and applicable notification requirements and, when it is requested, the prior consultation of staff representatives, it is expected that the transaction can be completed before the end of 2010.