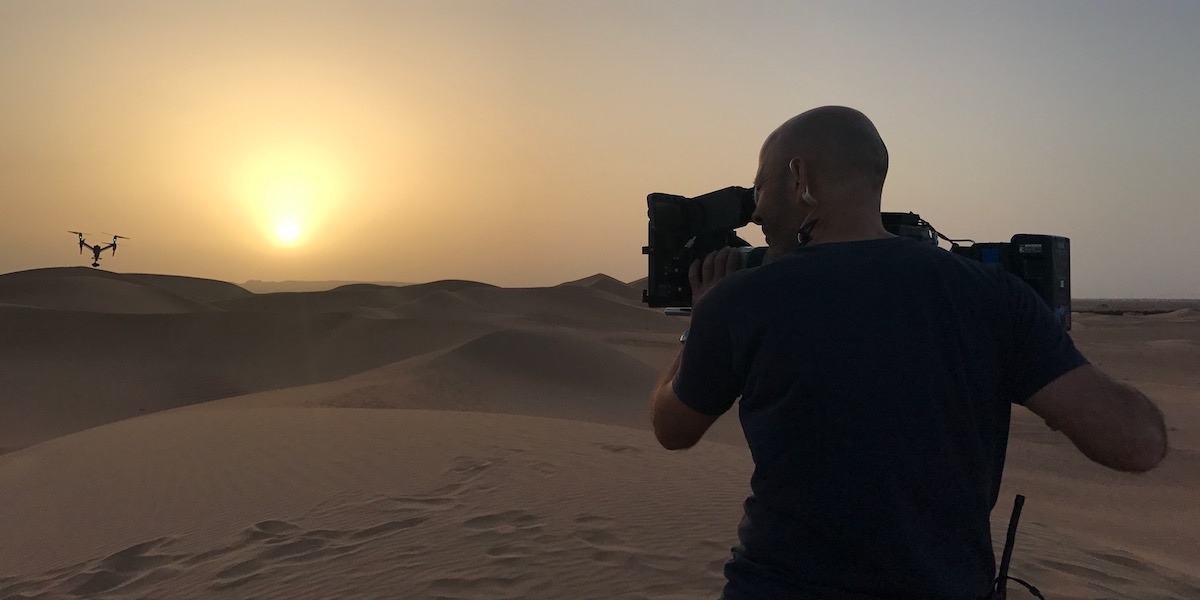 CVP: Family affair
Posted on May 10, 2023
DOP Luke Menges has worked in many roles on both sides of the Atlantic. He shares the family and early-career experiences that shaped his path
Advertisement feature
Cinematographer Luke Menges comes from a family of filmmakers. His father is a director of photography who started in documentaries before moving over to direction and feature films. Meanwhile, his mother was a model and actor who transitioned to producing documentary films. A childhood immersed in cinema had a profound impact.
"When I was a kid, my dad gave me his stills camera," he recalls. "I used to go off into the hills around our house in Wales and experiment with directions of light, compositions, film speeds and black & white versus colour. Me, my brothers and sisters would occasionally visit the sets my dad worked on, or filmmakers would visit my dad at home. My mum was close to some fantastic Magnum photographers, so the industry was all around me in various forms as I grew up. It had an impact on me and my brothers and sisters."
CAREER PATH
When he left school, Menges moved to Los Angeles for a couple of years, working as a runner on music videos and commercials as well as low-budget feature films. These included a Michael Jackson music video and a Nike commercial directed by David Fincher for Propaganda Films.
After cutting his teeth in the industry, Menges progressed into edit assisting, before moving back to the UK to edit small documentaries. "Being in the edit was a great lesson in learning about coverage and what you need to tell the story.
"I then got a great opportunity to shoot and direct a low-budget one-hour film about a pirate radio station in Harlesden. We had a handful of days to shoot and three weeks to cut 50 minutes; luckily I worked with a hugely talented editor. Filming with DJs in the community was fun, and not having a huge budget gave us freedom to try out different ideas.
"After shooting and directing for many years, I decided I wanted to focus on my work as a cameraman. The work I shot as a director/cameraman helped me cross over into shooting for directors."
LIGHTING THE WAY
When Menges started out as a freelance cameraman, he realised he needed his own lights and camera to enable him to be as organised as possible.
"Yevgeny and Ivailo at CVP helped me with my first kit purchase," he says. "I bought a Canon EOS C300 Mark I along with all other necessary equipment. The C300 produced an amazing image. It was small and light, but could be built up with various accessories on the shoulder. Mike Saunders and David Morphy at Cirro Lite were also extremely helpful and generous with their time. I have bought almost all my camera equipment and lights through CVP and Cirro Lite since purchasing my first kit when starting out."
Menges says he had a hundred questions about the pros and cons of various lights – and both Cirro Lite and CVP always found the time to help. Having experts to talk through all the options is a fruitful resource.
"The Kino Flo Tegra was an amazing light I ended up using for years," he adds. "I bought a Dedolight system and a couple of Arri tungsten sources, too. The camera and lighting package I first bought enabled me to shoot anything from drama docs and observational films to sit-down interviews."
When it comes to making documentary, Menges goes on, it's important to have camera and lighting solutions that adapt to various situations quickly. "A year or so ago I bought the Fiilex Q8, which is a powerful light for its size and produces good colour rendition," Menges asserts. "I've also added the new Fiilex P3 RGB to my lighting kit – it's small, light and versatile.
"It's great to have an RGB light source that can give you white light between 2000 and 10,000K – and in RGB mode, you can choose any colour you like. I was recently shooting a Disney documentary series, and we needed to match the colour temperature of overhead fluorescent lighting, then in a separate shot subtly extend the daylight entering through a window. The Fiilex P3 managed both situations. There is an extensive range of accessories as well – from softboxes to image intensifiers and a fresnel lens."
Although technology is improving and moving fast, Menges says old can be good, too. "I recently bought some Canon vintage stills primes made in the seventies, and have had them rehoused into cine primes," he explains. "It's fun exploring new technology while using amazing lenses made decades ago!"
CVP is home to a full spectrum of production equipment that's ready to see, combine and evaluate. Its creative and technical staff are committed to finding the right solution for every production need. To arrange an online demo, or book a one-to-one consultation, call 0208 380 7400 or visit cvp.com.
This article appears in the May 2023 issue of Definition. Read the full magazine here.