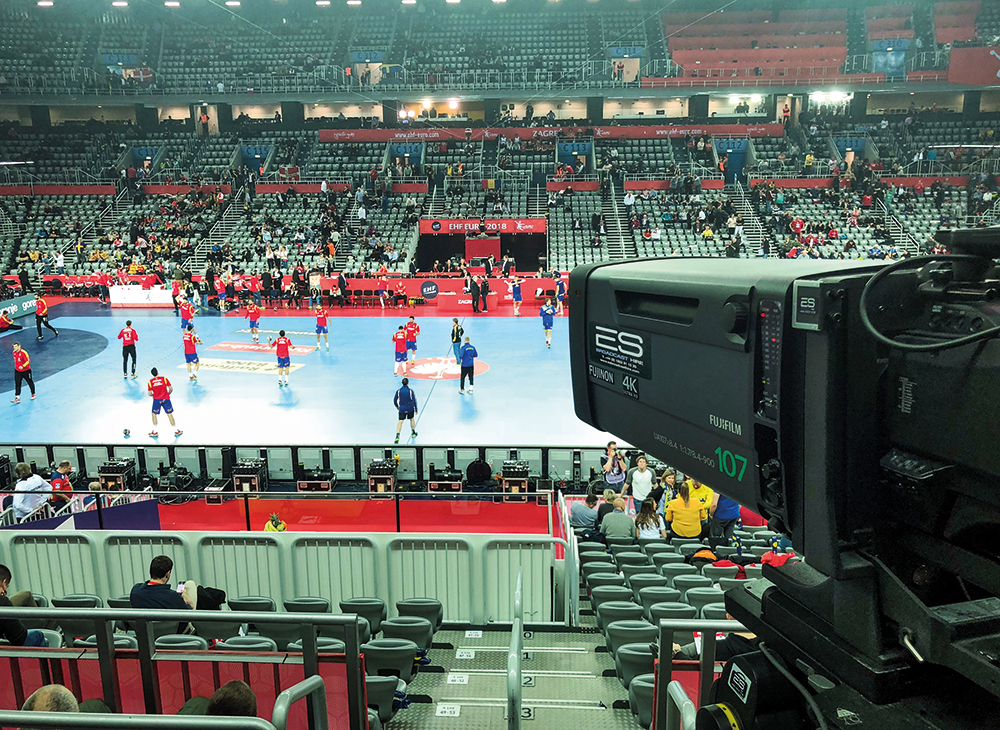 Going for the win
The tech side of sports broadcast is constantly evolving with new ways to engage fans and different movement options for broadcast 
England World Cup winners Jason Roy and Jos Buttler with the Motion Impossible Agito – Pic credit BatCam.tv
Words / Julian Mitchell & Chelsea Fearnley
For decades, the business of sport has relied on four main revenue streams: broadcast, sponsorship, ticketing and merch, and there is a reason for that. Sport has something that's very rare – endless live content.
Like religion, sport is passed down from generation to generation, and in many families it is often considered a sacrilege to support a team that rivals the one from your hometown. But now sport is everywhere. Families from all over the world can be devoted to a team that is a thousand miles away.
Last year, a combined 3.572 billion viewers – more than half of the world's population aged four and over – tuned in to watch the official broadcast coverage of the Fifa World Cup in Russia. Global distribution of sport content has peaked, and a new age in the field is approaching.
"Technology is coming into this space for the first time and it's changing not only the way athletes perform, but the way we consume and produce sports," explains Angela Ruggiero, 1998 Olympic Ice Hockey Gold medallist and CEO and co-founder of Sports Innovation Lab.
There is a new type of fan emerging. Ruggiero calls it the 'fluid fan', someone who is open to change, empowered to choose and continuously evolving – that's Sports Innovation Lab's three-legged stool. The challenge is, if the fluid fan is continuously evolving, they might not be around tomorrow.
"You have to constantly refresh your content and engage by investing in new technology," explains Ruggiero. "They may never have watched cable or subscribed to pay TV. They're fans that consume sports via digital or social platforms."
NBA's LA Clippers' CourtVision is an augmented reality game-watching platform
Fan engagement
New technology for capturing sport, as well as for fan engagement, is a growing area. For instance, BriziCam has a fan engagement system that positionally maps a stadium and then presents fans with shots of them in their seats. DSLRs with Canon zooms take videos of selected seats for 30 seconds. Fans control remote cameras with their phone's web browser to share branded group photos and looping videos. BriziCam's marketing speaks of 'putting the feeling of getting on the big screen in the palm of your hand'. Fans directly control venue cameras to capture creative photos or looping videos of them and their friends, on demand.
"Fans directly control venue cameras to capture creative photos or looping videos of them and their friends, on demand"
Sports teams are going to great lengths to enrich the fan experience, bringing more thrills, deeper insights and fuller stats.
The LA Clippers' CourtVision augmented game-watching platform reimagines the way basketball fans experience the sport. CourtVision lets fans toggle across multiple modes with real-time data and augmented reality features. This past season's release includes Coach mode, which diagrams plays as they happen, Player mode, where shooting percentages are updated in real time, hover over each player, and Mascot mode, which incorporates fan-friendly animations and digital effects. Other features enable fans to choose from multiple camera angles across the arena, select audio, including unfiltered in-arena sound, and watch live games and recaps on mobile or desktop.
CourtVision is seen as a step forward in how we watch sports, with fans having easy, customisable access to a whole set of interactive data. "Ultimately, we believe this technology will drive a revolution in the broadcast experience that translates machine learning and augmented reality to all sports, so fans can watch their game, their way," says Clippers chief global partnerships officer, Scott Sonnenberg.
Formula One has always been at the forefront of broadcast capture technology
Remote heads
Aerial Camera Systems (ACS) is at the forefront of remote camera systems worldwide and manages its remote systems in the air as much as on the ground. In fact, its aerial systems were used for the Fifa Women's World Cup in France. The company has enjoyed a summer of sport, including Wimbledon, and is now preparing for next year's Summer Olympics in Japan and the Uefa Euro 2020 football; both will feature UHD HDR standard broadcasting across all venues.
For all broadcasting equipment companies, gearing up also means the journey from HD to UHD, along with HDR, which is increasingly a prerequisite for broadcast, as well as drama.
For ACS, this means moving cameras, from Sony's HDC-P1 to the new UHD and HDR-enabled HDC-P50.
The Sony P50 is being introduced throughout ACS' remote designs and is a box camera without the need to route through an outboard CCU. This is ideal for the live OB environment, however it has meant that ACS has had to develop a new UHD fibre transmission system to support these new cameras. There is also an option coming from Sony this summer, which will offer up to six times the speed for a handy slow motion option in HD, without having to employ a specialist server.
Next year's Olympics is a UHD HDR standard broadcast across all venues
Simplified camera capture
Sport games at the collegiate and professional level are among the most watched programmes on television. To guarantee they're presenting the best programme possible, sport production teams aim to be fully equipped with high-quality broadcast equipment that won't drain their budgets.
"For MMA, they use lipstick cameras to capture crowd reactions to pre-fight weigh-ins"
Broadcast companies, such as Marshall Electronics' affordable and compact POV cameras, can be operated and positioned to capture perspectives at every corner of the stadium, field, goal, court, track and course.
A unique feature of Marshall POV cameras is the ability to remotely match, paint and shade each camera over RS-485 serial control. Additionally, adjustments can be made using Marshall's RCP Camera Controller or free downloadable software, allowing operators to provide similar looks across many cameras in the production and to adapt to weather or environment changes from the truck or control room.
Nationally broadcasted boxing and mixed martial arts (MMA) matches have also been able to integrate similar unique action shots with Marshall's CV200 series lipstick cameras. Boxing trainers have lipstick cameras mounted to the sides of their eyeglass frames to give viewers a first-person, ringside perspective of the up-close drama of a live prize fight. For MMA matches, broadcasters use lipstick cameras to capture the crowd's reactions to the pre-fight weigh-ins and get close-up shots of the fighters as they step on the scales. Marshall's CV500 series has also been placed along the octagon for MMA events and ringside for live boxing.
"We can enable 100 cameras to do tracking, which also enables them to do real-time graphics"
Motion Impossible's Agito remote camera vehicle became a firm favourite at the ICC Cricket World Cup
Advanced camera tracking
A new company called Arraiy is shaking things up with simple HD cameras and artificial intelligence within camera tracking. This is a company offering deep machine learning, which it can evolve for numerous applications; one of those is in a sport environment. Arraiy's CEO Mark Tobin explains where he wants to use the technology: "So first thing we did was to focus on camera tracking and now we have a solution called DeepTrack – it's a through-the-lens monocular tracking solution, which is entirely 100% software based, just understanding the features and the textures of a scene.
"We calibrate the camera, which takes about 20 seconds, and we do some deep learning on the environment, whether that's in the studio or in a sports environment outdoors. We can create a model over three to four hours, depending what the scene is, and then you have a known geometry of every scene. You can then enable any camera that's in that scene to camera track and to object track. So if NBC wants to shoot a football game or an athletics event and wants to use 100 cameras, we can enable all 100 cameras to do tracking, which enables them to do real-time graphics. That's the differentiator; we don't need hardware, we don't need stickers on the ceiling; we create a neural network that we can leverage across any cameras or scenes."
CourtVision is seen as a step forward in how we watch sport
The 'no cameraman' solution
As we write, the ICC Cricket World Cup is wrapping up with a new addition to the camera crew – Agito. You may know what Agito is as this robot camera won in the Movement category in our Tech Innovation Awards 2019, but if you don't, it's Motion Impossible's modular dolly system. The TV production company, Sunset + Vine, had commissioned BatCam, a specialised drone and camera movement outfit and they chose the new vehicle from Motion Impossible to bring a whole new angle to the matches.
Motion Impossible's Rob Drewett comments on the conversion for BatCam to move such a new vehicle: "We've been helping BatCam with the Agito just to get them up and running. Sunset + Vine had seen Agito over in Australia – the M series was known there as the Fox Rover – and mentioned us to BatCam. With Agito at the World Cup, they were using the MōVI Carbon stabilised head with a Panasonic broadcast camera inside."
BatCam already uses this camera package on its larger drones.
Motion Impossible's chief designer Andy Nancollis was driving the vehicle initially. "BatCam was already commissioned to do the drone footage. They are using the Agito for different things, including capturing footage either side of the game," he says. "So when players arrive, they've got a few RF cameras, the Agito and they've got the SpiderCam. The players walk across the pitch to get to the pavilion.
"At some cricket matches, some of the directors like to get the Agito out on to the pitch to follow the batsmen on and off as they've been given out and another one comes in. For the rest of the match, we run around the boundary line capturing general play. The majority of the general play is focussed on things happening on the wicket, the bowler run-up, the batsmen striking the ball and the running between the wickets. More recently, we've been asked to do crowd shots for fan engagement reasons.
"There are 30 cameras for every match so you're not short of options, but we did also look at fielders to hopefully catch moments there and also crowd reactions. You're always on the prowl waiting for something interesting to happen."
The crowd also likes the Agito, especially when it turns towards them. "Because it's not a cameraman, they go crazy when it points at them, it's turned into quite a character," says Nancollis.
The Agito vehicle had to be low profile, so couldn't use the recent 'tower' option that gives it height. There were also guidelines on being a certain distance from any player and to be wary of getting in the player's eyeline. "We're running between the boundary rope and the LED boards and the players are very sensitive of what they can see in that area. The ICC are sensitive of the equipment getting close to players, there are some clear operating rules to what we can or can't do from a safety perspective," explains Nancollis. "We're not allowed to get within five metres of a player. If the ball or the action comes close to us, we have to get out of the way, which is hard as all your instincts are telling you to go towards the action."
European men's handball, captured in 4k UHD
European athletics
Agito was also featured in the European Athletics in Minsk, across a number of disciplines. This time, the Agito drove with a Shotover gimbal, Grass Valley camera and Fujinon lens. Rob Drewett explains the roles the vehicle played there: "This was for Camera Corp and they got some great images from the opening and closing ceremony, but it was also being used as a track camera, shooting events like the 100m, but also the javelin and high jump."
"If the ball or the action comes close to us, we have to get out of the way, which is hard"
For Camera Corp, the brief for Agito was quite an open one. It wasn't until they started operating, that the possibilities presented themselves. "They were being asked to do as much as they could, the director really liked it," says Drewett.
With Agito's recent commission by the Diamond League athletics in the UK, it seems the way forward in sports capture is possibly robotics.