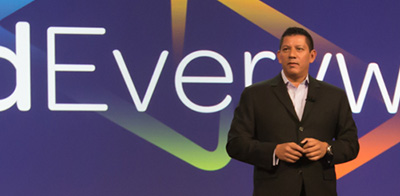 Full ORAD Statement on their purchase by AVID
Louis Hernandez Jr. yesterday announcing the deal to buy ORAD.
Yesterday AVID signed an agreement to purchase ORAD and CEO Louis Hernandez Jr. wanted to settle the AVID family in to how acquisition might stop the fragmentation in the industry, "As you know, fragmentation has been hurting our industry, leading to burdensome and inefficient experiences for you, our customer. We've made progress on solving this inefficiency with our Avid Everywhere vision—effectively reducing fragmentation with the launch of the Avid MediaCentral Platform—but now we're doing even more."
Meantime Avi Sharir of ORAD layed out the reasons for the deal.
Dear Orad valued customer

Today marks the beginning of a new chapter for Orad.

I'm writing to let you know that on April 12, 2015, we signed a definitive agreement with Avid to acquire Orad. As I'm sure you know, Avid is the world's leading provider of video and audio production technologies to the media industry. This is excellent and exciting news for customers and partners, as well as for Avid.

Orad was founded 22 years ago with a vision to change the world of broadcast graphics, and we succeeded. Since going public in 1999, Orad has been an industry leader offering innovative solutions for Virtual Studios, Real Time Graphics and sport enhancements. As the company was growing, we widened the range of our solutions to video server solutions and media asset management. Our innovative solutions have been adopted by some of the world's leading broadcasters.

As an Orad customer, this transaction should come as fantastic news. Joining the Avid family means that Orad customers are now partnered with one of the largest scale players in the media technology space, with momentum and market excitement. As a naturally strong, complementary fit, Avid and Orad will offer Orad customers a more comprehensive, innovative solution set powered by a platform that improves efficiency while providing complete choice and flexibility.

Avid plans to actively develop, market and support the Orad products, and its global scale will provide broader distribution and support, in more countries around the world.

The Orad management team is fully committed to make this transaction a success and for continues support of our customers.

We anticipate that the transaction will be completed during Q2 2015. While this transition process is underway Orad will continue to operate as a separate entity.

Given today's announcement, you will likely have questions, and this is an initial FAQ document for your reference. We will continue to keep you updated as additional information becomes available.

Best wishes

Avi Sharir