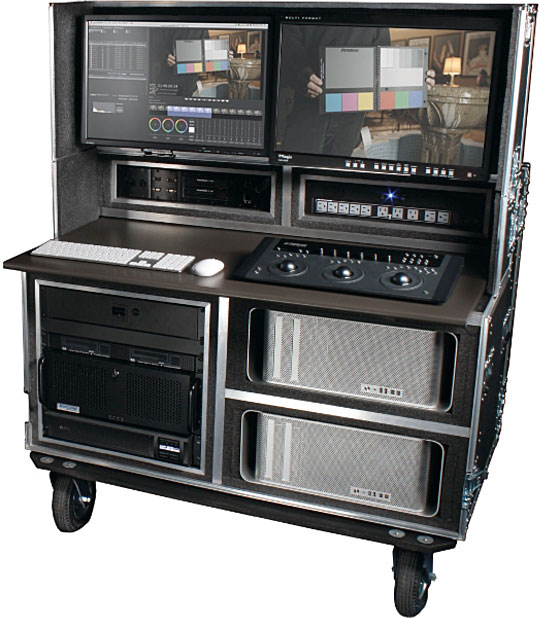 Fotokem's nextLAB 'Hire-Out' Proves The Post Revolution Is On
Posted on Jun 14, 2011 by Alex Fice
A typical nextLAB mobile set-up – now available from a traditional camera and lenses hire companyFotoKem – a high end, global post production facility in LA has announced that its nextLAB system is now being represented in the US Midwest region by Fletcher Camera & Lenses with offices in Chicago and Detroit. If this move proves anything it's that dealing with RAW files from existing and future digital cameras requires a fundamental change in the spread of post services, a blurring of the traditional lines.
Built on FotoKem's proprietary file-based workflow software, these mobile systems are integrated, portable units that bring powerful post production capabilities to productions either locally or around the globe. In effect they are an extension of the company's in-house technological advancements and professional services to assist with streamlining workflow from ingest to delivery and archive on set or near location.
Fletcher are kicking off this alliance with two introductory events tonight (June 14) in Detroit. The first one is a non-technical "Producing in a Data World: Exploring Mobile Lab Services,"and the second is an intensive, hands-on training for local technicians.
FotoKem's nextLAB system, which includes custom software, a mobile ruggedized enclosure, training and technical support, was developed to service the industry's transition to RAW and data-centric camera formats such as ARRI ALEXA, RED, Silicon Imaging, and Canon DSLR. The software securely stores media, archives to LTO, and provides quality control tools, offering access to metadata, audio syncing, colour management, and transcoding.
Four years ago, Fletcher built its own mobile system, COSMoS, that addressed the needs of productions for onset data management and editorial services. "Like FotoKem, Fletcher was among a very small number of companies that started to build the solutions for what was coming with data-centric workflows," says Tom Fletcher, VP of Fletcher Camera & Lenses. "When I saw where FotoKem had taken nextLAB, I immediately knew they had built something truly amazing; they get it. The nextLAB workflow improves efficiency for all types of projects-motion pictures, commercials, and television."
According to FotoKem's nextLAB Tom Vice, this is an ideal time to work with a company like Fletcher to support the demand and interest in file-based workflow in the Midwest. "Mobile systems, such as FotoKem's nextLAB, are becoming an increasingly critical piece of the post production puzzle in an industry where acquisition tools and post production are uniquely and dynamically intertwined. More and more, post production begins on set with colour management and the ability to ingest, view and sync new and varying camera technologies. FotoKem is a proven leader in these services, having supported projects around the world and under demanding time and budgetary circumstances."