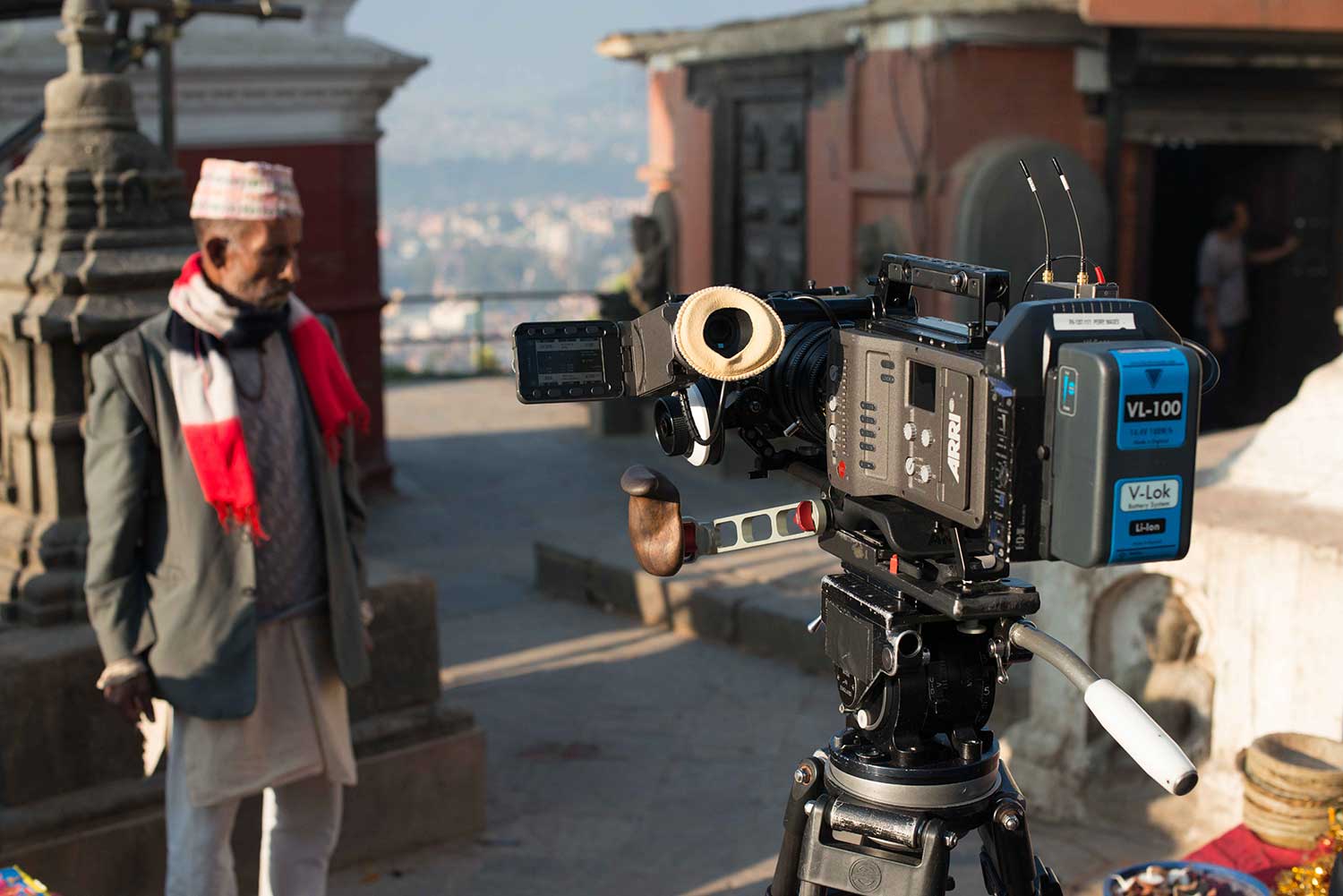 For The Love Of The Game
Posted on Jan 22, 2016 by Julian Mitchell
The naming inspiration was David Beckham's old Manchester United team number, number '7', and then grew in to a global meeting of minds with charity and football at its core. The idea was to take the footballer and celebrity to host and play in seven football matches on seven continents in seven days. As it turned out the seven days turned in to nine, mostly to do with the organisation of getting to Antarctica, but no one is demeaning of what an exhausting yet wondrous idea this was even with the enormous logistics involved.
Of course Beckham was to be filmed everywhere he went to bring awareness to the local environments and to capture just how the world game has become a universal language across borders. But to be successful as a TV programme this couldn't be just another 'meet and greet', he had to have an authentic experience too.
DoP Neil Harvey doing his 'usual' 360˚ before Beckham takes to the pitch, this time closer to home at Old Trafford, Manchester.
Nepal
The stories were there to be told, in Nepal for instance they wanted to celebrate the fact that the locals were getting their lives back together again after the Earthquake, in Antarctica it was a coming together in sport of the international research facilities, in Djibouti in Ethiopia it was a way of reinforcing any normality that football could bring to the youngsters who lived in the refugee camps.
The only way this type of programme could work was to elevate the human interest. To identify the characters that could knit the rest of it together, the ex-pro in Djibouti who trained the kids, the scientists in Antarctica who fashioned a football pitch for the occasion, the Nepalese kids who had were slowly getting back to some kind of normality. But the time was so short and the logistics so immense that you could understand people's reluctance to leap in to such an endeavour.
DoP Johann Perry and his sound man on-board a Nepalese Tuk-Tuk getting ready to shoot Beckham among the 1,000s that turned up.
There was precedent for such as trip, about six years ago six UK celebrities planned to climb Mount Kilimanjaro for Comic Relief and the crew had two weeks (a seemingly luxurious amount of time compared to this show) to shoot them for the Comic Relief Telethon show.
The cameramen who shot that were chosen for this shoot, good friends Neil Harvey and Johann Perry, two highly experienced guys with a taste for excitement. Given the brief they were both fully committed to producing something that could define their skill and their kit. Neil and Johann both own Arri Amiras but needed in a two day prep period, to equip themselves with a gear list that would suffice for seven continents in such a short time and produce a programme that would fit the brief of a cinematic TV expperience'. In fact they prepped even when it wasn't certain that anything was going to happen.
Prep
They prepped at Arri's hire centre and with Arri's generous help were able to source extra Mini and Amira cameras with cards from the locations they were headed to. Each cameraman had their assistant and a soundman, other than Directors and Producers, that was the crew.
But what were the basic plans before the shoot? Johann, "In such a short amount of time you've got to rely on the gear working as soon as you land. It was decided that Neil would be David's shadow throughout so would ride in the private jet to all the locations – (there was no room for ACs or sound men here). I would be arriving before time and setting up the shoots and get generally shots beforehand. There were two other DPs involved who were in the other locations, Graham Maunder and Edward Lindsley and we were leapfrogging each other to make sure we had our backs covered in the other locations so Neil could just arrive and shoot with the time we had available, which could be as little as four hours.  Having two cameras was imperative as there was no time for going back as you would normally do with documentaries."
Different producers were assigned locations to carry out 'recces' so when the crew turned up they could go to work almost immediately, mopping up the coverage that had been identified.
This tag team type of capture was perfect for this wholly unique shoot, Neil: "My job was to stick to David like glue and let Johann 'recce' the locations and seek out the stories and the characters. We've worked a lot together and know each other really well which was vital. We always had a plan and that plan regularly went pear-shaped but having the two cameras allowed us to pretty much shoot it as a live experience." Pear-shaped like when Neil went to Antarctica he wasn't able to take any crew with him and had to deal with the audio when a mic cable broke due to the cold.
"The prep for all these great adventures is just vital. I had a fantastic sound recordist and a fantastic assistant cameraman. The preparation I had from them for the Antarctica leg was immense. It was minus 25 degrees and as soon as I walked out of the plane the cold turned my mic cable into a brittle twig and it snapped in half. So I had to go to the plan B that my sound recordist had for me. That two hours felt like two minutes, you run on adrenalin. Not only was I shooting on the Arri Mini but I had an Amira with me that I had to set up as an extra camera to cover the football. It was intense but I loved those kind of challenges.
"I configured the Mini so it was easier to run around with it and as soon as the game started I had the Amira shooting some high speed footage with the 300mm lens.
DoP Johann Perry in Miami.
Shooting Grammar
"We had a certain routine couple of shots for David that I would do at every single pitch we got to. I'd do a 360˚ track around him and a shot of him walking on to the pitch (with graphic telling you where they were), you had to keep that grammar of the film in your mind even though these crazy things were happening. Then it was very much following what happens like David meeting his teams, organising a game of football, having a game of football, thanking them for it and then filming the mad dash to the plane.  You pretty much film what happened." It was then largely a 'fly on the wall' type shoot but with different levels of madness at each location. In Nepal for instance there was a friendly but enormous mob of people who had heard that David was there and scuppered any plans for the day. "You are thrown in to reacting what is in front of you which is great and why we are documentary cameramen, the love of reacting to the moment." explains Johann, "At every location there was a detailed plan worked out which might evaporate the second David landed." You also have to think about the programme which is to be aired on the BBC at Christmas to a huge audience."
With that in mind Neil and Johann wanted to aim for the highest quality for what is a genuine 'run and gun' scenario. It was to be an Arri shoot with the Amiras and Minis. Unusually for a documentary they shot at the highest ProRes setting of 4:4:4:4, you'd normally use 4:2:2 HQ (Due to time constraints the post was downgraded to 4:2:2 due the day and a half extra it would have taken to deal with the higher spec'd footage).
"We maxed out on what the Amira could do and having the Mini there gave us the match between cameras. We set up a different LUT for each location before we went so those decisions which would be loaded in to each camera for each location so we had a slightly different look for each of the seven places. This gave the offline editors the chance to understand what we wanted moving towards the grade again to save time. We also decided to shoot 2.39 aspect ratio which might be the first for BBC One. It's great that the broadcasters are open to this kind of transmission and really fun for us to shoot."
Antarctica and a lightweight rigged Alexa Mini and the Amira there for high speed shots.
Cinematic Experience
Neil also added to that by shooting as much as he could with Beckham on prime lenses with a set of Zeiss Super Speeds. "I knew that the rest of the crew would be shooting off zooms and getting all the reactions that I wouldn't necessarily be able to get but it was really great to know that we were going to deliver something quite special as well in an environment that you wouldn't always have that luxury. Our agenda is always to try and push for these things and we were lucky to have some producers who were quite happy to push the boat out."
A typical set-up included Johann and his assistant shooting GVs the day before David and Neil would arrive. In Nepal for instance he shot landscapes with Tuk Tuks going through. That would cut in to the main footage and then when Beckham arrived he was going to place himself in a Tuk Tuk with an Arri Mini on a gimbal while Neil shot from his Tuk Tuk with him. What they didn't expect was around 50 people on motorcycles with cameras following them trying to shoot Beckham and turn the whole situation in to utter mayhem. "Then we'd arrive at the location and there are 5,000 people there, we had planned a whole walk through and then suddenly there's this friendly mob there, it makes for a very tense situation. David throughout it is completely cool as a cucumber. He has an air of complete tranquillity and calm. It is amazing to see as some other celebrities I've worked with would completely lose the plot looking for their security."
DoP Neil Harvey with Arri Mini camera and his mode of transport for the nine days in the background.
Drone Cut-ins
To add to the shots the team used drone footage apart from Nepal where there is still a ban on them. If the camera assistant couldn't do it they would hire someone in. In others places it had its benefits, Johann "In Miami there was a night game amongst all the skyscrapers and you've got the drone on David as he kicks off and then the drone reveals the whole Miami skyline in the background. Then you cut to an Alexa Mini on a gimbal which was the Letus Helix which was really great for those shots. Then you could have other cameras with long lenses on the match and a couple of wide shots on other Amiras. So you've got gimbal shots, long lens shots, wide shots and a drone, so even though your game is only 40 minutes long you've got a huge amount of potential coverage. For the finished programme the game will be cut down to around three minutes. In an ideal world you would have a Mini on a drone but that wasn't possible and we were happy to have that kind of shot on an DJI Inspire 1. You shoot it on 4K and hope for a short shot to locate yourselves, the budget just isn't there for a bigger drone that can carry heavier payloads. Drone shots now are just expected, if you're going to a remote location you want to see where you are."
This is the second time we've seen David Beckham take part in a travelogue type show with him as its reality star. "David Beckham into the unknown" was shown as a precursor to the World Cup in Brazil. It was shot with RED cameras to try and compete with a mainstream audience expectation of cinema on the telly. The 'seven' documentary was to be the same, driven by Neil and Johann. Neil, "We didn't want a GoPro show or any way that you were 'busted out' of the beautiful images by a lesser camera look. We knew this was the ultimate fast turnaround show but were determined to make it a epic as possible. We fought very hard for that.
"We were lucky that the channel supported us in that as there was talk of making it a 'self shooting' show in an attempt to make it more intimate. But BBC One is the 'Blue Chip' channel and deserves the best possible content. Look at programmes like 'The Hunt', we need to compete with that.
"What was amazing to me", says Neil Harvey "was how the camera equipment performed. From desert, to tropical jungle, to Antarctica the cameras didn't put a foot wrong, brilliant performance."