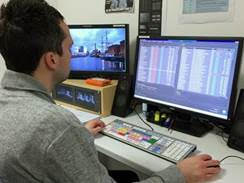 Marquis Helps Warner Bros. Park Projects
Posted on Jan 25, 2016 by Alex Fice
Greg Light, senior edit assistant, Warner Bros.
Marquis Broadcast has today announced its archive and retrieve solution, Project Parking, now developed to be a complete Avid storage management solution, has been selected by Warner Bros. Television Production UK Ltd (WBTVP UK) to park projects.
"Based at Grays Inn Road, London, WBTVP UK is an internal post house for large group of production companies," confirms Simon Brett, technical manager, Warner Bros.  "WBTVP UK is using Project Parking to manage the Avid projects on its 250 TB EditShare and 96 TB Isis storage.
"Projects span multiple workspaces and having a clear, top down view of those spaces is essential for media management as well as archiving Avid projects internally or between storage or sharing Avid projects externally," explains Brett.  "Project Parking is also being used to allow projects started on EditShare, to be moved over to Avid Isis storage with the goal of lowering the cost of nearline storage."
Greg Light, senior edit assistant, Warner Bros comments: "Our main challenge was how to archive a production that has nearly complete but for some reason been put on hold or had TX/completion dates pushed back.  Material needs to be kept safe but be more accessible and have faster recovery than deep LTO based steps.  Previously, large projects would end up using both nearline and online quality storage or if space became critical, conforming back to high resolution LTO restores would be an option.
"Finding orphaned files or those that have been saved to incorrect locations is also very useful.  It also enables us to move projects from our expensive on line storage out to cheaper nearline as necessary.
"With the ever increasing demands to use more media there is a growing need for organisations to optimise shared storage resources and Project Parking offers an intuitive toolset to analyse and manage media to optimise shared storage utilisation," confirms Chris Steele, managing director, Marquis Broadcast.  "In a single application the solution analyses all Avid projects and media to identify which projects are using up most space and take appropriate action to transfer, archive or delete.  It enables analysis of all Avid projects and workspaces on shared edit storage by size, age and location. Then, projects can be copied to any storage device, taken offsite to re-edit and then later merged back on-line, resulting in the management and optimisation of Avid shared storage and other storage platforms.  By taking care of the technical know-how, Marquis enables end users to focus on the important task of creativity."