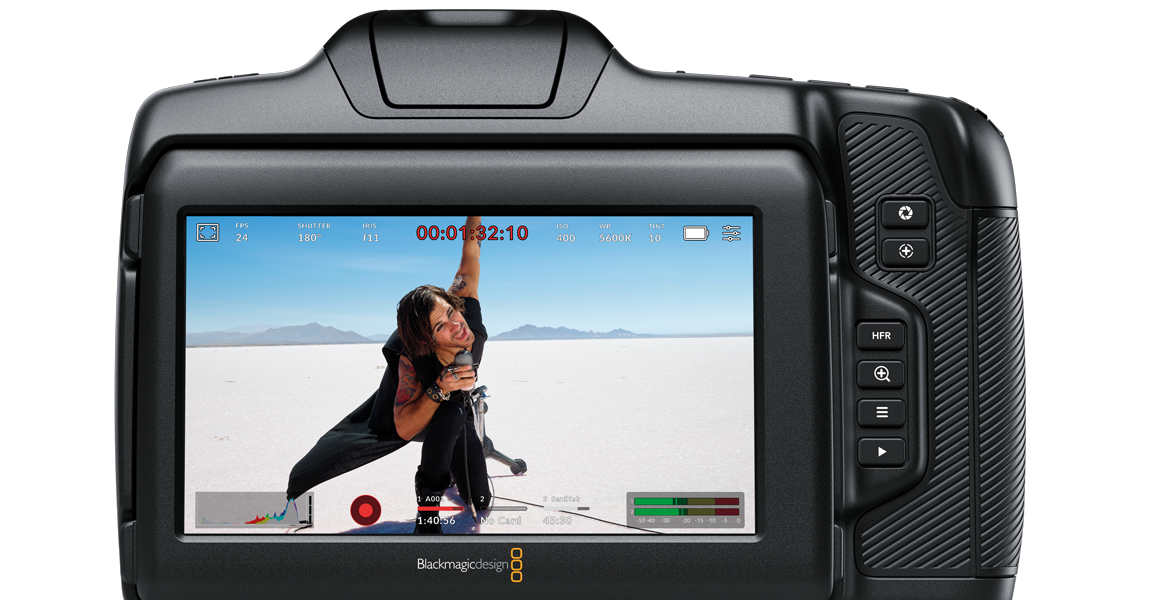 Decisions, decisions
Posted on Jul 27, 2022 by Samara Husbands
Need a small, powerful camera with filmmaking credentials? You could go for a stills/video hybrid or, on the other hand… 
Words Roger Payne
The notion of creating meaningful content on a camera as small as Blackmagic's pocket cinema cameras would have been ridiculous a few years ago. But tech has changed, and models like this are democratising the filmmaking process, putting pro-spec footage and features within reach for the most modest of budgets. Costing just £1989, the Blackmagic Pocket Cinema Camera 6K G2 – to give this latest release its full name – provides a raft of high-end cinematic functionality for little more than the cost of a new iPhone. With a Super 35 sensor, Raw file format and colour science plucked from the company's top-end Ursa Mini Pro 12K, it's all here. Granted, it may not shoot a whole production, but it has a broad range of applications. Just ask Taika Waititi, who used the 6K Pro version on Our Flag Means Death (see Definition, July 2022).
Of course, Blackmagic's Pocket Cinema Camera concept is nothing new – the company showed the first model back in 2012, with a 6K version seeing the light of day in 2019. This G2 updates that original 6K model by adding functionality from the pricier 6K Pro, launched in February last year. As a result, the family still features three models, all within £1000 of each other. The 4K with its Micro Four Thirds sensor sits at the lower price point, the 6K Pro at the higher end, leaving the 6K G2 to slot neatly between the two. 
So, what's new?
If you've come to this feature wanting to know how the G2 differs from the original 6K model, let's keep you sated. The most striking physical change is the addition of a tilting rear LCD, taken from the 6K Pro. Delivering the same touchscreen functionality as the rest of the family, the added tilt feature makes for easier composition at higher and lower angles. Plus, it provides easy access to controls, and a more efficient way to make focusing changes. 
The G2 is also powered by a larger battery. Gone is the standard Canon LP-E6 familiar to many EOS still camera users, in comes the NP-F570. The new battery offers 3500mAh compared to the 2130mAh on the LP-E6. Naturally, this leads to longer runtimes between charges – up to 60 minutes is claimed. Adding the tilt feature and a larger battery does make for a modest weight and size increase – the body now tips the scales at 1.2kg compared to 900g for the original 6K. 
An additional mini XLR input, for extra options when connecting microphones, has been squeezed in the G2's side panel. Last, but by no means least, it uses Blackmagic's Generation 5 colour science, for more accurate skin tones and faithful colours. A new 12-bit gamma curve captures more data in highlights and shadows, plus the Gen 5 science preserves colour and dynamic range data in metadata.
If you're scratching your head wondering how the 6K Pro is any different to this, let's clear that up. In addition to all of the above, the range-topping model features built-in ND filters – with two, four and six stops of compensation.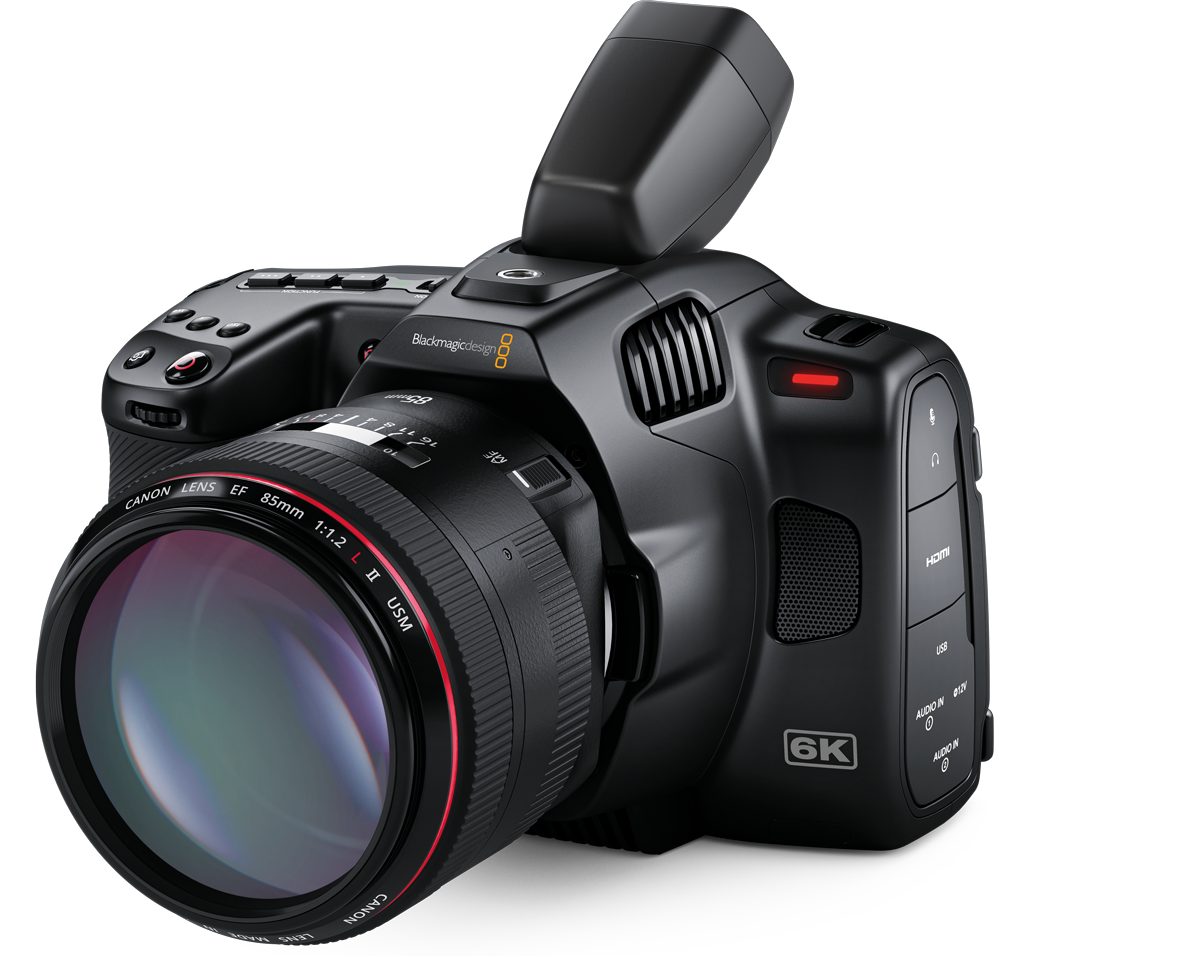 Designed for filmmaking
With the key changes covered off, we can get down to the important business of discussing the essence of the Blackmagic PCC 6K G2. In simple terms, this is a camera designed for filmmaking (although it does also capture 21.2-megapixel stills), with a Super 35 sensor and a Canon EF lens mount. That means you have plenty of optical choices, alongside a sensor large enough to provide fine control over depth-of-field. Artistic defocused backgrounds with lots of bokeh? No problem. It's great for use with anamorphic lenses, too.
The sensor offers dual native ISO settings of 400 and 3200, with the range up to 25,600. Dynamic range (DR) extends to 13 stops, which is consistent from ISO 100 to 1000, but starts to drop beyond that. Between ISO 1250 and 6400, DR is around 12 stops; at 25,600 it drops to just above ten. At almost all ISO settings, the range extends further into underexposed than overexposed areas.
Frame rates and resolutions are broad. At the top end, the G2 offers 6K at 50P, or 60P if you use the 2.4:1 ratio, which crops the sensor to 6144×2560 pixels. At the opposite end of the spectrum, Full HD records at up to 120P, while there's a 3.7K 6:5 anamorphic option at 60P. Naturally, these are all maximum frame rates; all the standard rates from 23.98P upwards are also supported. Codecs are equally broad, with Blackmagic Raw at various bit rates and a selection of ProRes 422 options to choose from.
The camera can hardly be described as an aesthetic tour de force, but it's clearly designed with function rather than form as a driving force. The body is made from carbon fibre polycarbonate, so is both light and strong, plus it features a range of key function buttons in close proximity to the sculptured grip for intuitive handling. It may look like a mirrorless stills camera, but the easily accessed controls show that it's very much a movie-focused machine. Functions that would be buried deep in the menu on a stills model, for example, are in plain view and can be customised.
Measuring five inches from corner to corner, the rear LCD is larger than most and runs the Blackmagic OS, helping with familiarity if you use one of the company's other cameras. Tap and swipe gestures change LCD functions, plus you can delve deeper and take full control over the more advanced features. The monitor also allows you to view 3D LUTs, to get a more accurate view of how final footage will appear.
File storage can be done on SD, UHS-II or CFast media, and the USB-C port also allows external media to be connected directly. The port transfers data at up to 5Gb per second, giving you the opportunity to max out the G2's quality settings, safe in the knowledge that it will all be stored with a suitably high-speed external device.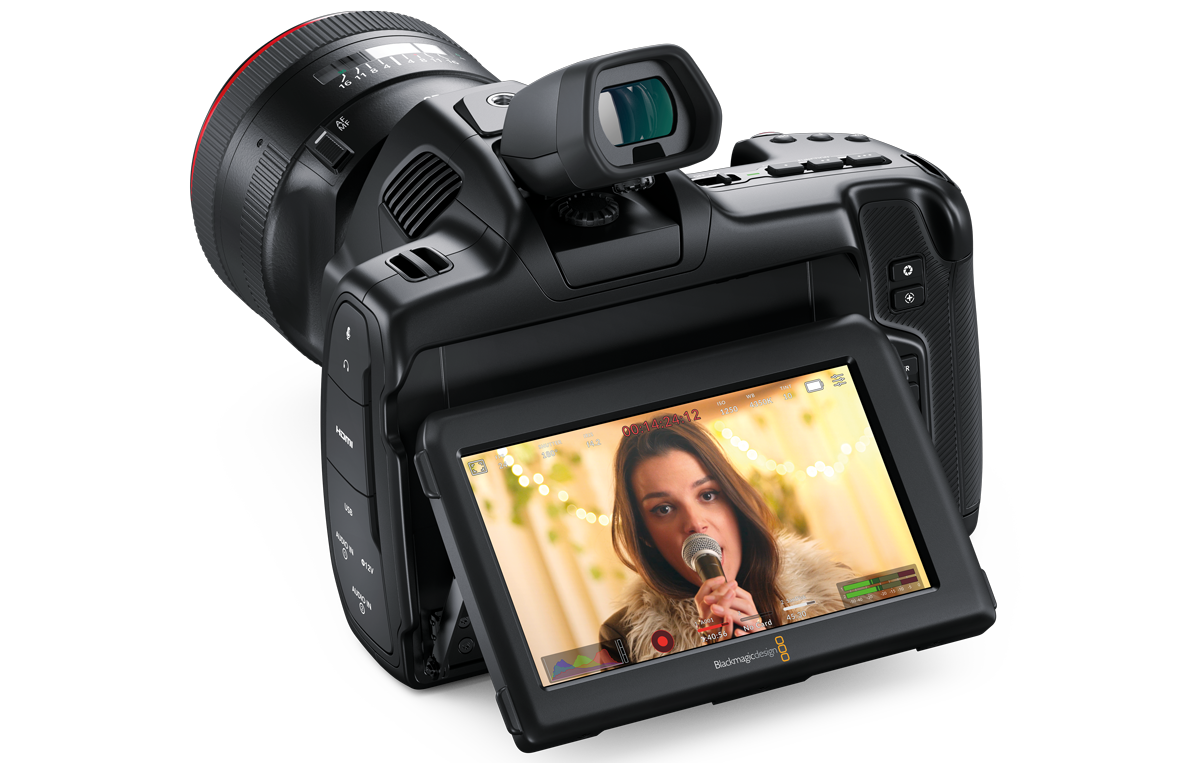 Consider the options
As previously mentioned, the updated battery does provide longer shooting time, but those working away from mains power should consider the £125 optional Battery Pro Grip. This houses a further two NP-F570 cells, to extend recording times to three hours. For those near mains, the supplied AC plug pack powers the camera and charges the battery simultaneously, or the USB-C connector can be used to trickle charge. While on the subject of options, the G2 has provision for an optional electronic viewfinder, making for easier viewing in bright conditions. The £499 Pro EVF offers a proximity sensor, +/- 4 dioptre adjustment, built-in status information and a digital focus chart.
Clearly, the Pocket Cinema Camera 6K G2 is not suitable for every application. But for those occasions that it proves useful, it's got the versatility and feature set wrapped up in a compact, lightweight body, worth its weight in gold. At this price point, it's something of a no-brainer, especially when you consider it also includes a full version of DaVinci Resolve Studio. We'll have a full test in a future issue of Definition.
Originally published in the August 2022 issue of Definition.