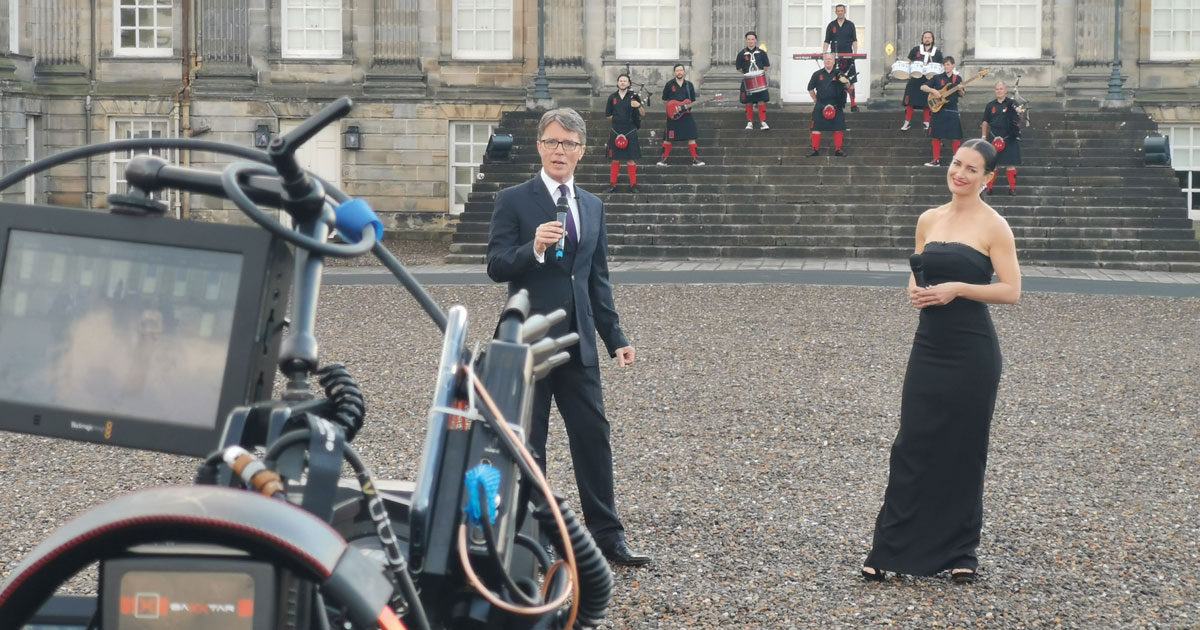 Culture Club
Posted on Apr 27, 2022 by Samara Husbands
How Jay Rozanski's crew captured a series of alfresco performances, showcasing Coventry as the UK's city of culture  
Advertisement feature
Unfulfilled by the monotony of corporate work, Jay Rozanski shifted the direction of his company oXyFire Media Creative. It had been predominantly focused on creating eLearning content for the likes of British Airways, Unilever and Ikea, towards live broadcast and multicam shoots. Ready to take on major sporting events and concerts, Rozanski's move was unfortunately thwarted by the pandemic. "We had no work," he explains. "But then something great happened: clients began transitioning to streaming online and our company was able to support that. The first big project that we livestreamed during lockdown was for Manchester International Festival. Typically held over 18 days in venues throughout the city, it is an artist-led extravaganza, presenting new works from across the spectrum of performing and visual arts and popular culture – and we were able to bring those artists, who came from across the world, together remotely."
Rozanski's efforts didn't go unnoticed – he was quickly snapped up to showcase the UK City of Culture 2021 in Coventry. Held every four years, it is an event designed to promote arts and creativity as a means of celebration and regeneration in one successful location. However, because it coincided with one of the UK lockdowns, it required an astute digital strategy to ensure all the events got the exposure they deserved. "We basically needed to do a load of online streams, and my brief for the first event – the opening ceremony – was to have a crew of four camera operators capturing footage in and around the city, to be vision mixed back at the control room with graphics, BSL, captions and audio description. This went smoothly, it was the second event we worked on. But getting coverage for Faith, that was most taxing," Rozanski explains.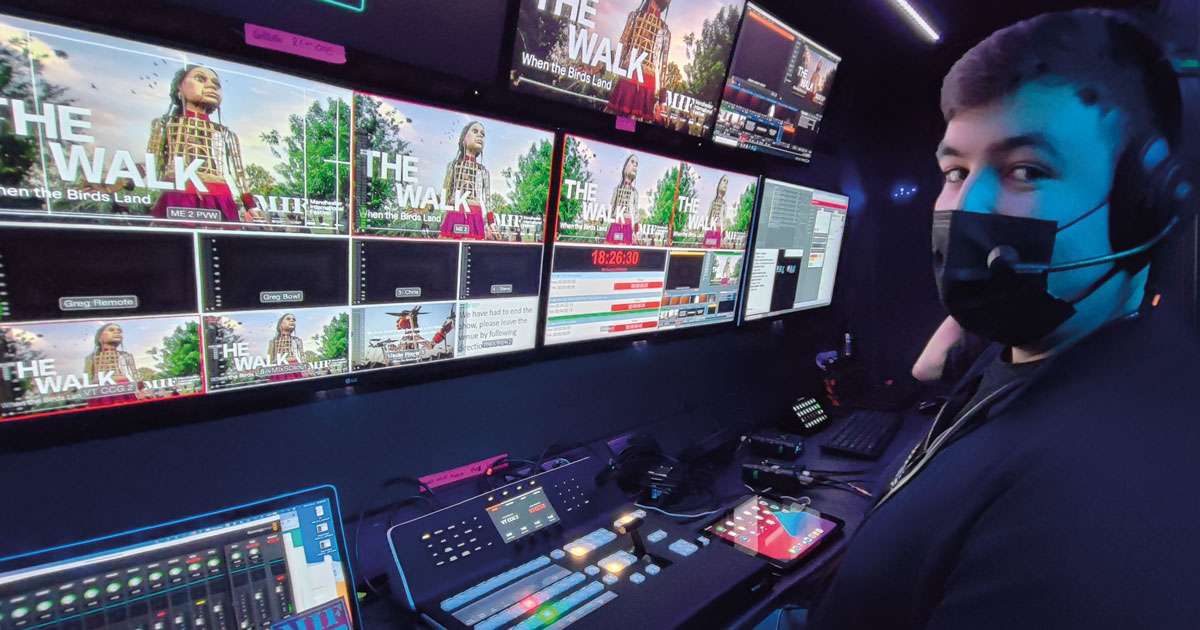 Walk this way
Faith – a set of promenade-style performances co-produced by the Royal Shakespeare Company – demanded a lot from the crew technically, but also physically, as they followed the actors through the streets with equipment in tow. "It was probably the most challenging event I've ever worked on," says Rozanski. "The crew walked for 12 hours, capturing footage of the play, and a 600-person audience that walked with them through the city. The kit had to be lightweight, and we made sure that each operator had an Easyrig and camera assistant, so they weren't also having to carry batteries and accessories."
The brief was like the opening ceremony: the event needed to be broadcast to various online streams and vision mixed in a similar way, but there was one rather large issue. Four camera operators captured footage of the opening ceremony, but Faith: The Return required five – and the transmission technology that had been used to broadcast the first event, couldn't provide the guarantee that all five cameras would be able to stay in sync for the live stream.
"We found a cellular bonding company called Aviwest, working with them for six weeks on various tests and trials to ensure that we could get five camera feeds, in addition to a spare redundancy feed, all frame accurate. Plus, with the performances moving around the city, we also had to assess cell towers to see where dropouts might occur, deciphering how we were going to manage them by switching networks," Rozanski explains.
"It was then a question of working out how we could communicate with the camera team remotely from the master control room. We settled on a software called Unity Intercom, which was great because it could be integrated with our Blackmagic Atem Constellation to also send tally to the team. Mobile phones were then mounted onto the Easyrigs, so that the tallys were in clear eyesight – but the crew also had to be mindful of that fact there would be a 1.8 second delay from the director Sally Duff's calls. She was great, though – she just made sure she gave an additional two to three seconds of warning before pivoting."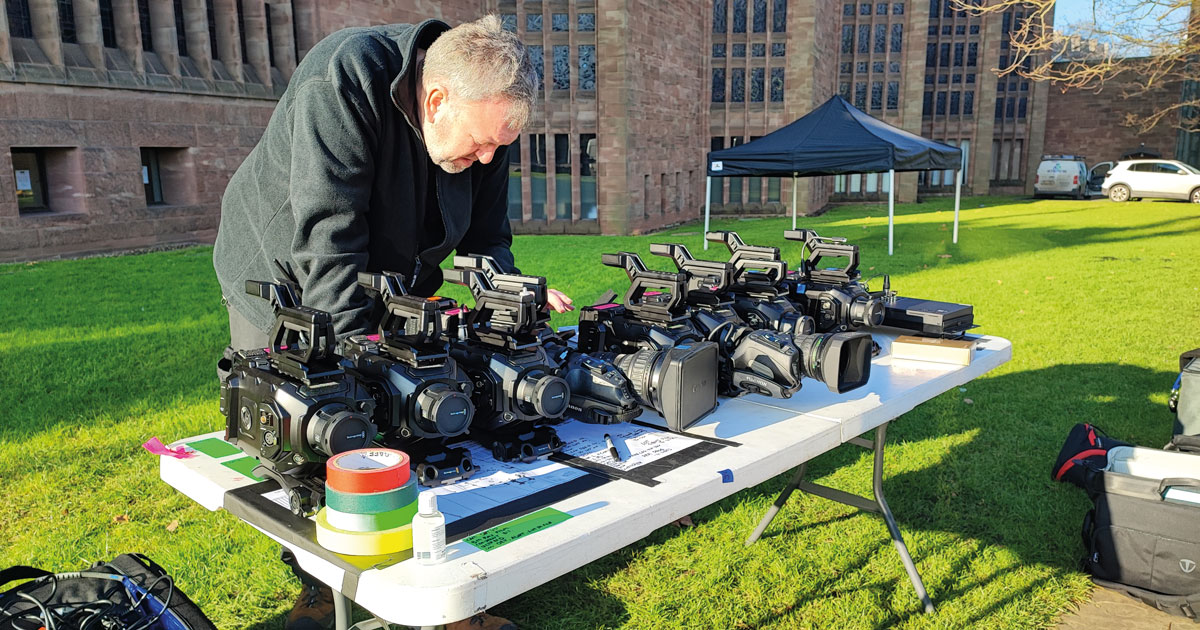 It's a kind of blackmagic
As well as opting for the Atem Constellation as the choice of switcher, Blackmagic equipment made up most of the ecosystem for the City of Culture broadcast and was supplied by Rozanski's company. It included ten G2 cameras – all of which had been purchased previously through CVP, chosen for their ability to integrate and provide a complete broadcast pipeline. "I would say that 90% of our equipment comes from CVP, which is largely because the sales staff are so accessible. If I'm ever desperate, for example, I've got the Sunday night fear that I don't have enough CFast cards for a Monday morning shoot, I can rely on them and know that Yogesh will deliver in time," says Rozanski.
Production company oXyFire Media Creative were also on hand to cover one final performance, Ghost in the Ruins. Even though it was a more traditional outdoor broadcast event, set in the poignant Coventry Cathedral, it was linked in two parts. The first was seated inside a dark cathedral and focused on intimate and reflective choral moments, including singers and musicians rising from, and moving around, the audience. The second invited the audience to move into the ruins to experience a bold, performative ending, where more singers from in and around the community joined in.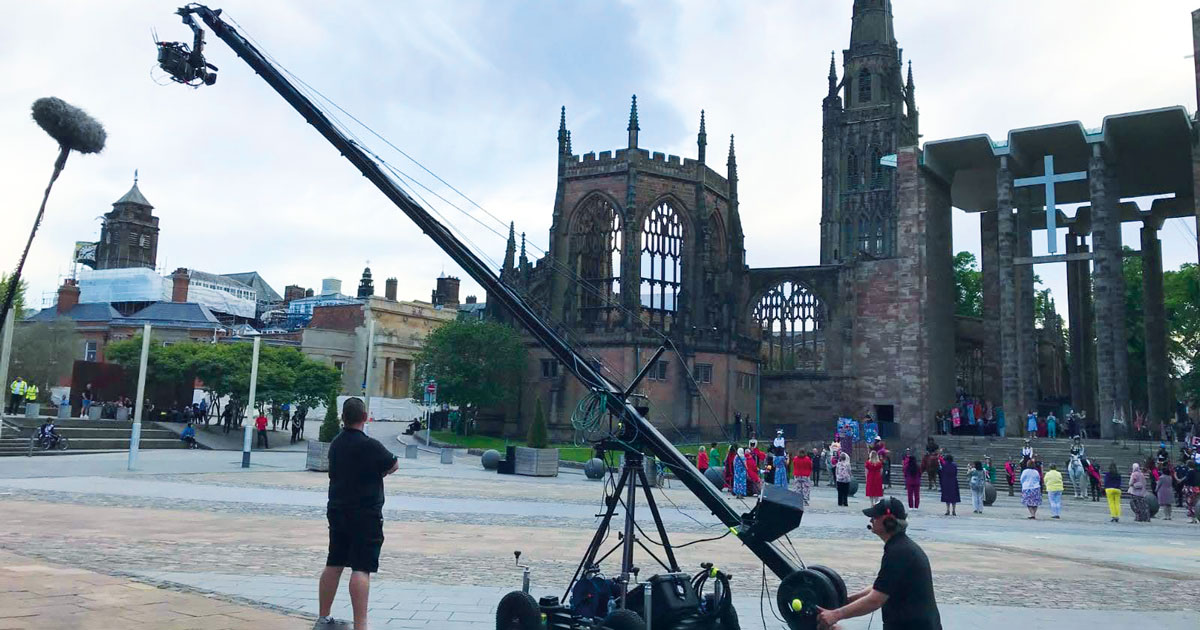 "The challenges were therefore twofold," explains Rozanski. "We had to first figure out how to film in the dark cathedral, which was only backlit by projections of ghosts wandering around the ruins. For this, we used the G2 cameras with the B4 mount Canon ENG CJ lens range, since they allowed more light to enter the sensor – but it was the combination of these lenses and the camera with its updated sensor that functioned well for our needs. We then had to work out how to move our six-person camera crew, and all the equipment, from inside the cathedral to the ruins 25 metres away for the second part of the performance, being watched by 800 people. It was quite hard to do, especially on a budget. I wanted 12 cameras for the shoot, but could only have ten, so we ended up using an enormous amount of fibre cabling – 62km to be exact."
Although the coverage for these events was set up for live stream, each of them aired as an edited broadcast.
This feature originally appeared in the May 2022 edition of Definition Magazine.