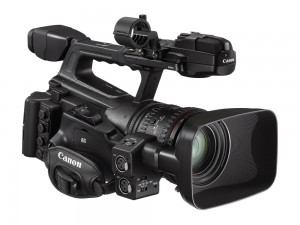 Canon Launch New Camcorders
Posted on Apr 7, 2010 by Alex Fice
Canon have launched two new solid-state recording camcorders, the XF300 and XF305. Both offer 3×1/3" progressive, 1920×1080 sensors behind an 18x zoom lens with Canon's coveted 'L' quality rating (that's the red ring you see on all their highest quality professional lenses).
The camcorders record MPEG-2 at up to 50Mbits/s with 4:2:2 sampling onto Compact Flash cards, so you don't have to fork out for some proprietary card format and the image quality should be excellent. There will be support for the data format at launch for Apple, Avid, Adobe and Grass Valley NLEs.
The XF305 adds timecode, genlock and HD-SDI, but otherwise the two models are identical. Both the LCD and EVF have class-leading resolution and Canon's build quality and handling are usually pretty good, so we are looking forward to bringing you a full review in May, with both camcorders shipping around June. Prices are to be confirmed, but expect MRRP to be about €7000 for the XF300 and €8000 for the XF305. That's not cheap, but you can expect High St. (i.e. Internet) prices to be lower.