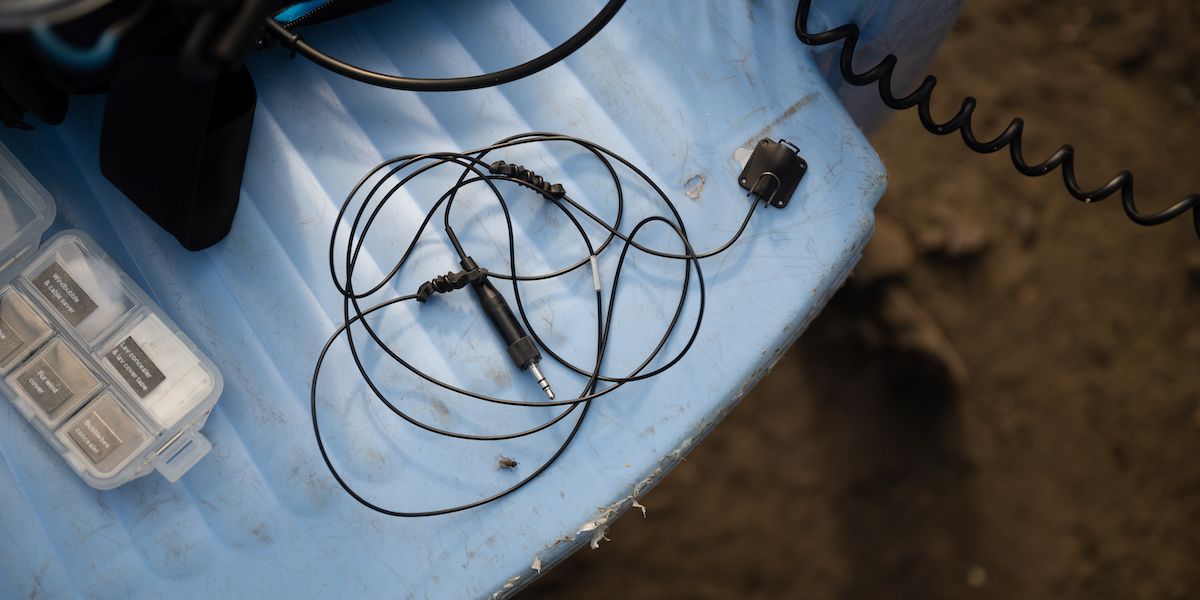 Bubblebee: The mic accessory company that's blowing up
Posted on May 28, 2023
Solo filmmakers are turning to Bubblebee Industries' versatile range of sound recording tools to help them capture awesome audio
Advertisement feature
FOR AWARD-WINNING photographer and filmmaker Tom Price, Bubblebee Industries' accessories have proved to be a game changer, especially when working outside on location, contending with external factors such as wind noise, clothing rustle and unwanted ambient sounds. Price works for numerous NGOs and charities around the world covering social and environmental causes. He recently returned from the Democratic Republic of the Congo where he was using Bubblebee concealers with miniature DPA lavalier microphones to help capture interview footage.
"When I'm shooting video, my motivating principle is to be as immersive and authentic as possible. I also want to do justice to my subject matter. The dignity of the person I am interviewing is really important to me and I want them to sound as rich and clear as possible."
Price uses Nikon Z 6 and Z 7II cameras in conjunction with a recorder. He also has a small Rode shotgun mic for his camera, as well as DPA 4060 lavalier microphones.
"The Bubblebee concealers for my lav mics are absolutely magic and I haven't found a quicker or more straightforward way of mic-ing someone," he explains. "They are so simple and straightforward to use and the best thing I've found for reducing clothing rustle and vibrations. They are also a very robust way of fixing a mic to someone without it being visible."
In some areas of the world, using a lav mic can be difficult because it involves touching the subject and putting your hands inside their clothing.
"Most men are OK about it, but I always get another woman to mic up my female interviewees," Price says. "Mic-ing up a sweaty person or someone wearing a stiff, waxy fabric can be difficult. People accept a degree of intrusion but sometimes it's hard to get through layers of clothing and longer robes. Luckily Bubblebee has plenty of accessories to solve these problems, including, if all else fails, really strong tape.
"No kidding, I once had to use this tape on someone because his chest was covered in thick, tightly curled chest hairs. Taking it off was awful. He was very macho about it, but the guy was nearly in tears!"
Another Bubblebee product Price uses is the Windbubble, which fits over his lavalier mics and cuts out any wind noise.
"I was recently filming in London," he says. "The wind was howling, and the interviewee wanted to have it blowing at her, so her hair wasn't in her face. I used a lav with Windbubble and the result was fantastic, despite the wind blowing directly onto it. You couldn't hear it at all. It was a relief to have equipment I could trust."
Danish freelance TV camera operator and editing technician, Thomas Michelsen, is another camera professional upping his audio game due to Bubblebee accessories.
Michelsen, who recently returned from Poland where he was filming a documentary about Ukrainian refugees, says: "My first Bubblebee purchase was a short-haired version of The Windkiller – a quality windshield for shotgun mics including the Sennheiser ME66 and Rode NTG2 microphones that I use with my cameras. It blocks wind noise extremely well and I tend to use it when I am filming outdoors, especially where a person is talking to camera and I haven't had time to fit a lavalier microphone."
Michelsen recently added a Bubblebee Big Windbubble to his kit bag, to protect his Sennheiser EW 100 G1 handheld mic.
"It is strong and easy to use – you just slip it over your microphone and it is held in place by elastic," he says. "I often do interviews outdoors where there might be wind or ambient noise to contend with. Having a quality fur windshield for my handheld microphone is really useful – it means I can capture much better sound."
As a Dane, Michelsen adds that he is especially pleased to be supporting a company founded by fellow countrymen. "Denmark doesn't have a massive film and broadcast industry so it's great that Bubblebee Industries has made such an impact on the world stage," he says.
Learn more at bubblebeeindustries.com
This advertisement feature appears in the June 2023 issue of Definition. Read the full magazine here.