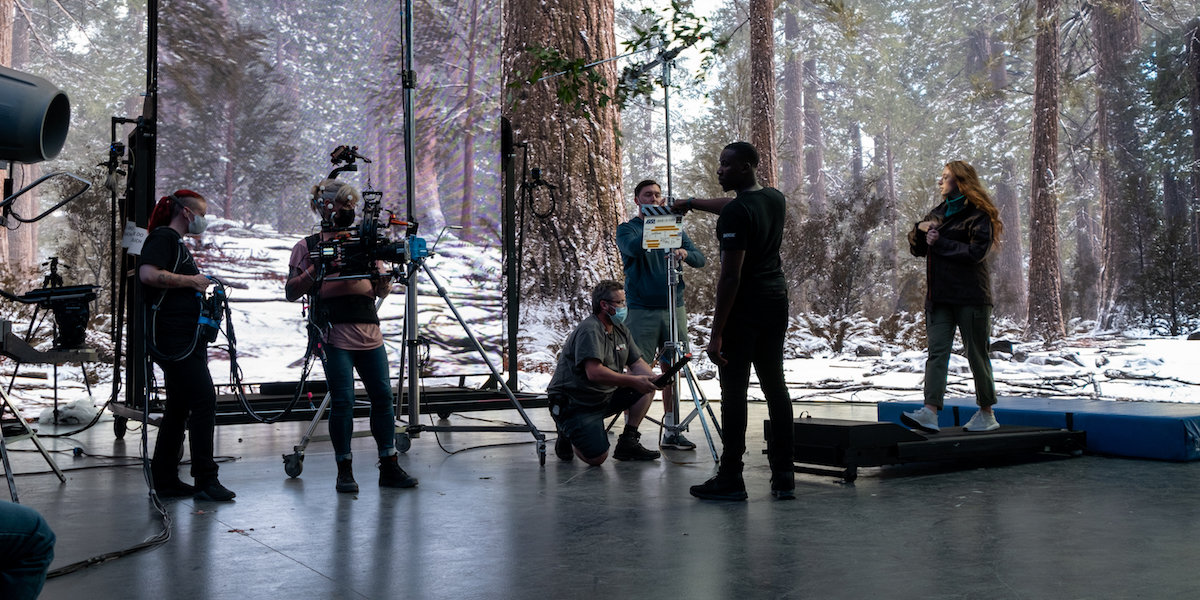 Arri: Turn up the volume
Posted on Apr 3, 2023
Focus on quality – that's the ARRI guarantee, for an unmatched virtual production experience
Advertisement feature
ARRI HAS BEEN a pioneer in the film industry for over a century, with few companies able to match its heritage, innovation and technical expertise. Headquartered in Munich, the company's continued success can be attributed to its commitment to quality, attention to detail and perpetual improvement.
ARRI has always been at the forefront of technological advancements, with innovative products highly revered by filmmakers around the world. Additionally, it has a deep understanding of the creative process of filmmaking and works closely with cinematographers to develop the best tools for achieving their visions.
Growing demand from customers for advanced, highly integrated production operations led to the development of ARRI Solutions, a dedicated business unit.
"Our global team of specialists design and deliver pioneering environments, from virtual production stages to integrated systems and workflows for broadcast, studio and corporate customers," explains David Levy, global business development director at ARRI Solutions. "Our experience of leading major studio projects, from consultancy through to configuration and turnkey installation, means we can offer customers a full end-to-end service with the promise of ARRI brand quality."
THE BIG STAGE
Flexible studio design is integral to making each virtual production stage effective. This could include motorised LED displays and lighting bars, boosting shoot efficiency and removing the need to work at height.
"Each environment is unique, in terms of scope, production requirements and budget. It's important to work with each client from the very start to ensure they have a solution that precisely matches their requirements," Levy continues. "Starting with consultancy for the overall objective sets the foundations for the most effective outcomes for clients."
ARRI Solutions has coordinated major projects including the DARK BAY stage at the world-famous Studio Babelsberg in Potsdam, near Berlin, and the design of ARRI Stage London at its Uxbridge premises in the UK.
The state-of-the-art facility, installed in partnership with Creative Technology, is equipped with a 343 sq m wraparound LED volume, together with creative software platforms, camera tracking systems and powerful media servers. More than 25 productions have relied on ARRI Stage London – a mixture of high-end feature films, episodic dramas, commercials, corporate and theatre.
ELEVATING VIRTUAL PRODUCTION
When it comes to authentic image delivery, ensuring smooth, dynamic integration at all stages of virtual production workflows is imperative. "In any production environment, the best image quality will be achieved when camera and lighting are seamlessly integrated with the virtual elements, be this graphics, 2D plates or a complete virtual world," Levy explains.
ARRI Solutions' workflow integration has underpinned projects with a wide variety of content producers and studio owners, including Chinese multimedia company Tencent. Its Content Development Department engaged ARRI Solutions to deliver custom lighting design, consultancy on workflows offering deeper integration, as well as improvements to power and energy consumption, specialist training and on-set engineering support.
"In Finland, Fireframe Studios was the first to implement ARRI's colour management system for shooting in-camera VFX and volumes," Levy asserts. "We have been making camera and lighting systems for over 100 years, so we have a huge depth of knowledge when it comes to integration of complex digital workflows. We make sure productions achieve the highest possible image quality results."
This article appears in the April issue of Definition. Learn more at arri.com.