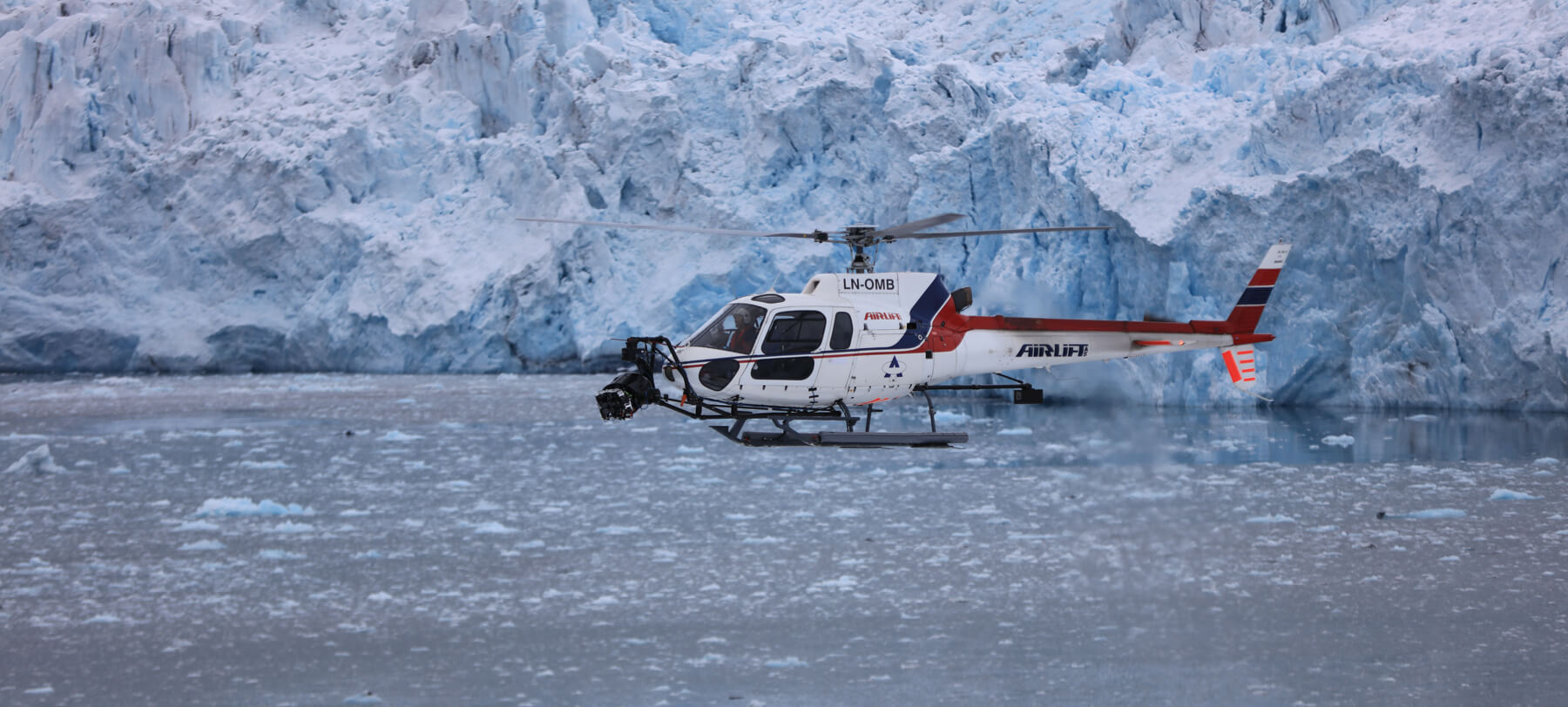 Aerial special: Getting off the ground
Posted on Nov 10, 2020
Our annual aerial special includes plenty of innovation and determination from key players.
Words Chelsea Fearnley / pictures various
In our industry, it seems aerial companies have been the first to get productions off the ground. Due to the very nature of their operations, whereby they take to the skies to capture images, they are socially distanced from the production crew below. When things took a downward turn in the UK and, like most businesses, aerial companies were reduced to staying indoors, their efforts were heavily focused on R&D, preparing for the future and fine-tuning gear.
Bigger demands, bigger drones
Flying Pictures unveiled its powerful new drone, the Ultra, back in July, though, unbeknown to most, this drone was actually ready in February. "Lockdown gave us additional time to refine it," says the company's chief pilot, Daniel Rose. "The CAA requires a technical assessment of all drones capable of flying anything over 20kg, and the Ultra has a payload of up to 60kg, so it took quite some time to assess! We also didn't want to launch the drone without officially being able to use it, which is what we often see when companies bring out new gear."
The Ultra is capable of carrying some of the heaviest camera and lens packages around, such as a three-camera Alexa Mini multi-array, with Zeiss CP.3 lenses and a full RTMotion Lens Control System, or an Arriflex 435 film camera, fitted with a 400ft mag and the Cooke 35-140mm Anamorphic/i zoom. It's also the only drone capable and approved to fly the industry standard Libra L7 remote head.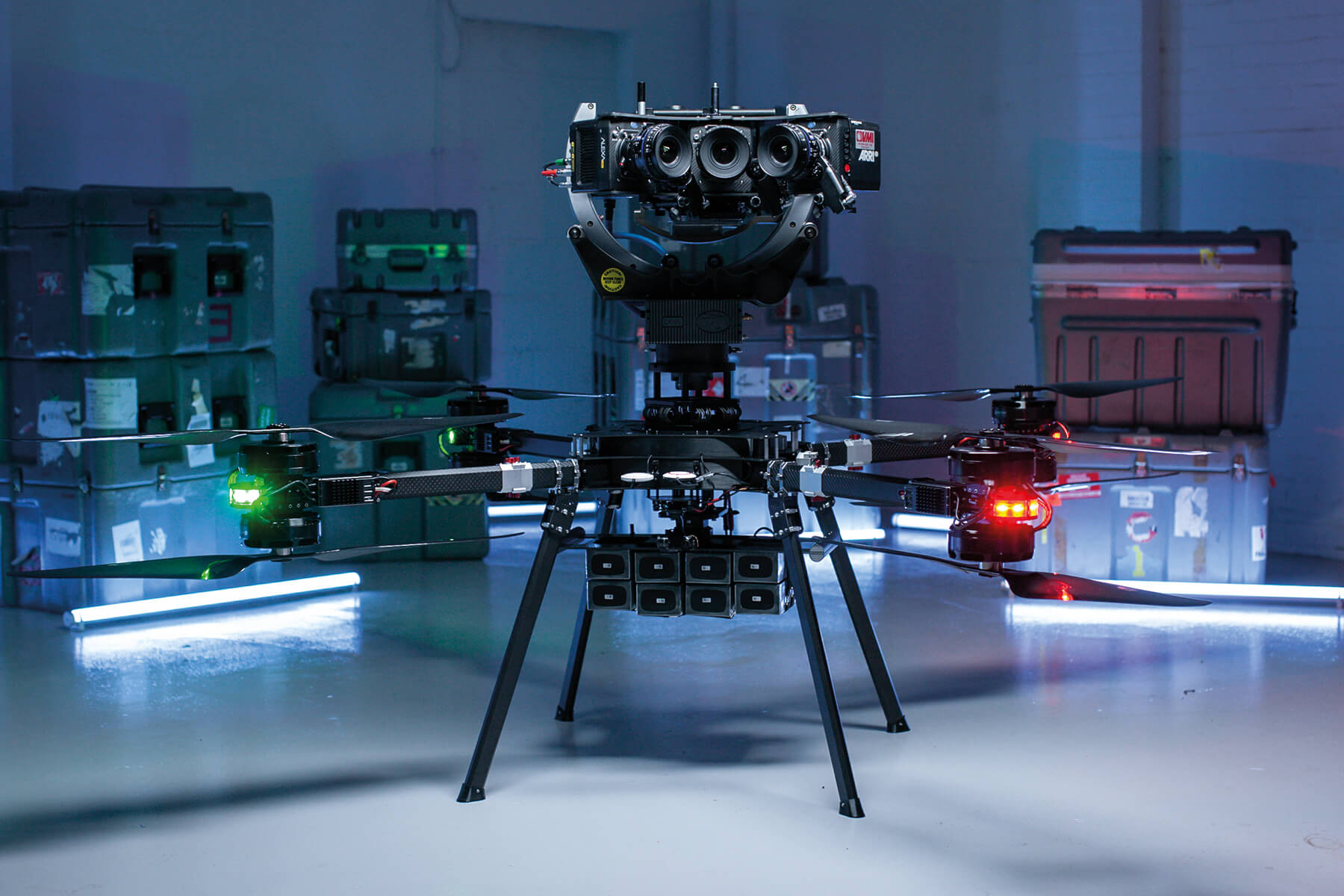 Rose says: "We wanted to create a drone that's future-proof, one that's able to do multicamera arrays to match the industry's increasing demands for visual effects, and that can also accommodate heavy film cameras, because they've started to come back into vogue."
Multi-arrays provide an extremely wide field of view at a remarkable resolution, which is beneficial for VFX departments creating 360° images, such as the sky.
Emma Boswell, who is co-founder of aerial film specialist The Helicopter Girls, explains: "Until recently, three- and six-camera arrays have been very much the territory of helicopter companies. Our partner company, Marzano Films, owns the Eclipse XLHD helicopter multi-camera array, and John Marzano is one of the few aerial DOPs with specialist knowledge of array systems. Now these things are possible with drones, which is an exciting development for the work we are able to do together."
Like Flying Pictures, The Helicopter Girls specialists wanted to utilise the time they were grounded to meet these competitive industry demands: "We were very focused on R&D on both the super-heavy lift capability and at the smaller end of the spectrum, too. We have a great medium-weight heavy lifter, which has a maximum take-off weight of 36kg for payloads like the Arriflex 235 film camera, which we can fly with a 400ft mag. And thanks to bespoke in-house engineering, we have unique full pan, tilt and roll control on the Ronin gimbal. What I like about this aircraft is that it's still nimble and manoeuvrable, with a footprint that's not much greater than the standard heavy-lift drones."
The last time we spoke to Helicopter Film Services CEO Jeremy Braben, back in May, the company had just created the Titan drone, also for large film cameras and VFX departments. During lockdown, the teams were focused on adapting their impressive multicamera array.
"It can handle anything between three and six cameras, and we've been working on adapting new cameras into the array. At the moment, it's being used with the Arri Alexa, but it can also carry the Red Helium," Braben explains. "On the ground, VFX departments often use multi-arrays and will have up to 12 cameras. But in the air, we're restricted to size, so six to seven is what we regularly achieve."
Click the images to see a larger view
Work didn't enormously slow down for Flying TV, whose USP has always been its economical, smaller helicopters with the GSS gimbals. Aerial DOP and operations manager for the company, Monica Wyer, says: "Certainly, new production bookings slowed, with many projects put on hold or cancelled. But aerials often come at the end of a production, so some tasks were able to go ahead as we often fly without a client on board. We were also very lucky to be part way through an Amazon project, which didn't really stop as the client was working remotely."
She continues: "Our most recent development, our high-speed, fixed-wing solution, which launched at the beginning of this year, had several projects lined up. Unfortunately, the fast escalation of Covid meant that the aircraft had become stranded overseas while on a task, meaning a couple of projects – particularly air-to-air ones – meant reverting to a helicopter. But I'm pleased to say the aircraft is finally back in the UK!"
Projects
More recently, Flying TV has supplied aerials on Flying for Britain with David Jason, which the company shot on its new Sony HDC-P50/Canon CJ45 combo in UHD. Wyer adds: "We're also very pleased to have been asked by the producer, Kiaran Murray-Smith, who we worked with on the J K Rowling Cormoran Strike dramas, Silent Witness and Bulletproof, to capture the aerials for the new Peter James drama, Grace. This will be done on the Red DSMC2 with the beautiful Angénieux Optimo 25-250mm."
Productions have also started to pick up for our other aerial companies, although that might be underselling it. It would be fairer to say that work for them is booming right now. Flying Pictures just supplied aerials for an Emeli Sandé concert, performed on the roof of Wembley Stadium. The shoot was made easier thanks to its congested areas permit, which allows the company to fly in places like central London, at ten metres from any person, vehicle or building. "Normally, you can't get closer than 50m," explains Rose.
The practicalities of lugging a drone to the top of Wembley stadium was the difficult bit: "We were using our heavy drones, so we had to carry those, plus all of the cameras, all while trying to stay social distanced. It was technically very interesting! We also had to bring more than our usual kit, with multiple monitors, which were separated by two metres, and everyone had to keep their headsets and radios disinfected."
Despite this new normal and all of the regulations, which – although necessary – can be quite time-consuming, aerial companies are striving to make it work. Helicopter Film Services recently supplied VFX aerials on two big Marvel films involving a couple of filming firsts.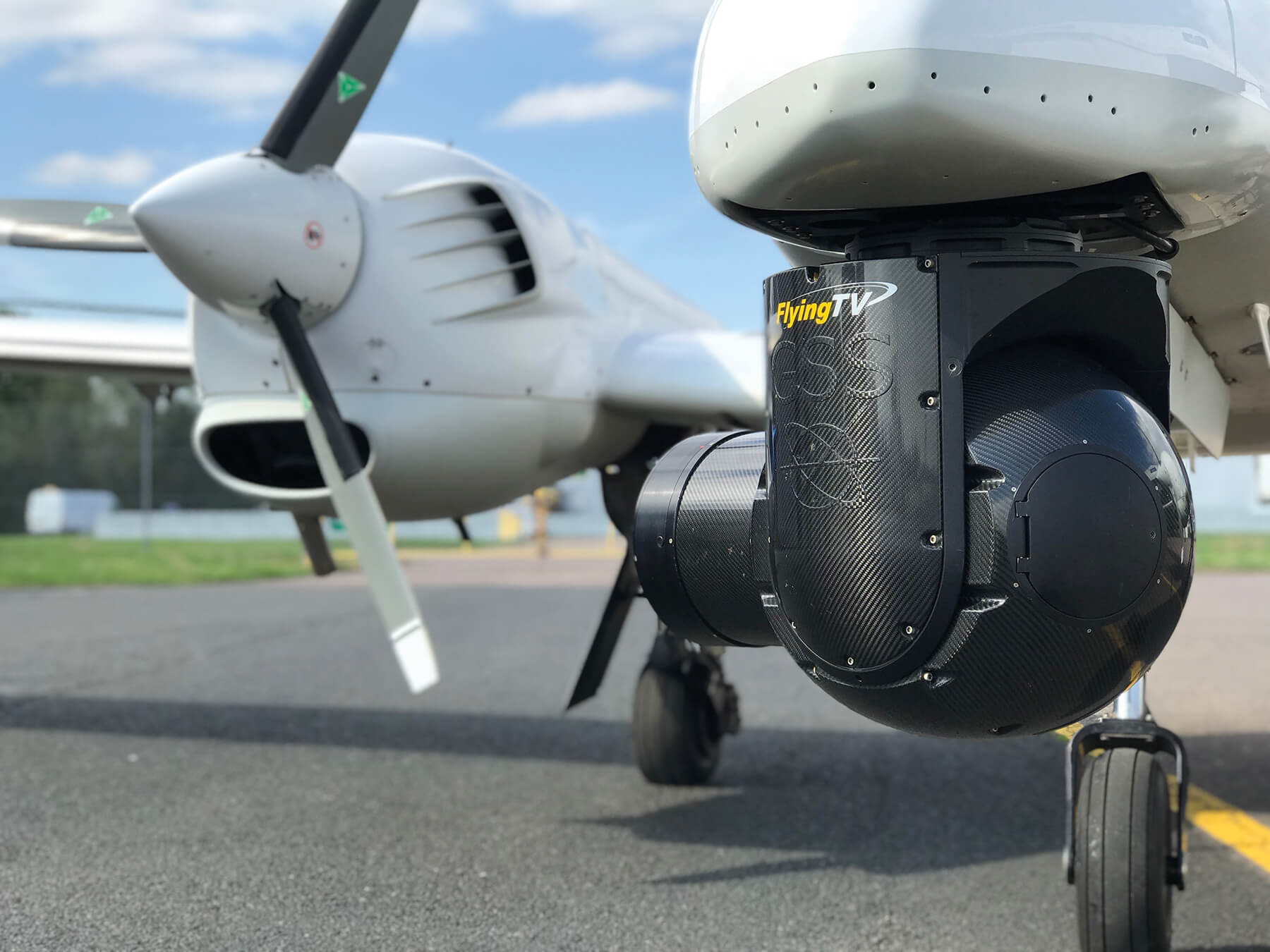 Braben explains: "Our six-camera array drone, the Typhon, shot VFX and live action plates in Norway, Svalbard, Tangier in Morocco and the UK with six Red Helium cameras and 21mm Zeiss CP.3 XD lenses to give a massive field of vision. For the Norway shoot, we integrated the use of focus and iris control via remote control on each lens, with six iris motors and six focus motors for each body. This enabled us to calibrate each lens individually to counter any mechanical difference in the scales of the focus and iris. And we used a single, hand-controlled unit in the helicopter cabin to control all 12 of the motors, which was our aerial filming first."
Drone shooting in Tangier presented a few issues for the company, from difficulties transporting the equipment up small, winding staircases to rooftops, to flying around the roofs of busy medinas, complete with TV aerials, scaffolding and washing lines. "To aid our pilot, the Aerigon drone was fitted with a pilot camera, allowing the pilot to plan the route effectively and navigate obstacles more easily," says Braben. It's also illegal to fly drones in Morocco, but Helicopter Film Services has "a good reputation for filming in this beautiful country", allowing it to work closely with local authorities to negotiate permissions to fly there.
With sport returning to our television screens, Aerial Camera Systems (ACS) has also been busy, says David Manton, the ACS aerial unit head. "We're still supplying aerials for football matches and horse racing, and we did the London Marathon in October. We also got a newly configured gimbal in the office, which can take Red cameras and the GSS cinema pro, so we've been using that out on natural history shoots."
The company also supported the return of the Goodyear Blimp to European motorsports. The blimp supplied aerials of the rescheduled Le Mans tour, which aired in September, with a camera solution package that consisted of a HD Cineflex V14 gyro-stabilised system, a Sony HDC-2500 camera and a Fujinon 42x long zoom lens.
"It's something we've been doing since the early 2000s," says Manton. "So, I'm glad we were able to be back again this year."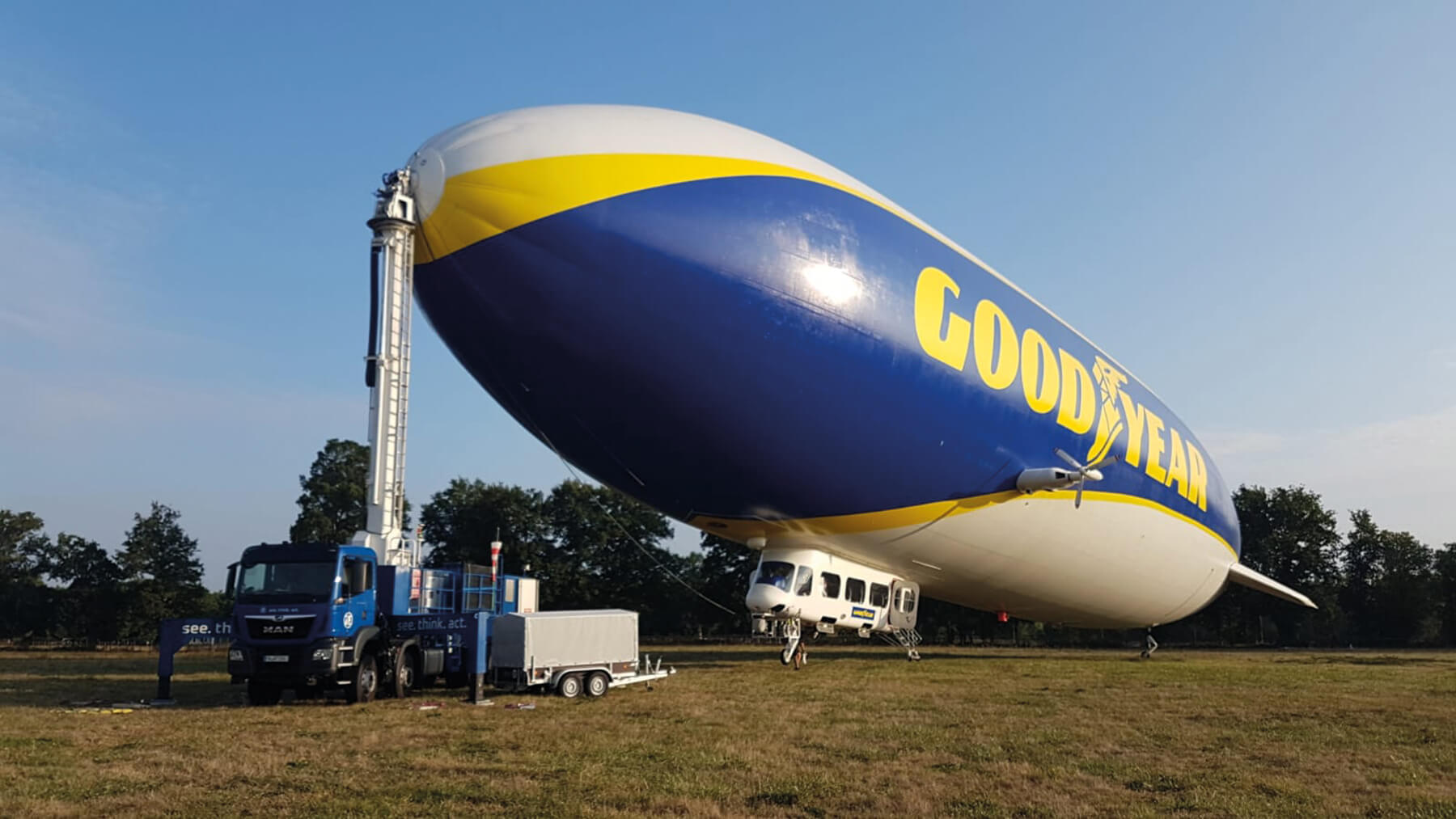 FPV
Meanwhile, Emma Boswell has been functioning on as little as three hours sleep of late, juggling triple the amount of jobs she'd be used to doing pre-Covid. Current projects include Jurassic World: Dominion, The Northman, The Witcher and a new series for Netflix.
The Helicopter Girls specialists have also been working on something that has the potential to be game-changing for our industry. Ever heard of FPV? Well, it's a racing league that flies tiny little quadcopter drones at super speed. UK pilot Rupert White holds the current speed record at a whopping 312mph. The drones are piloted remotely, using an on-board camera that feeds wireless 'first-person view' video to special FPV goggles. Boswell explains: "It feels like you're sitting in the cockpit of a little drone!"
The rules and regulations of the CAA state that all drone pilots have to fly in line of sight. But in FPV racing, you have spotters, so you've always got somebody else being the eyes on your aircraft. "It enables you to do manoeuvres that you simply cannot do in line of sight," says Boswell. "Moves that can't be achieved on a stabilised drone – for example, diving down the side of a high-rise building – are possible with FPV drones, because of the aerodynamics of the frame and flight controller. This is a new area of drone legislation, and in this country, the regulations don't yet allow for high-speed FPV work in a congested area, so this is something I am working with the CAA on to enable us to achieve safely."
She adds: "We partner our experienced line-of-sight film pilots with specialist FPV pilots, and together they make an incredible team. We're working with four FPV pilots, all of whom have been champions on the racing circuit, Their skills are mind-blowing; they can turn these drones on a hairpin and fly them incredibly fast."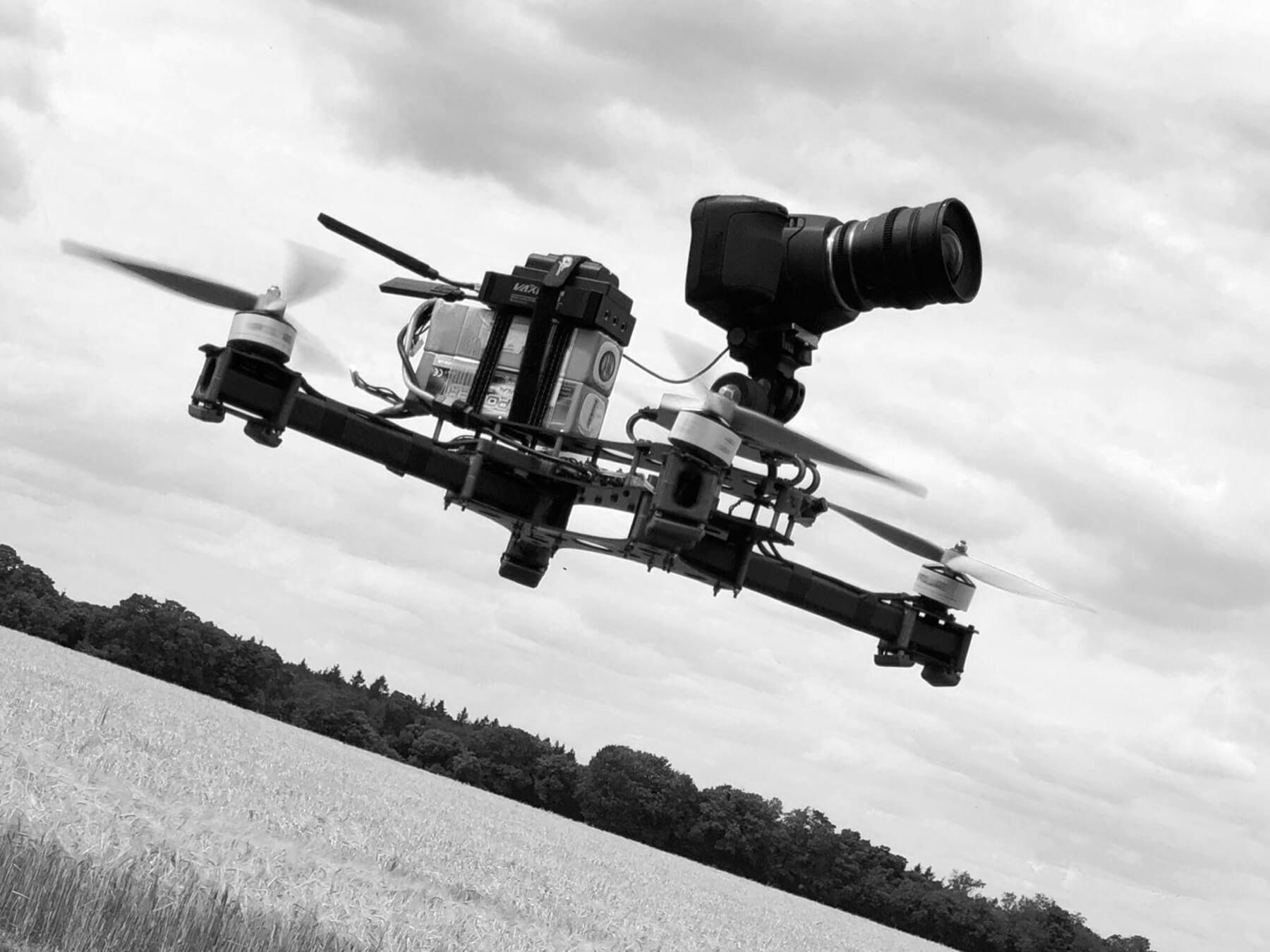 Historically, these miniature drones have been fitted with equally miniature cameras, usually GoPros, which, although decent in quality, aren't good enough for shooting VFX plates. But Red has just launched the Komodo, a high-quality crash cam that can shoot at 6K, and The Helicopter Girls is the first aerial company to get its hands on it. "We got a Stormtrooper, the white one, and we've just finished constructing a small FPV rig for it," says Boswell.
"Last year, we started to get asked by DOPs about shots that could really be only achieved using FPV, so we started working on a drone for the Blackmagic Pocket 6K – and now the Red Komodo has arrived to join the party. We're now flying it on a car commercial and using it to mimic bird-like flight for a couple of drama productions – it resonates well with the rise of the fantasy genre," she explains. "On an FPV drone, the camera is hard mounted to the aircraft, so the angle of the camera is determined by the angle of the aircraft. This means that you can twist, turn and dive in a way that maximises the visual impact of the image captured."
Just imagine if the pod race from Star Wars: The Phantom Menace was recreated from Anakin's POV using an FPV drone. You'd definitely feel immersed in the action!
This feature originally appeared in the November 2020 issue of Definition.