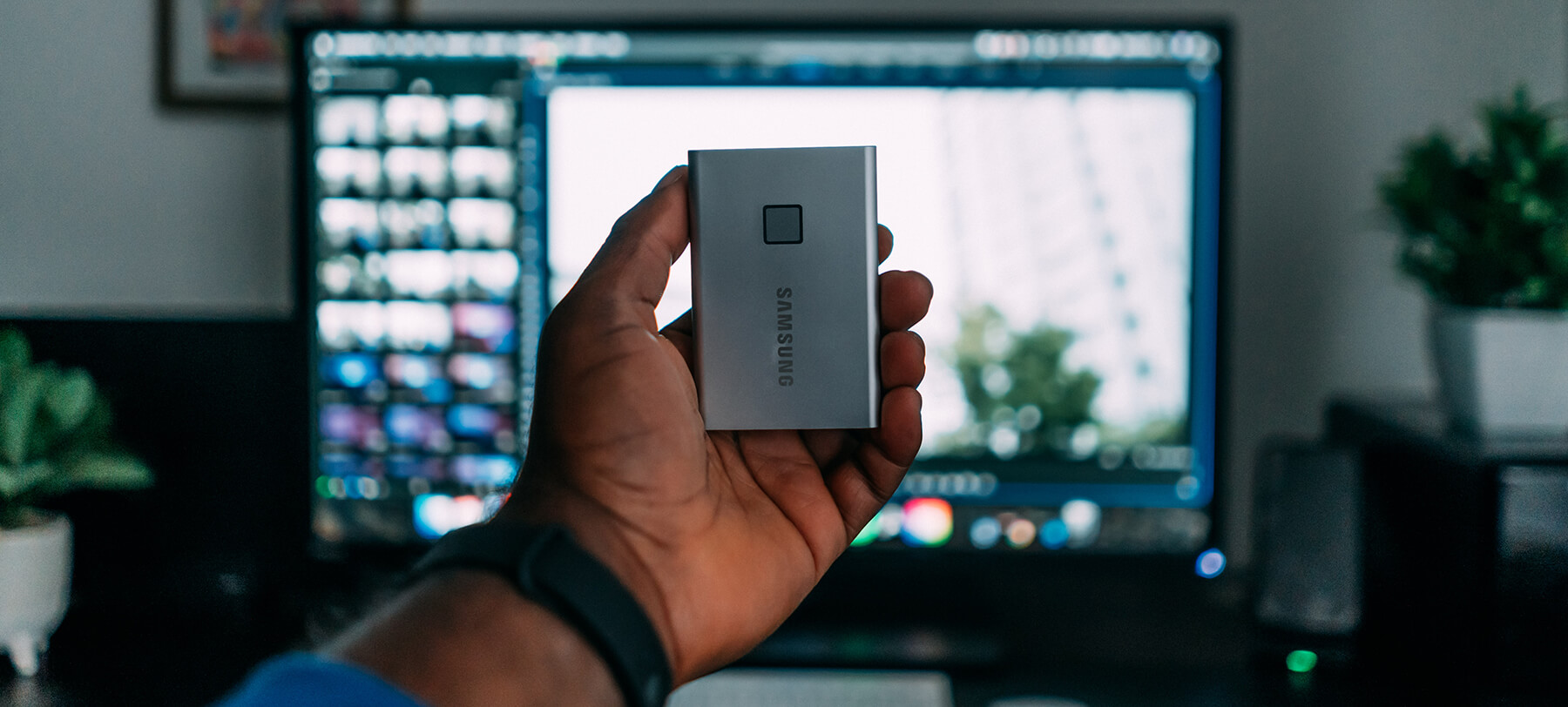 Samsung: The perfect solution
Posted on Dec 23, 2020
After using the Samsung Portable SSD T7 Touch, content creator Virgyl Sowah says: "I'll never go back!"
Advertisement feature
"I'm a freelance videographer and marketing strategist," says Virgyl Sowah. "Essentially, what this involves is sitting down with clients, strategising the precise video content to meet their vision, creating that content, then helping the client to implement it successfully online, on social media and elsewhere."
Taking control of the shoot, edit and dissemination of the content, plus the added responsibility of rightfully demanding clients, means Sowah must be sharp every step of the way in his professional life. And he needs his kit to follow suit. Up against the clock with a number of important edits to turn around, Sowah gave the powerful Samsung Portable SSD T7 Touch a try – and was blown away by the results.
Greater demands
"Though I do shoot the footage for my projects, I used the Samsung Portable SSD T7 Touch during the editing stage, as that's where I find I have the greatest need for an external drive," Sowah explains.
"I religiously shoot in 4K, because it's nice to have that extra resolution there should you need it, though it can always be transcoded to Full HD later if that's what a client wants. The downside to that extra resolution is larger file sizes, which create a pretty significant strain on my machine's drive, or external storage, come the time of the edit."
As a result of that, it's not unusual to have to edit with low-resolution proxy files or suffer significant lag within editing software, which isn't just costly on time – it disrupts the creative process, too. Sowah, for one, was overjoyed to find this wasn't the case when editing off the Samsung Portable SSD T7 Touch.
"Editing was super smooth with the 4K files. My workflow was sped up drastically even when working with some Raw footage. Uploading all the files to start working with was much faster than I'm used to as well, I think in a large part due to the USB-C connection, as well as the speed of the drive itself."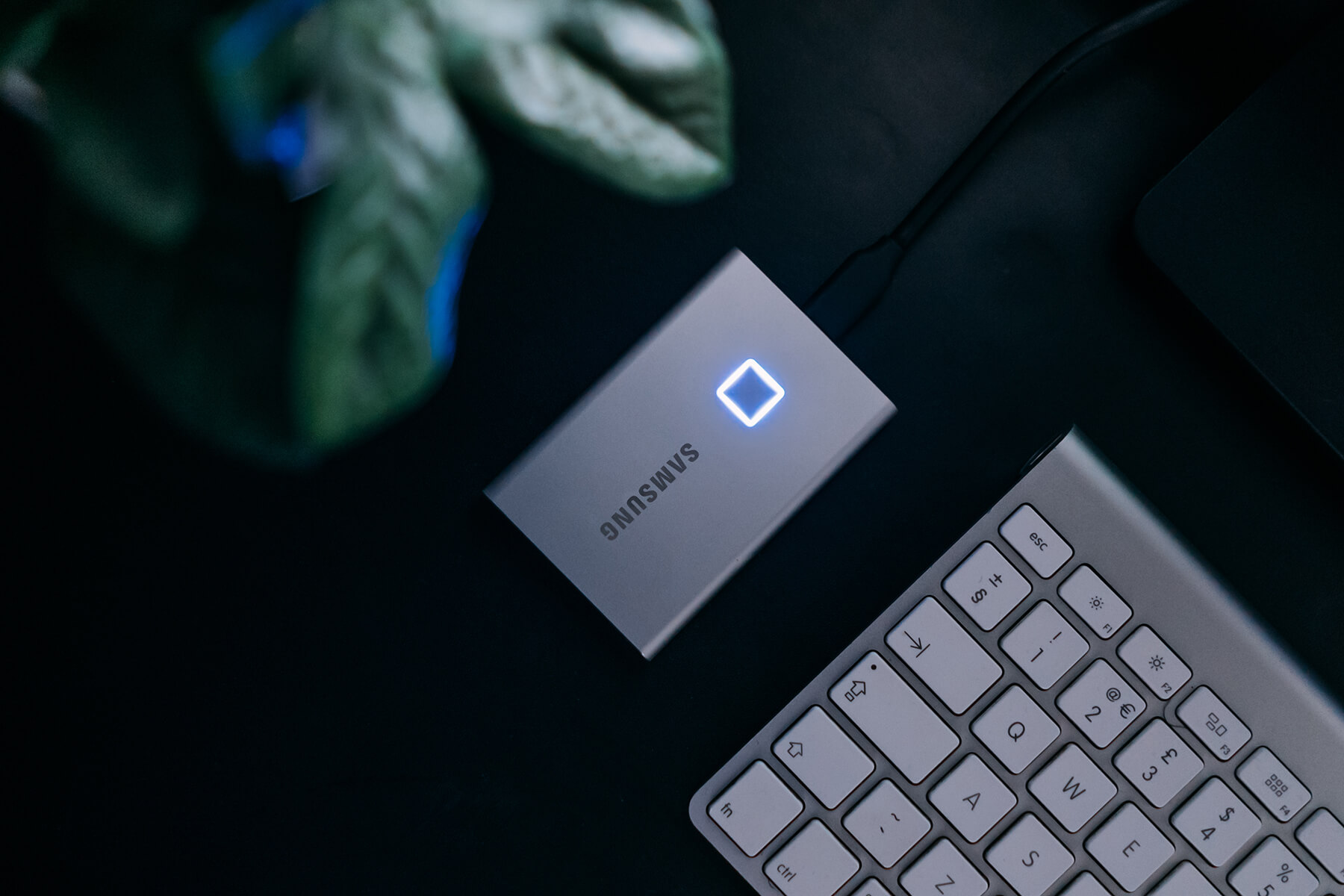 The connection certainly plays a role in the portable drive's outstanding speeds, making use of modern USB 3.2 Gen 2 capabilities. When it comes to the body of the portable drive, 1000 MB/s write speeds and even faster 1050 MB/s read speeds are made possible by an advanced design, featuring embedded PCIe NVMe technology. Impressive specs aside, the end result is a speed that's up to 9.5x faster than an external HDD. "Again, because of that connection and those speeds," Sowah continues, "if I wanted to, I could record footage straight to the drive if my SD cards were full or if I knew the shots I'd be recording would be beyond a card's capacity. It's something I'm yet to try, but I'm very excited to get the Samsung Portable SSD T7 Touch on set."
Built to last
For those planning to use the drive on set, take it to clients, carry it to an edit suite away from home or anything else, robust physical protections are a must. It's not just the cost of the drive that's at stake, but the valuable footage contained on it.
As a solid-state drive, the Samsung Portable SSD T7 Touch is built with no moving parts. With the addition of a sturdy metal body, this helps ensure the drive itself and the data on it are safe from falls of up to 2m.
"It certainly feels very solid," says Sowah, "and I trust that it would be safe from any reasonably significant drop, though anyone in this field hopes that will never happen! It's nice to have that trust."
Samsung knows that, for some, trust isn't enough, so the Samsung portable drive is confidently backed by a limited three-year guarantee.
Of course, physical protection is only part of the equation. For someone like Sowah, who handles the potentially sensitive marketing content of businesses, knowing files are digitally secure is of the utmost importance.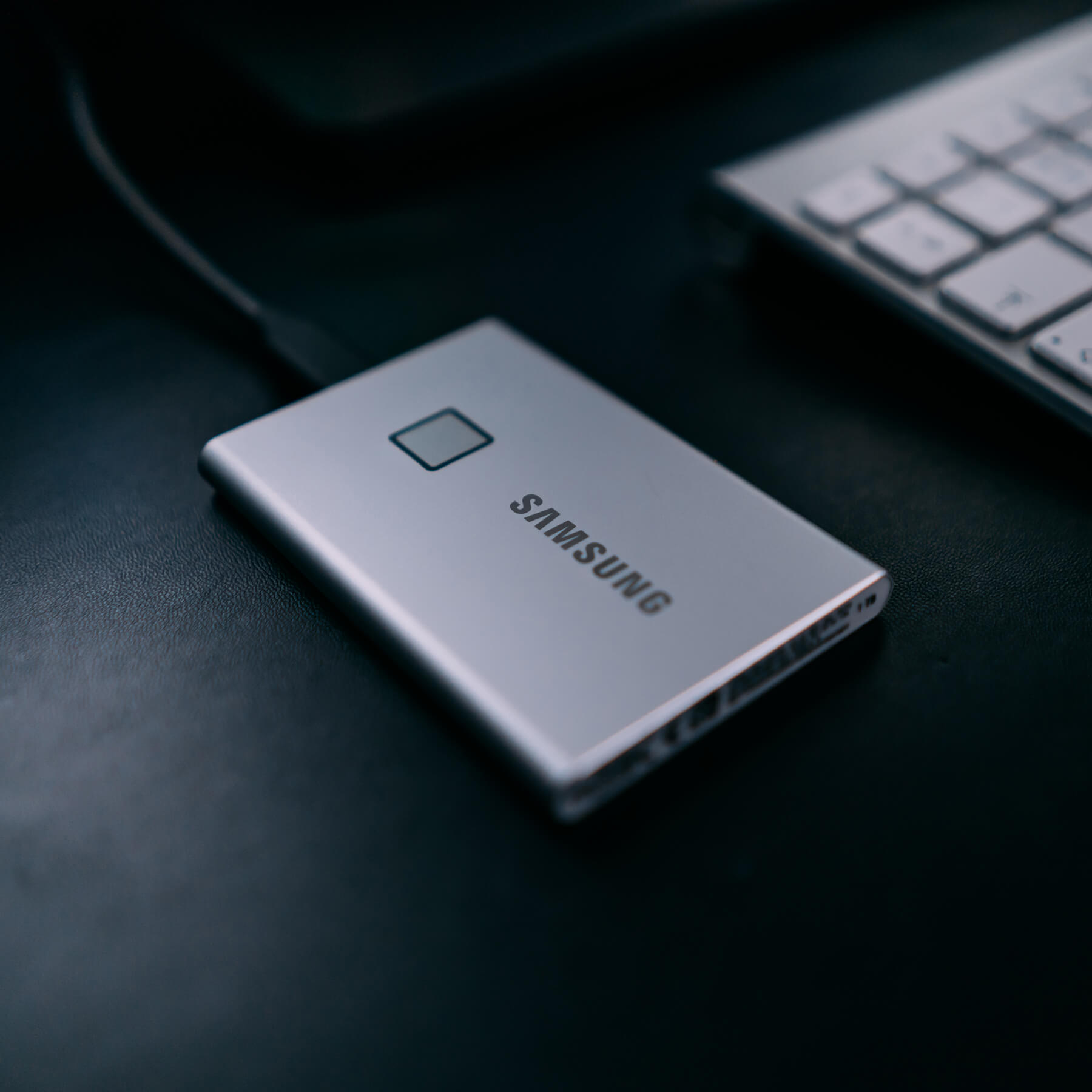 On that front, users can rest assured with the Samsung Portable SSD T7 Touch, which utilises AES 256-bit encryption in its built-in security options. There is the option of a password, but in a pleasingly modern step, it features a fingerprint scanner, too.
"The fingerprint scanner is incredible and ultimately just very convenient. That additional layer of security is reassuring though, particularly if you have private information on your SSD," he adds.
You may presume such a fast, robust and high-capacity drive would come at a real cost in size, but that couldn't be further from the truth with the Samsung Portable SSD T7 Touch. The portable drive weighs just 58g, measuring 85mm long, 57mm wide and only 8mm tall – it genuinely sits in the palm of your hand.
"The size of the drive might be one of the most surprising features of all, it's super tiny and really lives up to its portable name. I like the design, too, it's very sleek," Sowah tells us.
After his time with it, it seems like the Samsung Portable SSD T7 Touch may be the perfect storage solution for him.
Sowah concludes: "Overall, it's perfect for what I do. I need speed when offloading footage and speed when editing. This drive does it all and I would definitely recommend it to anyone in the same position. I wouldn't edit on an HDD ever again."
Visit the Samsung website for more information.