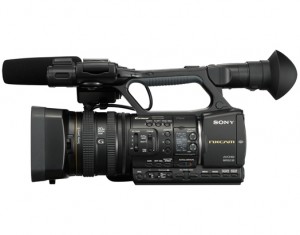 REVIEW – Sony HXR-NXE
Posted on Mar 26, 2010 by Alex Fice
The new Sony NXCAM – professional AVCHD from Sony at lastWe've always had a bit of a problem with AVCHD camcorders. AVCHD should be so much better than HDV at a given bit-rate, but the weedy implementations that have hit the High Street so far have been terrible, exhibiting lots of those little buzzing insect artifacts on footage that HDV has recorded comparatively cleanly. We all know tape is dead (right?) but given AVCHD's limitations it seemed a slightly odd decision for Sony to take the front end of its excellent HVR-Z5E and bolt an AVCHD encoder and SDHC/Memory Stick drive. Nevertheless, the resulting HXR-NX5E is a camera with some surprises – both good and bad.
Z5-Alike
As I said, the lens and sensors appear to be taken directly from the Z5E which is no bad thing. The Sony G lens, designed and manufactured totally in-house by the ex-Minolta engineers (acquired, with the company in 2006) is excellent. The 3×1/3in sensors also do a passable job – we measured over 950 lines resolution both horizontal and vertical. In general I really, really hate endless encoder style lens controls, and the NX5E lens has three, one each for focus, zoom and iris. I have to say, though, that they work surprisingly well. Focus and zoom have pleasant, rubberised grips and a nice feel – it's possible to hit a focus point repeatably, provided you don't go over where the end stops would be if the controls had them. The benefit of the endless encoder approach is that you can grab zoom or focus and give them a tweak, even when they are 'servo' controlled – nice. I'm not quite converted – I'd still prefer real rings with end stops, but at least the NX5E didn't make me incandescent with rage like some of its predecessors. The down-side is that you'll be needing to tweak focus quite often as the autofocus can be pretty sluggish, especially in low light, but then only Canon seem to have sorted this in an HD video camera – perhaps Sony need to get some of those Minolta bods on the case. The focal length of the lens is a 35mm equivalent of 29.5mm to 590mm. That's wide enough to be useful at the wide end and long enough to get some nice, low depth of field shots at the long end.
Recording

3 x 1/3inch Exmor CMOS sensors producing about 950 lines of vertical and horizontal resolutionThe recording section of the camera has two slots which can either take industry standard SDHC cards or Sony's proprietary Memory Stick PRODuo cards. Once installed, they sit snugly behind a cover, though there is no gasketing to prevent dust and water getting into your contacts – take heed. Two 32GB cards give you just under six hours of recording time at the maximum AVCHD quality of 24Mb/s.
Solid state storage has many benefits, but one of the most obvious ones with this camera is in its handling. The NX5E feels great in the hand, well balanced and reasonably light, though still with enough weight to help hold it steady. Of course, there is Sony's new Active SteadyShot to help when you're not on a tripod. The last couple of generations of Sony camcorders have been top of the class in general build quality and the NX5E is up there with its brethren. All the connector covers open and close positively, the buttons feel great and the chassis is sturdy and beautifully finished.
The one thing that lets the overall handling down badly is the user interface. Sony have (unusually for a pro-ish camcorder) fitted the NX5E with a touch screen LCD. There is also the traditional press to click thumbwheel. The LCD itself is fine – good resolution, bright and with good colour reproduction – but the software is annoying – it simply can't make up its mind whether you are supposed to use it with the touchscreen or the wheel. For instance, to delete the files on the card you can get as far as the delete confirmation using the wheel but then you have to confirm using the touchscreen. It's as if they have taken the professional camera's thumb wheel based menu structure and bolted on the consumer touchscreen interface without any attempt to integrate the two. Oh, and the click on the thumb wheel is too sensitive – you end up selecting all sorts of things that you don't want to. It is possible to drive both parts of the user interface from the cursor buttons on the LCD mount on the handle. Sadly, this doesn't really solve the problem as all the buttons on this panel are incredibly fiddly. I have small, skinny hands and could barely manage them – anyone wearing gloves or with chipolata fingers would have no chance.
IQ
Fortunately, the image quality makes up for the dodgy user interface. The progressively scanned sensors give a detailed, smoothly toned image. There is more noise than you would get from a camera with a larger sensor but that noise has a very pictorial quality – a bit like film grain. But what of those AVCHD gremlins? Well, if you are a pixel monkey you will see more compression artifacts than with HDV, but they aren't that noticeable. The great lens and progressive scan helps here, but this is undoubtedly the best looking AVCHD camcorder we have seen.
With a street price of about £3300 plus VAT, the Sony HXR-NX5E is a pretty compelling camcorder if you are looking to go tapeless. Sony have, very sensibly, included support for the cheap as chips SDHC card standard instead of insisting users fork out for their own MemoryStick products, and image quality is very nearly as good as the Z5E, beating the (admittedly much cheaper) Panasonic AG-HMC151E hands down and even nudging out our current favourite, the tiny and jewel-like JVC GY-HM100E. You even get GPS, so you can geotag your video – unless you are indoors…