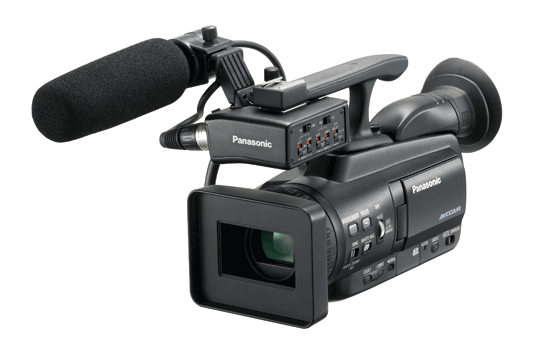 REVIEW: Panasonic AG-HMC41 Camcorder
Posted on Sep 2, 2010 by Alex Fice
Panasonic's HMC41 – a workhorse for the videographer
The people who know about and count these things have said that the camcorder market with the most growth at the moment is the 'Flip camera' type one. I wonder if there's another measurement that would reveal how much those cameras are used once they've been in the handbag for a while. I'm thinking not a lot because the quality is so bad and will always disappoint. Cameras like the Panasonic HMC-41 would be nudging the Flip HD for number one sales spot and definitely be ahead of it when you talk about hours of use.
The HMC41 is a 3xMOS sensor system that shoots with different data modes to either preserve card space or improve quality. You can shoot 1080/25p and 720/50p in the highest mode and then 50i in lower data rates modes. The highest data rate is 24mbps which is the same as some of the consumer palm corders and choices go down to a 6mbps in the HE mode.
Recording as ever with Panasonic are to tapeless technology SDHC cards and there are screen clues to how long you have got left on the card as you're shooting. The usual thumbnails are produced on the monitor which can be touched to play.
This camcorder is very small and even smaller if you don't have the optional XLR input box on so maybe could be used covertly.
The lens is the usually Leica Dicomar type with a 12x zoom and digitally another ten times. You also have on-board optical stabilisation which is easily turned on and off via a side button.
This camera has the usual tick box of features that Panasonic are known for and that decades of experience has produced. All the features you should have for a prosumer camera but with added features that come from R&D and sensor evolution. You also have AVCHD format recording. In fact you have everything you need for safe and secure videography, a good manual/autofocus system with over rides as you need them. Full control over iris opening on a thumbwheel that is shared by an automatic focus over ride. A couple of re-callable camera set-ups and three assign buttons that fall exactly where you want them for a quick change.
In the menu you have different gamma settings like Cine-Like D & V, seven settings all inspired by the mighty Varicam. You also have different colour matrix settings to give you a custom look.
Audio wise there are in-built microphones with an automatic gain control. As an option for £200 you can attached an XLR audio input box on the top of the camera, depending on what you're shooting.
Build quality is superb as you would expect and new for this type of camcorder are features derived from the consumer market like face recognition and touch to focus, both which have been around for a few years now.
The price for the HMC41 is only around £1600 which is remarkable value for the educational market or wedding videography market where this camera will sell well. However there are couple of flies in the ointment in the shape of video DSLRs and the new Sony NEX-VG10 the first camcorder to offer interchangeable lenses with a single large CMOS sensor.
Video DSLRs are the sexy choice but without all the help a camera like the HMC41 can give the shooter. People are seduced by the look and work around the shortcomings. But it's the new Sony model that may force Panasonic to do the same if they're not doing that already. That may give the HMC41 a shorter life than planned.
www.panasonic-broadcast.com