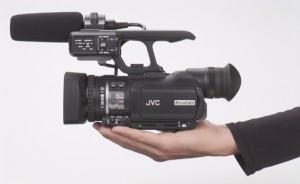 REVIEW – JVC HM100 Camcorder
Posted on Mar 29, 2010 by Alex Fice
JVC's GY-HM100 in your handThere is a history of people designing classics by making them small. Sir Alec Issigonis and the Mini, Mary Quant and the mini-skirt, Kylie Minogue. JVC are obviously trying to do the same with the new GY-HM100E. From photographs, the new camera looks like a classic pro-sumer camcorder – something like a Sony PD150 or Panasonic HVX100. See one in the flesh, however, and you realise that the HM100 is tiny – like a PD150 for hobbits. And if it's still too big for you, the handle, complete with XLR audio inputs and the shotgun mic mount, is detachable – there is an auxiliary stereo mic built into the top of the main body of the camera.
The amazing thing about the HM100 though, is that it's a fully functional, pro-quality camcorder. Part of the space saving comes from the recording medium. This baby JVC records to cheap, readily available SDHC cards – though they need to be class 6. Better still, the video is encoded using an MPEG-2 variant – essentially Sony's XDCAM EX at 35Mbps – wrapped up in a Quicktime file, so you have edit your footage directly in Final Cut. There is no transcoding or 'Log and Transfer' required – you could even edit directly from the SD card, if you were feeling silly. There are two SD card slots in the base of the camera, behind a robust little door – you can change cards manually or automatically when one becomes full.
Although the body of the HM100 is so tiny, most of the controls you would expect to find are present. There are proper toggle switches for gain and white balance, push buttons for auto/manual focus and a 'Full Auto' mode, and a good selection of user definable buttons. As I mentioned before, the handle equips the camera with two proper XLR audio inputs, with phantom power and manual or automatic gain control. JVC supply a short shotgun mic with the package. For me, there are only a few limitations imposed by this tiny package – there is only one lens ring (and it's an endless encoder) with a switch to select whether it controls focus or zoom. It would have been nicer to have a ring for each. Also, the iris and shutter controls use a tiny sprung thumbwheel on the rear of the camera – about where your nose is if you are using the eye-level viewfinder and your right eye. There is only a single ND filter setting and, finally, the servo zoom control has a fixed response – which makes that lack of a dedicated zoom ring all the more irritating.
These are really minor gripes, however, when you look at what you do get for your money. The HM100 uses three ¼in CCDs with pixel offsetting – we recorded identical resolution in both 720p and 1080p modes. Which brings me on to recording configurations – the HM100 can record in 720p at 24, 25, 50 or 60fps, and 1080p at 24, 25 or 30fp, 50i and 60i. There are a couple of compression settings too – HQ for high quality or the lower bitrate SP for longer record time. 720p 50fps sounds exciting for slow motion, but limitations in the post-production chain make it hard to extract the frames. Remarkably, for such a dinky camera, you get a full sized HDMI connector as well as the usual component AV output and USB computer connectivity.
ccds
The eye-level viewfinder is pretty low resolution (for a high-def camcorder) but there is excellent red, green or blue peaking for focus assist and it proves remarkably easy to get critical focus every time. That's probably helped by the rather small CCDs – depth of field is high even at maximum aperture. The 2.8in flip-out LCD fares better – it's bright and seems to have a good tonal range. On the LCD's flip-out panel there is a tiny joystick, record button and a button which brings up an index of recordings. The joystick is used to navigate the menus, of course, but also functions as a servo zoom control during shooting and gives quick access to scene modes in Program AE shooting (i.e. presets the camera for Portrait (skin softening etc), Sports (fast shutter speed), Snow (exposure compensation) and so on. There is no record button or mini-zoom control on the handle, but their inclusion on the LCD is nearly as good. Handling in general is pretty faultless – the HM100 is so light you hold it like a palm-corder yet, being slightly larger, the controls sit better under your hand. Surprisingly, for it's weight, it feels solid and well put together.
The menu system is pretty intuitive, though making a selection dumps you out of the menus, so if there are three or four settings you wish to change, you have to keep hitting the menu button to get back to them and, of course, the camera doesn't remember where you were – it always takes you to the top of the menu tree – irritating. On the plus side, there are excellent picture settings – knee, detail (including h/v balance), cine gamma and gamma level as well as a couple of cine colour matrices, colour saturation and so on. The HM100 has one of the best zebra implementations I have seen in a camera of this class – it's possible to set the lower and upper thresholds of the zebra independently.
image quality
Image quality is fantastic for such a tiny camera. Resolution was above average for the class at 750 lines vertically and 800 horizontally, colour and tonal reproduction was excellent – perhaps a benefit of the three CCD approach – and we measured a nine stop effective dynamic range (we base this on useful picture detail for grading, not some calculated, abstract curve). The compression format helps with this picture quality, of course. Most of the HM100's competition use AVCHD which isn't much good (yet) so, although we're still limited to 8-bit, shadow detail is retained better and there are generally fewer compression artefacts. Indeed, there were very few image artefacts at all – the 10x zoom lens shows very little chromatic aberration – again remarkable at this size and price point. On top of all that, you get true progressive scan and the possibility of shooting slo-mo, if you can get your NLE to use it.
At a street price of about £2500 plus VAT it's difficult not to love the JVC GY-HM100E. It's a great way into tapeless acquisition – SD cards make the price of SxS cards look silly and I won't even mention P2. The workflow is amazingly straightforward and it's a handy coincidence that Apple's latest 13in and 15in MacBook Pros now come with a built in SDHC hard readers. You can strip the camera down to something not much bigger than the previous generation of HDV Handycams but shoot nearly pro quality footage. JVC are pushing this camera on its Quicktime recording format, but it's so much more than that. It deserves to become a classic and will probably be much imitated – like the Mini, and the mini-skirt and Kylie – well, perhaps not Kylie…