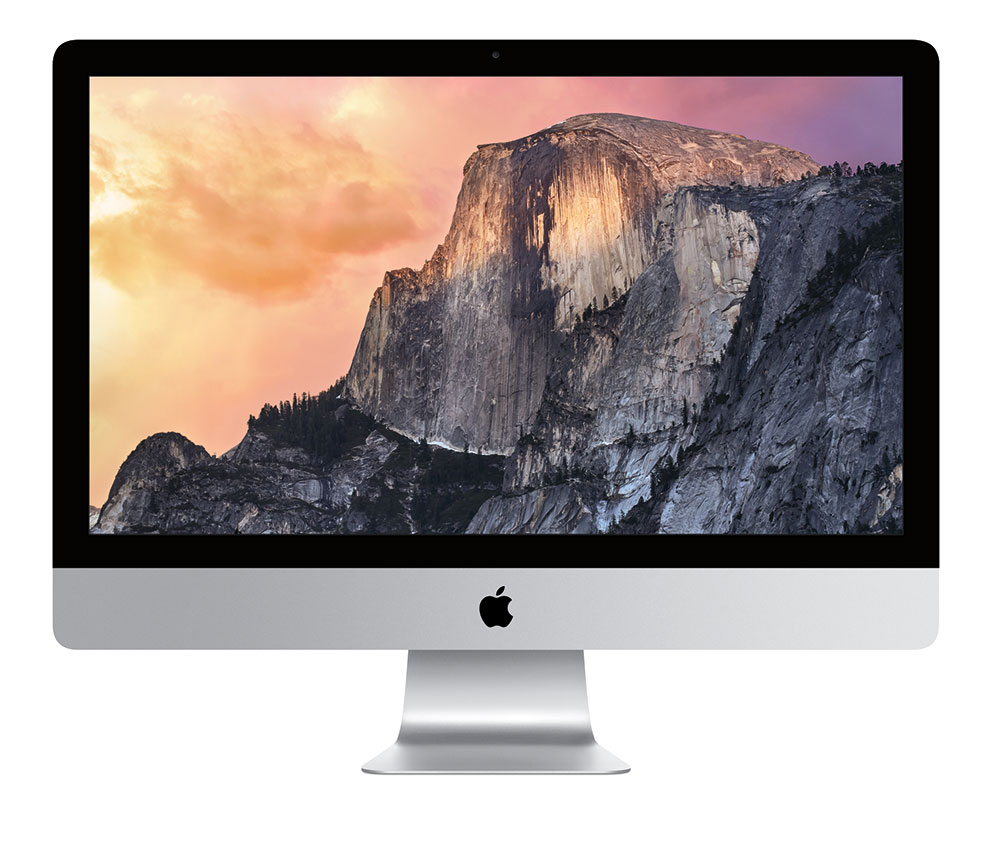 REVIEW: iMac with Retina 5K Display
Posted on Jun 19, 2015
I had been using a 30" Apple Cinema Display for years, and I now find its fuzziness hard to look at after the brilliance and resolution of the iMac 5k.
Apple also updated the iMac with Retina 5K Display – which I'm going to call a 5k display or they'll throw me out of the Pedants' Club (in S.I. units, k represents a factor of 1000, K represents Kelvin).  The update is more or a range change than a hardware refresh – they have added a lower cost model and dropped the price of the original version.
The new, 'entry level' 5k iMac has a 3.3GHz, 4-core Intel i5 processor and an AMD R9 M290 GPU, with a standard 1TB hard disc (an actual spinning disc this time) rather than the Fusion Drive found in the more expensive model. It costs £1599 against the new base price of the faster model of £1849.
Given that a Dell 5k monitor is £2001.60 on their website, the iMac 5k is remarkable value for money – pay less AND get a free computer!
And it's a pretty good computer. Obviously, the iMac 5k is a mid-level platform – if you want really heavy lifting you'll need a Mac Pro. The entry level iMac 5k's GPU has s slightly slower clock speed and a few less processors than the higher spec unit, but it's still a pretty high-end device – and you need it with all those pixels to push. It also uses Intel's Core i5 CPU, which doesn't have the HyperThreading of the i7 chips, and that silly, electro-mechanic, spinning hard disc is a real slug in comparison to SSD, but performance is more than adequate for general editing, still and motion graphics work.
FCP X would play back nine simultaneous clips of 1080p, H.264 (each with 25% opacity and with the Better Quality playback setting). Interestingly, although the CPU load goes down, switching the CODEC to ProRes didn't increase the number of stutter-free playback clips, and neither did switching to Better Performance – though the CPU load, again, dropped considerably.
I didn't have a chance to run much in the way of performance tests, but Final Cut Pro 7 (remember him?) ran very well indeed and DaVinci Resolve performed much better than I expected – playing a 1080/24p grade with nine or 10 nodes in real time. Resolve is a joy to use on the 5k iMac, especially if you have a second display for media and scopes. Avid Media Composer 8.3.1 isn't officially supported on Mac OS 10.10.3, but putting aside some weird window behaviour, editing 1080p DNxHD footage was perfectly snappy – and the massive 5k display means you even have room for Avid's giant Audio Mixer.
The review machine only had 8GB of SDRAM, which proved to be not really enough. It was fine if you were only doing one thing at a time, but in the real world more memory would really help. If I'm honest, I have become so used to the speed of SSD equipped Macs that I became irritated with the slow boot up and application launch of the hard disc equipped, entry level iMac 5k. However, the sheer beauty (an useful real estate) of the 5k display cannot be overstated. The clarity of text makes even writing an Email a visual pleasure, and you should see how cute the mixer looks in Logic Pro X. I had been using a 30" Apple Cinema Display for years, and I now find its fuzziness hard to look at after the brilliance and resolution of the iMac 5k. For my own use, I would probably go for the higher end model, with a 512GB SSD, the quad-core, 4GHz i7 processor and 16GB SDRAM, if I could raise the money (£2449 inc VAT). Nevertheless, the entry level machine I reviewed, upped to 16GB of SDRAM, would be £1759 inc VAT and would, realistically, do the job.