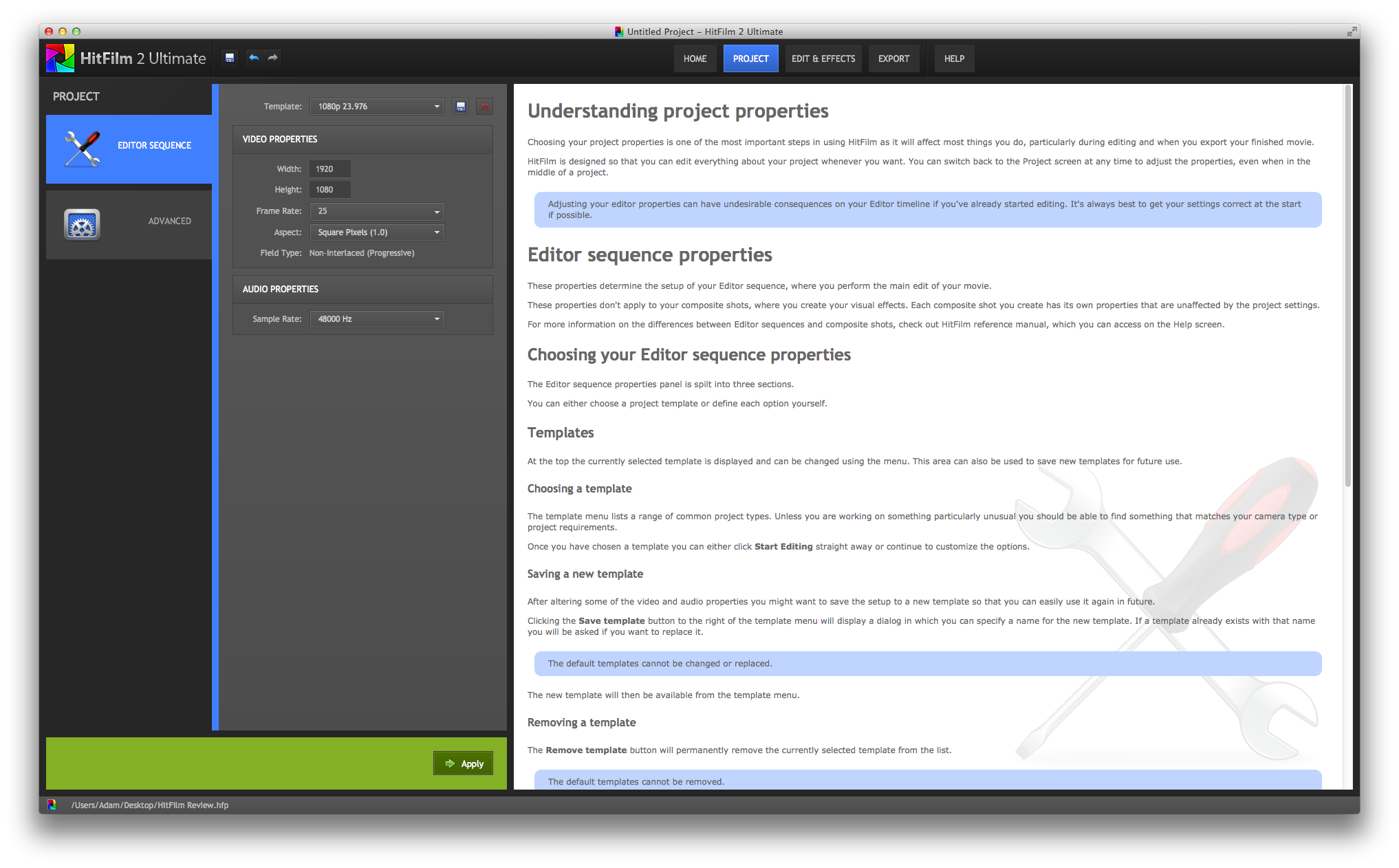 REVIEW: HitFilm 2 Ultimatte For Mac
Posted on Feb 3, 2014 by Alex Fice
ADAM GARSTONE reviews HitFilm's first venture on to the Mac platform after their recent successful Kickstarter campaign and finds a deep portfolio of features but with some important limitations.
I must confess that I hadn't heard of HitFilm until its creators, FXHome, initiated a Kickstarter project to port it to the Mac. Their initial funding goal was £25,000 – to date they have £58,126 pledged, and a full release available to buy.
Just to prove my ignorance further, I assumed that the first release of a software project initiated on Kickstarter would be – how can I put this – not exactly 'feature rich'. I was very wrong. HitFilm 2 Ultimate for Mac is a very complex 3D compositing and visual effects solution – in fact, it's so 'feature rich' that it's beyond the scope of a review here to cover everything it can do. Just to give you a flavour, there is a full 3D model import and rendering engine, 3D lights and cameras, lens flare, a very capable, physics-based 3D particle simulator (with collision deflectors, gravity and even the ability to modify parameters based on music tracks). There are 3D muzzle flash simulations, procedural fire, layer shattering, an editor, colour corrector, and 2D and 3D tracking.
All this is wrapped up in a surprisingly intuitive user interface. Starting the software takes you to a 'Home' page that allows you to open an existing project or start a new one, and includes an attractive interface to the (excellent) on-line tutorial videos – as well as social media platforms and users' movies.
Here is where you notice the first problem with HitFilm 2. There is no way to import a project from another package – no AAF, XML or even EDL import. On Windows, it is possible to integrate HitFilm 2 with Sony's Vegas Pro NLE, which is capable of some AAF/XML export/import, but that idea would have to be filed under 'bodge' at best, and isn't much help for Mac users.
Nevertheless, starting a new project is straightforward and, once the project options have been set up, you are taken to the main Edit & Effects page. The UI is divided into panels, each of which can be moved, resized or deleted, and layouts (Workspaces) can be saved for quick switching. Perhaps I'm old-fashioned, but I need to see the film I'm cutting and the clip I'm inserting simultaneously, and in some detail – in other words I need something like Avid's Composer window or FCP 7's Browser and Canvas windows. The default edit layout in the HitFilm has a tiny window for the incoming clip, so you need to do a fair amount of juggling to get this window to be a reasonable size.
Importing media is straightforward (no transcoding is performed – it's a simple link to existing media on disc) and from then you can assemble an edit in the timeline. The editing tools are simple – add edit, slip, slide, ripple and roll – and will be familiar to FCP or Premiere Pro users. Trimming is done in the timeline – the cursor changes appropriately over edits – with the effect depending on whether you have ripple or roll selected. The editor is straightforward but simple – fine for cutting together a couple of clips to perform effects on, but it would be frustrating to edit anything more complex. Similarly, should you be tempted to edit your masterpiece entirely in HitFilm, the lack of EDL/AAF export options would be a massive limitation.
That said, HitFilm 2 isn't sold as an NLE – it's a VFX package – and effects can be added easily to the timeline by dragging them from the Effects panel directly onto clips (or onto edits, in the case of transitions). Effect parameters are then modified in the Controls panel. Adding a 3D effect automatically converts your clip to a composite shot and adds a camera. The presets are pretty good – I particularly liked the rain simulation and the Auto Sci-Fi Lens Flares (I wonder who inspired that one, J.J.?).
I'm not going to go into the effects editing to a great extent – the things you can do with a particle simulator are wonderful but beyond the scope of this review. Instead I'll concentrate on a simple track and composite. The clip I chose to track had a complex camera movement, consisting of a track, rise and pan – conveniently there was a TV in shot, so I thought I would try to comp in a new clip onto the TV screen.
HitFilm 2 Ultimate comes with a version of mocha for 3D tracking and camera solving. In the Media panel you just select 'New->Camera Solve with Imagineer Systems' mocha HitFilm' and mocha will launch. You load up the clip you want to track and define the tracking planes as usual in mocha (the Imagineer website has great tutorials on how to track in mocha). I also defined a region for the TV screen, to make my life easier later. Once the camera solution has been computed and saved from mocha, you load this up into HitFilm with 'Import->3D Camera Tracking Data'. One problem is that the 'floor' defined by mocha seems to be totally random – I'm sure it's not, but it certainly not where the floor in my clip was located. Moving it in HitFilm is simple – create a new 3D point and parent all the tracked points and the camera to it – but aligning it with the 'real' floor isn't straightforward. If you have a third party 3D point tracker like The Pixel Farm's PFTrack then this isn't a problem.
Once this fiddly bit was out of the way, it was pretty straightforward to insert my foreground video clip – a bit of scaling and masking to 'sit' the picture into the screen and I had a good result – particularly given that the background clip hadn't been shot as a VFX plate.
All this work was carried out on a 2011, 8-core Mac Pro with an NVIDIA Quadro K5000 video card, and HitFilm 2 Ultimate performed very well indeed, with fast, full resolution manipulation of 3D objects, full framerate video playback and no crashes. I also tried it on a rather aged, 17" MacBook Pro and was surprised how well it did. Video played at the full framerate, even with a complex 3D transform and full resolution rendering. Once I had added some 3D particles, however, I had to drop the resolution to get reasonable playback. One slight gotcha with this is that image filters seem to be applied after the playback resolution drop, so effects like pastels or anything edge based looks very different at lower res. Once set to render at quarter or half resolution, the system doesn't render a full res image when playback stops.
FXHome's HitFilm 2 Ultimate for Mac is a very impressive package. Editors will be happy with its timeline, and Adobe After Effects users will be familiar with its alternative, layer based approach. Although it doesn't have all the functionality of After Effects, it benefits from a more intuitive user interface, speed and a lot of supplied template effects (158 at last count). I would like to see some form of integration with NLEs, certainly if it's going to find a home with 'enterprise' users, but at $399 it's a good value, solid, VFX and compositing package.