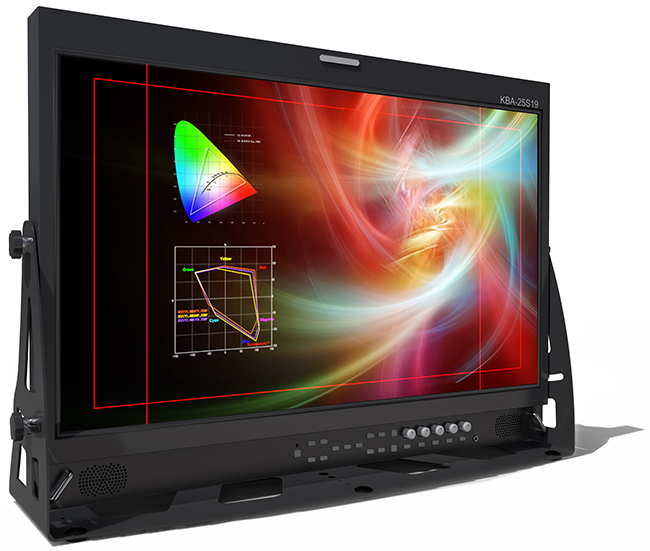 REVIEW: FrontNiche KBA-25519 25in OLED Monitor
Posted on Oct 10, 2013 by Alex Fice
FrontNiche's new OLED is sourced from Korea but not from Samsung.
Anybody who has seen it, loves it. It's OLED. This year's CES was full of the promise of 55inch consumer versions but initial professional panels suffered from a quicker than normal deterioration of the blue pixels. Now new panels are claiming those problems are long gone and amongst those are frontNiche's new KBA-25S19. ADAM GARSTONE reports.
The Danish philosopher Robert Storm Petersen once said "I never make predictions, especially about the future", but I don't think I'm sticking my neck out too far in saying that OLED is the future, and it's mostly the Japanese and the Koreans who are leading us there.
The frontNICHE KBA-25S19 is a 25", 1920×1080, OLED, broadcast monitor sourced from Korea, at a pretty sensible price (ahem, well, sort of). It's quoted as being 'Grade 1', meaning that it's suitable for colour grading, but has many features that would make it useful as a DoP's field monitor.
On the back of this well-made and robust unit, you get a couple of HD-SDIs (with loop through), analog, HDMI and DVI inputs. There's also Ethernet, GPI and USB for remote control in a gallery or OB environment, and for firmware upgrades. It's a shame there's no DisplayPort, which would allow 10-bit colour from a computer (DVI is only 8-bits per colour) but you can't have everything (tell my three year old that!) and there are plenty of converter boxes out there. One nice touch is a locking IEC mains inlet, though there is no 12v inlet for location power.
A well as the usual monitor controls for under-scan, sync delays and so on, there are peaking style focus assist, false colour displays, adjustable out of gamut indication and audio monitoring of up to 16 channels stripped from SDI. There are also (slightly crude, but useful) on-screen waveform and vector-scope overlays, aspect ratio and safe area marks, making this a very flexible monitor – there's even a tally light.
You don't have to go to Sony or TV Logic for your OLED.
The on-screen menu is also simple to use – a rotary control highlights options in the menu and a quick press of the knob selects them. In many ways it reminded me of the menus in Panasonic and Sony cameras. Although the manual has suffered a little in its translation from Korean, the on-screen menus are clear and intuitive.
I started by resetting the monitor to its factory default (there are several User memories for set-up also) and hooking up the SDI. Immediately, it was obvious that the picture quality of this monitor is outstanding. Blacks are truly black – far blacker than even CRTs managed – and colour gradation and tonality were excellent (internal processing of colour information is done at 12-bit resolution). The factory default adds a little bit of sharpening – it's not enough to be distracting, but in a pixel-for-pixel display, I would rather it was turned off. Although I had selected Rec.709 colour space and 6500K colour temperature, there was a slight green tinge to the image and, sure enough, breaking out the spectrophotometer revealed the white point was slightly off at 0.314, 0.337 (Rev. 709's spec is 0.3127, 0.3290). It took just a couple of minutes in the menus to tweak out this error, turn off the sharpening and save this as my User setting. Though I didn't have enough time with the monitor to do a full calibration, I can't stress enough how good even these simply tweaked images looked. The display is calibrated for brightness uniformity in the factory and that's not expected to change in the lifetime of the monitor, but there isn't a built-in calibration system, which seems a shame given that there is hardware there to do the job. I'm told, however, that a future firmware revision will allow some support for Lightspace CMS. There is no way to load up a LUT for de-logging (yeah – I made that term up) camera output – again, a shame when there are nice features like focus assist.
The 25S19 seems to be trying to be all things to all men (and women). It's not quite a fantastic DoP's monitor (no 12v and no LUTs). It's pretty expensive to be a gallery monitor, and only having manual calibration is a bit of an issue for a grading monitor. However, all of these things can be worked around (except the price!) and the image quality is, undeniably, amongst the best I have ever seen.
The frontNICHE KBA-25S19 costs £11,500 plus VAT, which isn't cheap, but it's only a little more than the cost of Sony's 16.5" OLED reference monitor, the BVM-E170. Sony's 25" offering (BVM-250) is £16,600 plus VAT, which makes the Korean unit look like a bargain.