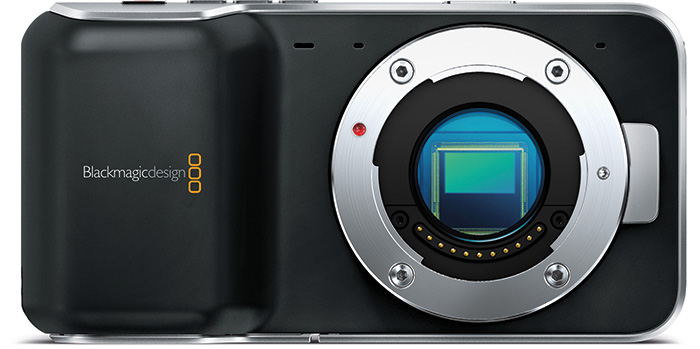 Review: Blackmagic Design Pocket Cinema Camera – Pre-Production
Posted on Sep 4, 2013 by Alex Fice
Is the Blackmagic Design Pocket camera ready for market?
Woodstock. The Hurt Locker. Leaving Las Vegas. The Girl who Played with Fire.
All these movies, and hundreds more, were photographed on 16mm film. Film-makers chose 16mm because the cameras were small and cheap to buy and run, the lenses were cheap and the pictures had a great look.
In the last few years, there has been a rush to Super 35 or larger sensors, but it seems that Blackmagic have remembered all those classic films, and the people who made them, so they have given their Pocket Cinema Camera a 12.48mm x 7.02mm, 1080p sensor – pretty close to Super 16's 12.52mm x 7.41mm. The camera is small, cheap to buy, uses off-the-shelf SD cards and the Micro Four Thirds lenses are cheap.
The first impression you get, lifting the diminutive Pocket Camera from its box, is that it's surprisingly weighty – not actually heavy, but solid feeling. It looks the part too, with a curve of anodised aluminium like its big brothers, and beautifully engineered plastics – rubberised on the front for a good grip.
In the base – next to the (steel) tripod bush – is a plastic door, coloured to look like the alloy casing, covering the battery, SD card slot and mini-USB connector. Although it's plastic, the door has a nice, positive locking mechanism and seems unlikely to get broken too easily.
Caught as the talent heads back to his trailer, these two images show the un-graded ProRes 422 (HQ) footage and the same shot after a simple 'one-light' grade. The graded image has had noise reduction, sharpening, and Resolve's Auto Balance applied.
The battery is a standard Nikon style 7.4v Li-ion EN-EL20, clones of which can be bought for as little as a fiver – though I'm not sure you would want to use them – there are plenty of better quality ones around the £15 mark. The Blackmagic Pocket Cinema Camera's lowest quality CODEC is ProRes 422 (HQ), so you need a very fast SD card to keep up with the data rate. Blackmagic recommend SanDisk Extreme class 10 cards – buy anything else at your peril, they probably won't work. ProRes 422 (HQ) kicks out about 220Mb/s, so a 64GB card will record for about 40 minutes. The USB interface is only used for firmware upgrades – you can't read the SD card through it.
The camera's top plate has another tripod bush, simple transport controls for playing back recorded footage, and the record button. For me, the record button is in an odd place – too far back from the front of the battery bulge (which makes a good hand-grip) so you have to crook your index finger back to reach it.
The front of the camera has only the lens mount – an active version of the Micro Four Thirds mount created by Panasonic and Olympus. There are a good number of reasonable quality stills camera lenses for this mount, with focal lengths that suit this sensor size, and there are a number of adapters for PL mount, C mount, Leica M and so on. Being an active version of the mount, the camera can control focus, iris and provide power for OIS of suitable lenses. A good choice of mount, then.
The camera back features a 3.5", 800×480 pixel LCD screen, navigation buttons, Focus, Iris, Menu and the power button. Unlike its bigger brother, the Pocket Cinema Camera's screen isn't touch sensitive, though the user interface is pretty much identical – you just navigate using the cursor keys and the OK button. Besides being cheaper, this means that the screen isn't as shiny as the one on the Cinema Camera, which is a boon. In bright sunlight, however, you'll need some kind of sun-shade for the screen – it's a shame that, unlike the Cinema Camera, one isn't supplied.
The User Interface is simple and clear, though it's here that you get the first inkling that Blackmagic haven't quite finished the firmware (is firmware ever 'finished'?). Although the camera is touted as being able to record ProRes and lossless compressed CinemaDNG RAW, you can (currently) only select ProRes in the menu. Like its big brother, you can't format SD cards, and there is no on-screen indication of how much space there is left on your SD card. The UI includes Blackmagic' metadata entry – just hit the OK button and entry page appears. This is fiddly and time-consuming on the touch-screen enabled Cinema Camera. Entering this data using cursor keys is just nuts.
I presume that all the Cinema Cameras share a common code base as, like the other products, the Pocket Camera has no audio meters, even though there is a stereo 3.5mm jack for audio in (and a completely useless built-in mic – though it might provide enough sound for PluralEyes to sync up audio). To be honest, the quality of the external input didn't seem great either, but then you can't record sound on Super 16 either.
Whilst we're talking about the I/O on the camera's side, there is a LANC connector, 3.5mm headphone out, Mini HDMI and 12v in. I'm sure space was at a premium, but the 12v input connector is a smaller version of the one used on the larger cameras, so if you have bought a rig and an external battery plate (like the fab Anton Bauer one), you won't be able to use the battery plate with this camera. It's a small thing, but I would like to have seen a battery charge LED too.
And whilst we're talking about the battery – it doesn't last long. It's not that the camera uses a lot of power, it's just that Blackmagic haven't implemented any kind of battery saving regime. I'm sure it's simple in firmware to power down the LCD and other hungry bits of the hardware after a couple of minutes of inactivity. At the moment, unless you've bought a bag-full of those cheapo batteries, you'll need to do the power-down yourself. The camera gets pretty warm if it's left on, but I never had any unreliability issues.
Principal Photography
I tested the camera with a Panasonic 12-35mm, f/2.8 zoom. Once fitted, this compact optic dominates the camera, so small is the Pocket Cinema Camera. Even so, you'll need big pockets if you want to take its name literally.
The camera powers on quickly. A press of the Iris button adjusts exposure automatically – though this is a one-shot operation, not a tracking auto-exposure. Again, like the bigger camera, the best approach to exposure is to ensure that the highlights are at, or just below, 100%. The sensor is optimised for dynamic range at ISO 800, so you'll need an external ND filter on the front of your lens. The up and down cursor keys manually adjust the iris (noisily). There is an adjustable zebra to help with exposure as you really mustn't judge it from the LCD. There is little point in using the Pocket Camera in anything other than its 'Film' recording dynamic range, and that means exposing for the highlights, whatever the rest of the image looks like.
If you don't control the highlight exposure there are a couple of weird artefacts. Blown highlights will exhibit a 'bloom' – it's not unpleasant but it looks unnatural. If you push the sensor further into over-exposure, then things get even more unnatural, as the highlight will turn black – see image above. Blackmagic commented on these findings, ""All sensors, be it CCD or CMOS, will have a 'blooming' effect when during severe overexposure, the pixel is over saturated and excessive charges overflow to neighbouring pixels. It just looks different depending on the sensor type. We are not seeing this on some of our test cameras so it might be something that is calibration related. Please contact your nearest support office and we'll run another calibration on the camera."
There is a similar, one-shot autofocus feature, though it can be sluggish in low light/low contrast situations. Double clicking the Focus button engages green peaking, and double clicking the OK button magnifies the LCD image, to help with manual focus. There isn't an on-screen indication that the magnification is on, so remember to turn it off or your framing will be a bit odd. If this all sounds a bit fiddly, it isn't – I mostly focussed manually and didn't have a single shot out of focus.
Disappointingly, there are only the 'standard' frame-rates – 23.98, 24, 25, 29.97 and 30 (all progressive, obviously) – so no slow-mo, unless this is another feature that a firmware update may bring.
The OIS in the Panasonic lens is fantastic, and the camera handles surprisingly well. Because it looks like a consumer camera, you can film surreptitiously in places that would be unsuitable for a larger camera though, if you want decent sound, the boom op and sound recordist might be a bit of a giveaway…
Post-Production
Let's be clear. For all its outward appearance, the Blackmagic Pocket Cinema Camera is not a consumer, point-and-shoot camera. You need to take care with focus and exposure, and every frame that you shoot will need significant post-production.
Straight out of the camera, the footage is disappointing – low contrast, noisy and slightly soft. Remember that, unlike most video cameras, little or no image processing is done in-camera. You must 'print' the camera 'negative' (yes, I know – it's a positive) through good grading software so, fortunately, Blackmagic ship the camera with a copy of DaVinci Resolve Lite, which is great for the job – but has a vertiginous learning curve. If you are one of those cinematographers who are used to just running your footage through Magic Bullet, then you'll need to embrace a new workflow to get the best results. I found that – again, like the bigger camera – you need to apply a tiny but of noise reduction, a tiny bit of sharpening and then cope with that low-contrast, wide dynamic range image – Blackmagic claim 13 stops and our tests suggest that, even recording ProRes, that claim is accurate.
Once processed, the images from the Pocket Camera are outstanding. Gorgeous. Stunning. The Panasonic lens is soft wide-open, but shutting down a couple of stops (and adding that smidgen of sharpening in Resolve) results in super-sharp pictures, with beautiful tonality, rich colour, and levels of detail in both highlights and shadows – even on a bright sunny day – that few other cameras can match.
If you don't control the highlight exposure there are a couple of weird artefacts. Blown highlights will exhibit a 'bloom' – it's not unpleasant but it looks unnatural. If you push the sensor further into over-exposure, then things get even more unnatural, as the highlight will turn black. Perhaps they are taking film emulation a bit too far, as film stocks do this too (e.g. "The Black Sun, Owens Vally, California", taken by Ansel Adams in 1939). I don't know if these problems can be rectified in firmware, but they are definitely problems – though you shouldn't get them 'cos you are 'exposing for the highlights', right?
There is some rolling shutter – just under 0.001° per pixel per second (at 25fps, 180 degree shutter) which is par for the course for this type of camera.
Theatrical Release
Just like the Blackmagic Cinema Camera, the Pocket Cinema Camera is in a class of its own – particularly given the price, about £665 plus VAT – so it's hard to compare it to other cameras.  Probably the closest would be the Panasonic Lumix DMC-GH3 – a DSLR with the same lens mount and a decent(ish) CODEC. Results straight out of the GH3 are fantastic, but the Pocket Cinema Camera can be better, carefully used, and the GH3 is more expensive (though, of course, it takes stills too).
The firmware is obviously still in its infancy – though I didn't have any reliability issues and the camera certainly works well with the current software. It's an odd beast – the Cinema Camera can get away with virtually no audio support, because you'll almost always record separate sound, but the tiny size of the Pocket CC teases you into believing that it should be an all-in-one solution. Perhaps the answer is to think of it as a digital Aaton A-Minima – stripped back, simple, great image quality but not much else. Just keep repeating to yourself, "It's not a consumer camera, it's NOT a consumer camera…".