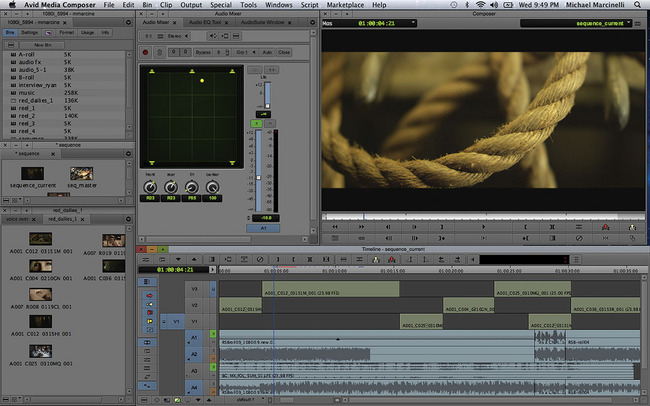 Review – AVID Media Composer 6.5
Posted on Jan 24, 2013 by Alex Fice
New surround mixer UI for Media Composer 6.5
ADAM GARSTONE updates his Media Composer editor and rejoices at the correction of some annoying problems from the previous version. But is it worth the upgrade price for current version 6 holders? However If you still have version 5 this is an easy upgrade decision.
For me, Media Composer 6 was the most important release Avid had done since, er, well, the 1990s probably. Their decision, finally, to open up their products to third party hardware manufacturers was a (perhaps serendipitous) great leap forwards – removing one major barrier to entry for those who were considering leaving another manufacturer's product, but who had an existing hardware investment. Coupling that with 64 bit performance, a cleaner user interface design, plus other bells and whistles, and it made a pretty compelling product.
There were, of course, some problems.
Probably the most annoying limitation of v6 (particularly for those working in documentary) was that the Audio Punch-In tool didn't work with third-party hardware. That meant that you had to record 'Commentary' with a separate application and import the audio each time. It's a bit slow, and very annoying (if you use FCP 7 on any Mac OS from 10.7 onwards, you have the same issue – for some reason the 'Voice Over' tool doesn't work. Ho, hum). The second most annoying 'feature' was that MC 6 hogged the I/O hardware and wouldn't let it go, so you couldn't have another application running that needed the same I/O (for instance, a grading application or After Effects). You had to shut down Avid before starting the other application, then close that before you could re-open Avid – on a good day. On a bad day you had to reboot between each application.
Media Composer 6.5 solves both of these problems, and the implementation worked well with my Blackmagic Decklink card (with the latest version of Blackmagic's Desktop Video for Mac). If you have hardware attached (either third party or Nitris DX/Mojo DX) then a hardware toggle button appears in the user interface. The button allows you to toggle between hardware and software modes. This is more useful than just releasing the hardware, as software mode gives you access to features like Full Screen Play. Even better, just switching to another application automatically releases the hardware.
The Audio Punch-In tool is enabled, and it works – there isn't much more to say – it now does what it says on the tin. Note, however, that both these features need support from the hardware vendor, so you'll probably need to update your drivers – most vendors will have new releases by the time you read this.
Other improvements include the ability to re-link multiple AMA files by pointing MC6.5 to a directory, rather than having to do a file at a time, as well as the ability for dynamically re-link AMA files as they become available on Intersphere storage. Many users are still deeply suspicious of AMA – the fora are awash with disaster stories – so any improvements will be welcome, I suppose.
Avid MC 6.5 now supports 64 audio 'voices'. Unfortunately, this doesn't mean you can have 64 tracks in your timeline – you are still stuck at 24. A 'voice' refers to the individual audio stream in a file – so a stereo clip has 2 voices and 5.1 has 6. A single track can contain, for example, a 5.1 audio stream, hence the higher number. I presume that Avid continue this 24 track limitation (and the 1080 output resolution limitation) to protect the market for some of their other products (ProTools and DS, for example), but it still niggles that other, cheaper NLEs have far more tracks available.
There are a bunch of other features in 6.5, AS-02 Export Volumes are supported, you can select and copy multiple audio keyframes (woo-hoo!), DNxHD 100 and JPEG 2000 (J2K) are supported and you can stop indexing in the Find operation. There is also support for Interplay Sphere (Windows only), you can edit Titles directly from the timeline – meaning that you can right click a title, select Edit Title and get the Marquee or Title Tools.
MC 6.5 is an important update to the best Media Composer yet, but some of the features, particularly the third-party hardware support, feel like they are implementations of things that should have been in v6 all along. As a v6 user, I would want the Audio Punch-In tool to work, and for Media Composer to be able to release my third party hardware, so I would have to pay the £430.80 (inc. VAT) upgrade price. As a v5 user, I would be even more happy that I had waited and could upgrade to a fully working v6.5 for just £84 more – £514.80 (inc. VAT).