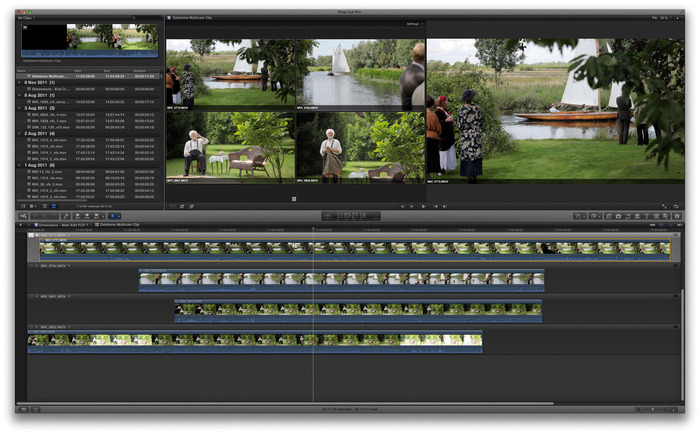 REVIEW – Apple FCP X 10.0.3
Posted on Feb 2, 2012 by Alex Fice
Apple's new Multicam feature works really well in the new release but isn't the best featureMovie editor ADAM GARSTONE finds out what really works and what really doesn't in the latest update to Apple's FCPX editor.
I love Apple gear. Not as a 'fan-boy' – I certainly don't believe that they can do no wrong – but, for me, in the things I need to do every day, Apple's products work better than any other.
Except for FCP X.
It's not that it isn't a good product – indeed, some of what it does, it does very well. Personally, I think keyword collections are more powerful and, hence, more useful than bins. The playback engine – using the GPU for the number crunching – and background rendering are fantastic.
Some features I am more ambivalent about. The magnetic timeline is a solution to something that I never saw as a problem – and I think it creates more problems than it solves – but I'm sure I could get used to it and cudgel it into working. I'm sure they'll fix the lack of persistence of In and Out points in clips, and it never worried me that you couldn't open FCP 7 projects – after all, I still have a perfectly working copy of v7.
So it was interesting that one of the features championed at the latest press launch for release 10.0.3 was third party support for FCP 7 to FCP X translation through XML, using '7toX for Final Cut Pro' – an application available through the App Store for just £6.99. To be honest, there was a certain amount of self-congratulation at yesterday's press event that this 'killer' problem now has a solution.
Sadly, I tried it, and it didn't work.
I'll admit that I started ambitiously. I exported the FCP 7 XML for an hour long TV documentary, and ran it through 7toX. It crashed.
To be fair, this doco had a lot of effects – many of them third party plug-ins, speed ramps and so on, so I wasn't terribly surprised. This is just v1.0 of 7toX and the developers (Intelligent Assistance Inc.) have pointed out what a difficult task it is to translate between the two XML formats. So, I tried the same process with a feature film. This has a lot more clips and is a much longer edit but, as most of the 'effect' work is done in the finishing suite, the FCP timeline is mostly just cuts and dissolves, perhaps with the odd flipped shot and so on. Sadly, once again, 7toX crashed.
Again, to be fair, it's unlikely that the developers could test with an edit as long and as complex as a feature film, so I created a simplified timeline of a single reel of the movie. This was about 18 minutes long, one track of video, no effects, and about 8 tracks of audio. This time the translation completed without crashing, and the picture edit appeared in FCP X perfectly. However, there was no sound – just strange snippets of the original (perhaps 15 seconds in all) scattered over the timeline. At this point, I have to say, I gave up. The application will need some further development before it is a solution for those who want to take a 'real world' legacy FCP 7 project into FCP X.
On a more positive note, 10.0.3 now has multi-cam support, and the implementation looks really good. I always preferred FCP 7's multi-cam to Avid's, but FCP X takes it even further. The synchronisation of clips is straightforward with a variety of both automatic and manual sync methods. There is a very nice multi-cam editor which allows you to change sync points, re-order clips and even add more clips. Changes in the multi-cam editor will be reflected in the timeline (a good, or bad thing, depending on your point-of-view) and you can even add effects to individual camera angles within the editor.
You can now import multlayer Photoshop files and treat each layer separately though, as with FCP 7, layer effects aren't handled, so you need to bake them in with Photoshop first.
You can also relink clips in 10.0.3, using either the Event Browser (which relinks all the clip instances in the project) or the Timeline, which just reconnects those clips.
Oh, and they've spiced up the Chroma Keyer to be more like the one in Motion 5.
To my mind, however, the most significant new feature in 10.0.3 is the addition of third party hardware support for broadcast I/O. Apple are calling this a 'beta' function – meaning if it doesn't work properly you can't complain about it –  and it certainly doesn't (yet) work properly. On a Blackmagic Decklink HD Extreme 3D, using Blackmagic's v9.2 beta driver, I could only select standard definition NTSC as an output option, and the video playback was jerky and uneven. Furthermore, audio playback was still through the Mac output, rather than through the Decklink card, so there were sync issues.
That isn't really the point, though. It's a beta, and it will work one day soon. What's important is that many people have claimed that Apple are abandoning the 'professional' market – yet surely broadcast I/O is only useful to professionals? I'm sure it's not trivial to include this support in the software, which demonstrates a willingness on Apple's part to address the concerns of those working in broadcast and other 'high-end' post-production.
Briefly, other FCP X News
X2Pro Audio Convert (available at the end of February) will export an AAF from FCP X for import into ProTools. http://www.x2pro.net/
Red Giant's Magic Bullet Looks is now available for FCP X. This takes advantage of FCP X's rich plug-in architecture to provide far more control of Looks from within FCP than was possible with FCP 7. Until the 6th February it's half price: http://www.redgiantsoftware.com/blog/2012/01/31/magic-bullet-looks-for-fcpx-now-available-and-50-off/
GenArts Sapphire Edge is now available for FCP X 10.0.3. http://www.genarts.com/software/sapphire-edge/final-cut
Twitter FCP X Feature Requests and questions:
@iGert Canvas and viewer window (as option), in and out-point memory, 64 bit version of compressor and audio improvement 'stuff'
@ForeverMoreVids When is MXF support coming to FCPX
@travelgurutv Is it worth buying FCPX now or will they ditch it given all the negative feedback?
@olacolorist What will 10.1 have that 10.0.3 doesn't?
@huwbowen It would be nice to know if Apple intend to make any more Mac Pros as well…