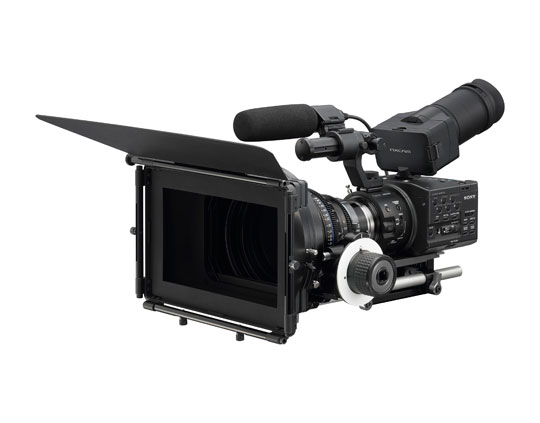 REVIEW – SONY FS100E Camcorder
Posted on Oct 25, 2011 by Alex Fice
How different are the new FS100 and Sony's F3?Adam Garstone thinks we are all benefitting from Sony's Alter-Zaibatsu by offering a number of different cameras seemingly vying against each other
I sometimes imagine Sony as some fictional, cyberpunk zaibatsu – factions warring in a corporate arcology, zapping each other with Taser enabled Walkmans and weaponised AIBO robot dog gun-platforms. Perhaps I should get out more, but take a look at the evidence. The HVR-Z7E was released at about the same time, and for about the same price as the PMW-EX1 and, to put not too fine a point on it, the EX1 was a much better camera. The PMW-F3 and the NEX-FS100E have also been released at more-or-less the same time, with the same Unique Selling Point – the fabulous Exmor Super35 sized sensor – though they are very different camcorders. It's like there are two camera design factions in competition with each other, buried in the Sony Corporate Megacity.
We have reviewed the F3 before, concluding that it is great, but weird. It handles like a massive PD150, but with features that appeal more to TV drama or micro-budget feature film production. It's interesting, therefore, that the FS100 seems to suit those two markets far better than the much more expensive F3.
The FS100 is an interchangeable lens camcorder, with that full 1920x1080p, S35 sized sensor, recording onto solid state media using AVCHD. The form-factor seems a little odd at first – a slightly flattened cube with a lens on the front – but it makes a lot of sense once you start using it. Lenses are attached using the E mount from Sony's stills cameras (which share the NEX naming prefix). It has the massive advantage of a very short flange to focal plane distance, so there are adaptors available for pretty much every other lens you can think of, from Canon and Nikon stills lenses to Arri PL – there is no back focus adjustment on the camera, but the PL mount adaptors mostly come with shims. The down-side of this short flange depth is that there isn't room for a built-in ND filter wheel. The E-mount is stainless steel, but you'll want rails to support all but the smallest lenses, and there isn't any kind of sealing against dust and water, which worries me a little. The bundled lens (if you buy an NEX-FS100EK) is Sony's own 18-200mm, f/3.5-6.3 lens, which features optical image stabilisation. It's okay, but I would want something faster to make use of the shallow depth-of-field available from the large sensor. Autofocus is also a little slow and patchy, with a fair amount of 'breathing' – not good with the sparkling resolution of the sensor.
The funny, cubic body looks ungainly, but is organised excellently. The left hand side and the top have the usual controls that you would find on a Sony camcorder – including a good set of assignable buttons – and the top also has a centre mounted, 3.5" LCD viewfinder – as good as those on its Sony peers (921,600 dots in a 1920×480 pattern). A thumbwheel locks the position of this vertically so that you can attach a large and comfortable eye level viewfinder, very similar to the EX3's, though the lack of a horizontal lock does mean that this swings unintentionally at times. The LCD is a touch-screen – obviously, useless when the eyepiece is attached but easy to use with the excellent, clear and logical menu structure. The viewfinder has the usual information displays, including both coloured peaking and expanded focus aids – in fact, if you are familiar with any Sony professional camera you'll feel right at home with the controls of the FS100.
The right side of the camera is dominated by the Flash Memory Unit (you can also record to SDHC or Sony's Memory Stick). I really like the FMU – it feels like a solid bit of kit, about the size of box of matches, and I love the fact that it has its own USB connector, so you can pull it off the camera and plug it straight into a computer – it's bus powered. This side of the camera also has a mount for a detachable handgrip, which can be adjusted to a variety of angles. The handgrip also has a button to roll the camera. Unfortunately, once the handgrip is attached, it can be very hard (or impossible) to remove the FMU. Nevertheless, with the handgrip and the eye level viewfinder attached, the FS100 handles better than the F3, for all its weird boxiness. Again, I like the modularity of the FS100 – you can rig it as a handycam, or strip it down, add rails, follow focus and matte box for feature film or TV drama filming – there is a good supply of ¼" and ⅜" bushes for mounting accessories (there is none on the F3). The modularity extends to the microphone mount, which attaches securely to a cold shoe above the lens, is extremely adjustable for reach and height, and provides even more mounting bushes. Once attached, you tend to use it as the carrying handle as well. There is a short shotgun mic bundled with the camera, which sounds surprisingly good.
The rear of the camera is dominated by the battery (a standard, Sony InfoLithium), but includes a headphone socket, IR and wired remote inputs and, most importantly, a full-sized HDMI output – more on that later.
The FS100 is obviously intended for film-makers – one big giveaway is the stud mounted at the focal plane so you can hang a tape measure on it for focus measurements. If you'll excuse the pun, that makes it a more focussed product than the F3, which just seems confused as to its identity. The problem with this focus on film-makers is the recoding format – AVCHD just isn't good enough to be shown on a screen 20' high. Interestingly, the sensor in the FS100 is rated at ISO 400, though in the F3 the same chip is rated at ISO 800 – I'm guessing that the downrating is to reduce the noise and hence improve the apparent performance of the CODEC. Fortunately there is that HDMI output – just hook it up to a third-party recorder (e.g. the Blackmagic Hyperdeck Shuttle for uncompressed recording or the Sound Devices PIX 220 for ProRes/DNxHD) and bypass the AVCHD completely – the FS100 outputs timecode on the HDMI which the Blackmagic product will (eventually) record.
Whilst we are talking about recording, the FS100 can record AVCHD at several frame rates from 1fps to 50fps (though most NLEs can't read the 50fps format), though a coming firmware update will be needed before the list will include 24fps. There is even a GPS receiver built in, so you'll know exactly where everything was shot – unless you were indoors.
Image quality, with a good lens and recording through the HDMI output, is every bit as good as the F3. The sensor adds very little noise to the image, even at pretty high gain settings, resolution is superb and, given the 8-bit output, tonality is excellent (there are a couple of nice 'cinema' picture settings). It's a real shame that there isn't a 10-bit HD-SDI output, but you can't have everything.
Recording at low light levels on the Flash Memory Unit showed noticeable compression artefacts, even at the highest quality AVCHD setting (24Mbps for 25fps) though, in decent light, that fabulous sensor even managed to make AVCHD look good. Used carefully it would certainly be good enough for the small screen (though broadcasters won't accept AVCHD as a true HD CODEC) but I would definitely look to record on an external device for any serious work.
At a current street price of £3700 + VAT (without lens), the FS100E is over twice the price of a Canon 5D Mk II DSLR – the current vogue for large sensor, low budget film making and, indeed, the S35 sensor is smaller than the Canon's. However, the 5D needs plenty of additional kit to be a viable movie camera, suffers from image aliasing and rolling shutter artefacts and, although it has an HDMI output, you can't use it to record uncompressed video. Instead, I would look seriously at the FS100E, adding the Blackmagic Hyperdeck Shuttle (£220 + VAT) and a PL mount adaptor ($870 including support from 16by9 Inc).
In contrast, The PMW-F3 is £10,600 + VAT without lenses, though it offers better on-board compression, 10-bit and uncompressed HD-SDI output, and feels more sturdily built. Still, that's a lot more to pay – which makes me think that somewhere, deep in Sony's secret engineering facility, the chief designer of the F3 is unaware of a remote controlled  AIBO creeping under his chair, its little plastic ears pricked and half a kilo of C4 strapped around its middle…
FREE SOFTWARE UPDATE
Here's the details.  Scheduled for early 2012. 
Camera owner will download package from FS100 webpage, connect PC to camera via USB and run user installable update.
 Additional Camera Features (subject to change)
1. Added 50Hz recording system (PAL): 1920×1080 50p, 50i, 25p and 1280×720 50p. 
2. Camera Profile (camera settings can be saved to and loaded from a memory card). 
3. Additional 4x and 8x Expanded Focus magnification: (with user selectable focus area). 
4. Selectable ISO or GAIN sensitivity display.
5. Selectable Focus indication in FEET or METERS (E-mount lens only).
6. Selectable Shutter indication as EXPOSURE TIME or SHUTTER ANGLE.
7. Added the following Aspect-Ratio markers: 2.35:1, 1.85:1 and 1.66:1.
8. Display ON/OFF button enables Zebra and/or Histogram overlay onto video output.
9. Compatible with the new A-Mount to E-Mount adaptor, model LA-EA2. One push Auto-IRIS and Continuous 15-point, Phase-Detection Auto-Focus operation with most Alpha A-Mount lenses is available. Lens metadata is displayed onscreen and stored real time to image file.