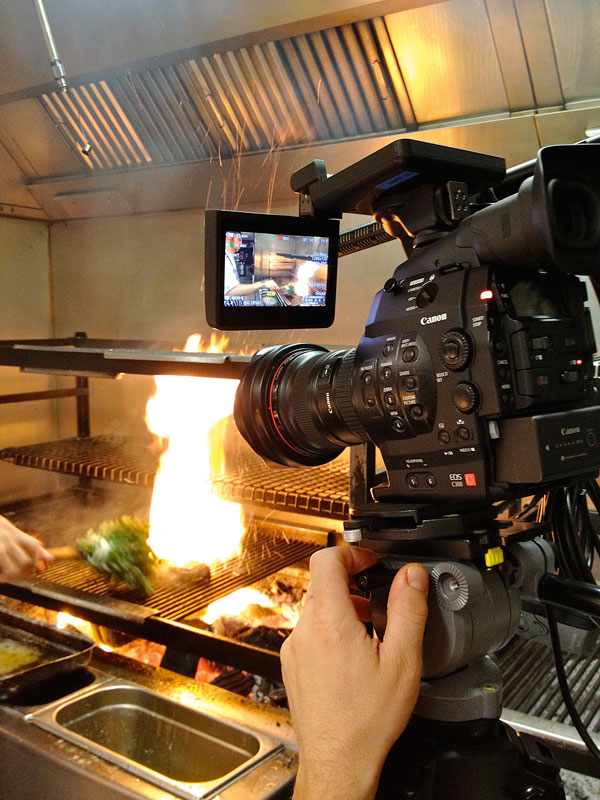 REVIEW – CANON C300 Camcorder
Posted on Feb 29, 2012 by Alex Fice
So many words and pictures have been used to describe the new Canon C300 camcorder but not much 'real' footage. DP PAUL GWILLIAMS called up a fellow camera nut who also cooks a bit to shoot with the camera in a broadcast television setting.
If Justin Beiber were a camera he would be the Canon C300. But instead of screaming girls we have excited DPs, cameraman and anyone who likes a big sensor in their camera of choice.
There's been just a little 'fever' over the last few months about the new Canon C300. First there was the historic 'Leave no story untold' Hollywood launch (would it be a camera or a photocopier?). Then the camera went on a tour of the kit suppliers and facilities houses that even The Rolling Stones would have been proud of.
I've been freelance nearly 15 years and inevitably shot on all sorts of cameras including a considerable amount in the last three years on Canon DSLRs. I, like many, have been waiting for Canon to come up with a camera that gives me the big chip look but without all of the issues of DSLRs.
Having invested in Canon glass I was hoping Canon might produce something else worth using them on – Sony and Panasonic had not done enough to sway me otherwise. If this were going to be my next investment (and a bigger commitment than the very affordable 5Ds I have) it would have to be something worth opening my wallet for.
So I was a keen as the next man to get my grubby mitts on the C300 as soon as possible and do some shooting with it. Well the next man is more patient than me so I got in touch with Nick Millen at Canon and he very kindly agreed to let me have one for a day or two.
So what to shoot? Well I thought I'd go back to where it all started for me on DSLRs and get in touch with a mate who likes a cool camera and a bit of mucking around with food. I have Jamie Oliver to thank for getting me into this whole DSLR malarkey in the first place so why not go and shoot something for him.
Jamie and his team have always been on top of the latest camera tech and shot their content on everything from DSLRs to REDs  and also recently the Alexa, so I thought they might like to get their hands on Canon's latest offering.
I wanted to try the camera out in a real shoot situation – so we agreed that I would head over to Jamie's celebration of smoke, fire and meat – Barbecoa at St Paul's in London's City district.
I would spend the day shooting the hustle and bustle of the restaurant and this would give me a chance to shoot in daylight, dusk and night time, interior and exterior and use the camera in different set-ups – tripod, handheld, tracking etc.
The camera – a pre production model, arrived with no manual (Fortunately I've never read a camera manual before in my life so no reason to start now!). Luckily setting up the camera was a breeze – the menu is just like that of the XF305 or even the EX1/EX3 and the camera allows you to program lots of assign buttons so you can get all of the main controls set up and right where you want them.
DP Paul Gwillliams and Jamie OliverHardware Set-ups
Having shot with video DSLRs since their infancy I've been through my fair share of set-ups to try and get the best package for each shooting situation. I have to say I've never really found one that I was completely happy with – there always seems to be some part of the rig that comes loose and wobbles around and I have just ended up going back to basics with DSLRs and only adding the bits I really need!
With this in mind I really wanted to use the C300 as it came, – no shoulder rigs, follow focus or extra monitors  – yet when I opened up the box I was presented with something resembling a Meccano set!
Ok so the camera is 'customisable' – the smallest setup is just the camera body and your lens of choice – stick, say a 35mm lens on and you have a really light set up not much bigger than a DSLR – you end up holding it like a medium format camera which is novel! You use the perfectly adequate eyepiece only in this set-up and it comes with a little round thumb grip that screws into the same thread that the handgrip fits. With this set-up, if you want sound you'll need a top microphone like the Röde video mic which will plug into the mini-jack and mount on the cold shoe.
I'm not really sure why I would use this setup, but if you were rigging the camera for say – car-mounted shots it keeps the size and weight down.
Building from there is the handle and this is where we start feeling more like a professional broadcast camera. One of the problems I've always had with DSLRs is there's really nowhere that feels right to grab and pick up the camera, so this handle is a big plus and moves you away from a box with buttons on!
The handle has a number of cold shoes, one on top at the rear and two at the front. These allow you to mount the add on viewfinder and XLR module (which also has two mounting points) in a what seems like multiple configurations.
I did however notice a couple of little quirks in this seemingly endless design flexibility. If you are operating the camera at eye level or above you can't see the pots for the audio levels – but wait! You can mount the viewfinder section upright so you have everything facing you – ingenious! Unless you are using a top mic mounted in the mic holder – it ends up facing skywards!!
I also have a concern about the two cables connecting the viewfinder/XLR module to the camera body – they are hard wired and the connection pins look potentially very susceptible to the slightest damage which could turn out to be an expensive repair.
There's is also a screw thread on top at the back of the handle which would seem to limit use as it is completely covered if the viewfinder section is mounted in the back position and it would be of no use for say a top light if the VF was in the front position.
The flip out screen is rather good though – it can be positioned to face you at high or low positions at virtually angle – rather than auto flipping there is a mirror button (although on the pre-production model I had it seemed to take a couple of hits to get the image the right way up!)
The whole viewfinder module also spins round so if for instance you had a focus puller – in theory they could use that screen.
Speaking of which – the screen – it really is rather good, I found I could focus from it quite happily, its as good if not better and bigger than the Zacuto EVF that has become a must for my DSLR shoots – I'm sure in time someone will come up with some kind of flip up loupe for it!
The other bolt on item is the handgrip  – it replaces the thumb rest and locates securely using the same screw thread – in the middle of this is a plug in control cable. The handgrip is really nice and makes handling the C300 a real pleasure. The handgrip can spin to any angle – my only gripe is that unlike the Sony EX1 you have to fully unscrew the grip to change the position. The handgrip had a record button – one of several on the camera – including one just under the lens just like on full size cameras, a function 'nipple' and probably the most useable of the two iris dials on the camera.
The C300 shoot was at Jamie Oliver's London City restaurantShooting
The shoot at Barbecoa London would me give me a chance to use the camera in a variety of ways. The first thing I was to shoot was piece to camera with Jamie.  The camera is really light so I was able to mount it with a 70-200 lens on the Miller tripod I use with my 5Ds.
As I was operating pretty much as a one-man-band it was straight in the deep end getting a great shot and recording sound with a mic plugged directly into the camera. Setting up the audio was a breeze – no more fiddling with external recorders, and soon we were up and running with a lovely shallow depth look but without the audio ball-ache and no more clapper boards!
Next it was onto some nice detail shots of the restaurant and I could make use of my variety of Canon EF lenses (with the super35 crop). Again because of its size, not only could I use it with a Hollywood micro dolly but also on the table top with slider, its size would also be a positive when we got into the thick of the action in the kitchen.
Barbecoa is all about the way the food is cooked – with fire and smoke and so it was time to get off the tripod and into the heart of the action.
Hand held the camera in its 'out of the box' set-up is a joy to use, Holding the camera with the grip which is solid and ergonomic and a nice little lip at the front – it feels natural and comfortable, both the viewfinder and eyepiece are easy to access and you have most of the buttons you might need – such as to control the three NDs, white balance etc on the side.
There's also a MAGN button to punch into the picture not only before but also during recording – the only thing about this is that I quite like the 5x and 10x mag of my 5D – this only gives me one step.
For all the other functions you might need to get to quickly you can assign up to 15 buttons – If you have a good memory! I set up a few presets for the functions I needed and pretty quickly navigation to them became instinctive.
As the day moved along I quickly became at home with the controls and buttons of the C300 and it started to feel very natural.
Jamie is already a camera fan with Canon EOS 5D Mk2 and 7DLow Light
As darkness drew in and the restaurant came to life it was time to see how the camera faired in low light.
The restaurant like many has much more subdued lighting at night and I wanted to get some long lens shots of people chatting, laughing, eating etc.
With the 70-200 on and the ISO set to 8000 the low light shots were possible, useable and beautiful – having looked back on a large HD monitor these are the shots that really stand out for me – the grain at these high ISOs is really organic and very film like.
So the shoot had gone really well, the camera had handled well and all in all a very positive experience.
Negatives and Positives
For me this camera throws up massive pros & cons…
On the plus side the camera seems to address most of the issues we have had to deal with shooting on DSLRs for the last three years. I saw very little in the way of moiré and aliasing apart from when we really pushed it on some metal meshwork (where you would expect to see it on other high end cameras).
Cameraman, soundmen and editors alike will rejoice in the fact that we now have proper audio in and metering  (audio recorder and slate manufacturers less so!)
I haven't really mentioned the tech specs – but for me providing broadcasters and corporate will take it that alone keeps the camera on my wish list. The form factor and usability I really, really liked, and of course it will remain highly customisable with shoulder rigs, cages and battery mods if you want.
I do feel very positive about this camera, I think it's really nicely designed  but I do however have a few gripes…
Shooting quickly on the move with this camera works well with one reservation – EF glass. I, like many DSLR owners, have a fair collection of EF glass and this makes the C300 an even more convincing proposition, however I still have two main issues in situations when I have to work quickly – lens length and iris control.
I work in broadcast and corporate and if I'm going to use it for a wide variety of work I'm not always going to be able to use prime lenses under constant lighting conditions.
The camera has three iris settings – 1/2, 1/3 stop and 'fine'. On fine setting you can move the iris in a more linear fashion but for me it still wasn't smooth enough – I gather this is a limitation of the lenses.
Being used to using something like Canon's J11 broadcast lens I'll still yearn for something similar on the C300 for occasions when I need to work run and gun.
The lack of an affordable reasonably fast Canon zoom covering wide to long is still an issue for me – maybe I'm expecting too much but dear Canon, please can we have a manual, sub 10k zoom??  I will probably search out a manual zoom lens from another manufacture for now.
The other issue is of course the price.
I think the camera will differentiate the professionals from the 'faux' DPs  – but unless you have a very rich daddy you are going to have to make this camera earn its keep!
I know I'm not the first and I wont be the last but –  £12k for a big-chip XF305 with no lens and no mic…. Hmmm.  When you see the camera in the flesh you do wonder where inside that little box your money has been spent. It is however only a matter of time before clients who want the big chip look and have been putting up with DSLRs start demanding a camera like this… Then its decision time.
Many thanks to Nick Millen at Canon UK for the loan of the pre-production Canon C300, Jamie Oliver, Richard Herd all the team at Barbecoa London and to my assistant Phil Arntz.