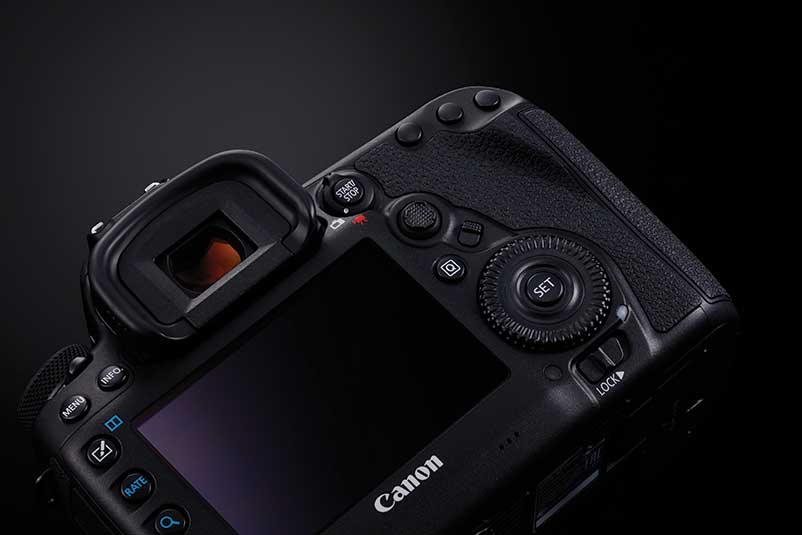 REVIEW: Canon 5D Mk IV
Posted on Jan 4, 2017
The latest iteration of Canon's much-revered 5D camera adds a raft of new features, including 4K. Will it appeal to filmmakers?
If there's one camera that holds almost legendary status in filmmaking, it's the Canon EOS 5D Mark II. It may not have been the first DSLR to offer movies, but it was the first affordable full-frame camera to do so and accordingly it sparked off a quite remarkable revolution following its launch in 2009.
Canon did embrace the shift to video with larger-size sensors, as proven with the launch of the specific cinema-range C-series cameras like the EOS-1D C and C100, 300 and 500 cameras. But when the EOS 5D Mark III was announced in 2012 it was very much an upgrade of the Mark II, with more resolution and faster speed but no seismic improvements for dedicated filmmakers.
Four years on and a new EOS 5D, the Mark IV, is here. The camera doesn't look much different to the old one and if you're used to Canon handling and button placement, you'll feel right at home. There are a few tweaks, but nothing major so it's very easy to get used to. There's now a locking button on the Mode dial, and a new AF Area Selection button below the AF area joystick. This new button allows you to select the AF area modes and it's a nice addition.
Inside the camera is a brand-new sensor with more resolution, up to 30.4 megapixels, and better weather sealing. There's also a faster 7fps stills shooting rate, the 61-point AF system of the pro-level EOS-1DX Mark II, better connectivity via Wi-Fi and NFC and a 3.2in touchscreen.
The important news for filmmakers, however, is that the new camera comes with some serious improvements aimed at them, such as a new Dual Pixel CMOS autofocus that allows you to refocus while shooting movies, using the LCD touchscreen. Unfortunately the screen does not articulate, which is a real shame as a moveable screen can be a real benefit for filmmakers and many of the camera's mirrorless rivals have them.
The EOS 5D can now record in 4K in the DCI Cinema format at up to 30p, along with half-speed slow motion of 60 frames in 1080p and even 120 frames if you don't mind dropping down to 720p.
This records onto twin internal memory card slots, one for UHS-I SD cards and the other UDMA-7 Compact Flash cards, which are the same as those used in the Mark III.
It's surprising that Canon didn't make the camera compatible with the faster UHS-II SD cards as even very fast UHS-I cards often can't keep up with 4K recording. That means essentially you are down to a single-card camera using the CF slot, and even then it's a shame Canon didn't go for a CFast card slot instead.
The battery lasts for around 90 minutes in continuous use shooting 4K. There are no overheating issues, which isn't something that can always be said for rival mirrorless cameras.
Finally, the EOS 5D comes with Wi-Fi and also NFC connectivity, and this allows you to control the camera with a laptop or smartphone and wirelessly transmit still images, and it's pretty easy to set up and use. You can also transfer MP4 movies but can't access anything that's been shot in HD, 4K, higher frame rates or time-lapse. They'd be huge files anyway.
You can see the live view image remotely though, and alter focus using your phone's screen as well as changing camera settings. It's great for putting the camera in a tight location then using your phone or tablet to not only precisely set up the shot but to control the camera fully too.
Another great addition to the Mark IV is the ability to create time-lapse movies in-camera, using the interval timer, giving you 1080p video at 30p or 25p. But what's really important is the video quality, and the camera now records 4K video in the wide Cinema 4K format of 4096×2160 pixels, which is a huge step up from the Mark III.
In Use
Before filmmakers celebrate a true Cinema 4K camera at £3600, it's best to understand how Canon has done it. The Mark IV takes a 4096×2160 pixel crop from the middle of the 6720×4480 pixels sensor, which is good news for quality as there is very little moiré and no upscaling artefacts. But this is roughly a 1.6x horizontal crop, so it's actually roughly the same size as using an APS-C sensor, and this means your lenses act as though their focal length has been increased by 1.6x.
The 4K video is encoded using 500Mbit/sec, which is a huge amount of data and why your cards fill up so fast at approximately 4GB per minute.
To get a faster frame rate, you need to drop down in quality. At Full HD 1080p, the 5D Mark IV uses the whole width of the sensor, so there's no crop factor and the maximum frame rate goes up to 60p.
For grading the footage, there are no Log profiles available, which seems like a huge omission as even many mirrorless cameras have them. For a flat profile, it's best to use Canon's own Neutral setting and turn everything down. One advantage of using Canon's own profiles is that they work through the full ISO range, while many Log profiles only work at high ISOs.
To get the exposure right, it's best to stick to fully manual, but unfortunately there is no zebra pattern option to give you a guide. For that, and to see focus peaking, you need to use an external monitor.
Manual focus is the preferred choice for many serious filmmakers, but the EOS 5D Mark IV has such advanced autofocus that it actually can work very well in many circumstances.
Using the touchscreen, you can do smooth focus pulls by softly tapping on the subject and letting the camera do the rest. Using the settings, you can adjust how fast it racks focus, too. Instead of touching the camera's screen, which could risk some vibrations, using a smartphone can work really well for focus pulls like this.
It may seem like a gimmick, but the face-detection autofocus actually does work well, too. It's not infallible, but it's fun to try and can have its uses.
Verdict
For filmmakers, the Mark IV now offers 4K capture and autofocus during movie capture that actually works, along with touchscreen capability and remote control and live view via a smartphone. If you use an EOS 5D Mark III for video, the Mark IV is better in every way.