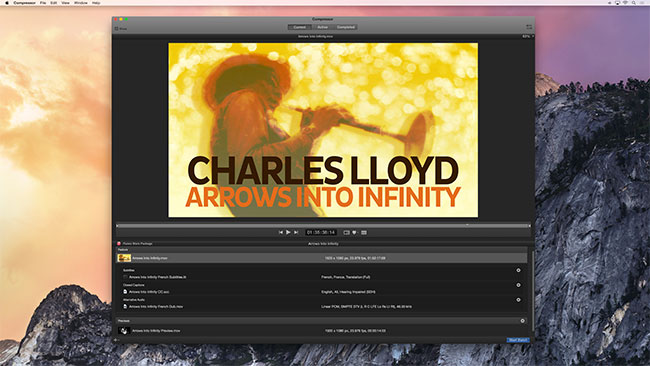 ZOO Digital provides new iTunes Store Package delivery services for Compressor users.
Posted on Apr 16, 2015 by Alex Fice
The Charles Lloyd documentary Arrows Into Infinity. Pictured is part of the iTunes Store Package authoring within the new version of Compressor.
Fresh from Apple's announcement of an embedded iTunes Store Package within the new version of Compressor (4.2) comes the first offering from the delivery partners who will help producers get their film to the final stage, these services aren't just encoding houses but ease the way with QC and other services to the iTunes store.
ZOO is one of a select group of vendors approved to provide the service. Others are Juice , Walla and Quiver who helped get 'Charles Lloyd – Arrows Into Infinity' (see above image) into the store. These companies streamline the distribution workflow for Compressor users who can publish movie titles in global iTunes Store territories more easily and quickly. For instance the Charles Lloyd documentary has five foreign language subtitle versions which Quiver helped to achieve.
ZOO has achieved approved vendor status as an iTunes encoding house, aggregator and author of iTunes Extras and LPs.
The new distribution service will be delivered using ZOO's cloud-based management platform, ZOOstudio. This system will guide providers through the entire content delivery process; validating iTunes Store package contents to meet the required technical, metadata and quality standards of iTunes; localising media into multiple languages; tracking the content through to delivery.
ZOO President Gordon Doran commented: "ZOO is delighted to participate in this new service. We are proud to support Compressor users and help them deliver movie content to the iTunes Store. Using our dedicated ZOOstudio platform, we will offer an efficient, cost-effective way to centralize and manage the entire end-to-end process."
ZOO Digital, based in Los Angeles, London and Sheffield, provides media production, localisation and distribution services to leading content creators, including BBC Worldwide and five of the major Hollywood studios.
Visit www.zoodigital.com or see ZOO at NAB Show, Booth SL5522.