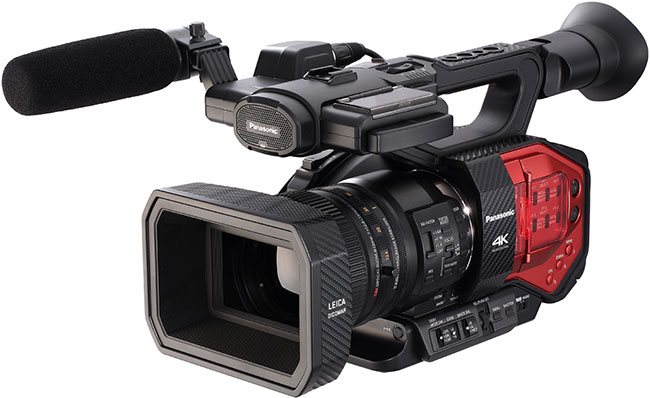 Panasonic's new DVX200 'Sex-ed' Up For Indies
Posted on Apr 15, 2015 by Alex Fice
The new Panasonic AG-DVX200 – is that a carbon fibre body?
Panasonic has a long history of courting the independent film maker. The DVX200 is the latest 'sexed up' model to appeal to the film maker who is stirred by the marketing of RED and those huge sensors and carbon fibre bodies. There are a few boxes that need ticking first like 4K with a nice fast lens an f2.8 Leica should suffice. Then some slow motion with 120fps but only in FHD mode which has to mean 1080p, but still very usable. You get UHD 3840 x 2160 at 60p, 4K is worked out at 24p. The sensor is a 4/3 type and with their V-Log gamma curve Panasonic are claiming 12 stops of latitude. But to really make it stand out, you paint the battery cover RED. Are the film indies really taken in by that superficiality?
Other specs include 13x zoom, a 5-axis image stabiliser on the lens, in-built NDs and two cards slots. No price mentioned or availability but knowing Panasonic it shouldn't be long.