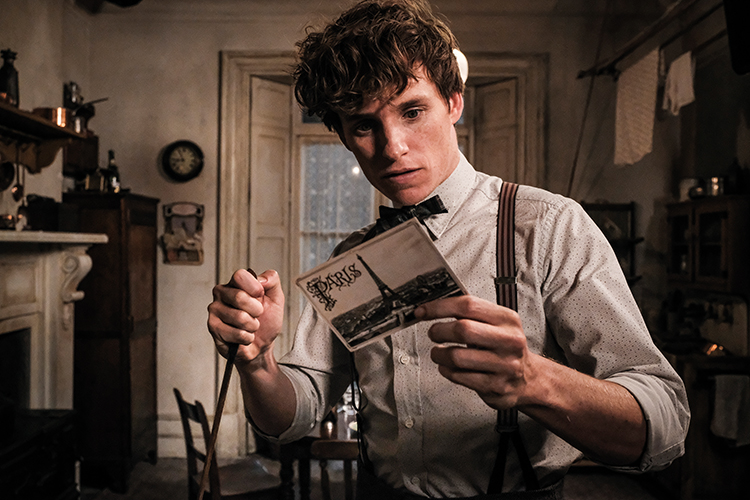 Working with Beasts
For the new Fantastic Beasts movie, Technicolor managed a huge and complex pipeline from dailies to deliverables.
Questions: Julian Mitchell / Pictures: Warner Bros
Definition: What was the Technicolor dailies process? How were colour decisions made and what about the data flow with the ARRI Alexa 65 camera?
Technicolor: When we first heard that we were working with the Alexa 65, we needed to determine whether the system would use the industry adopted A65 workflow, which involved creating a proxy file with the Codex Vault and do the dailies out of them. Or if there was some way of working with the original camera files as we do with all other cameras.
As we are vendor agnostic, we don't influence the camera or formats that productions use. We instead work to provide solutions and normalise our processes to accommodate to their needs. Our aim is to provide the same speed, level of service and quality in every scenario. We always try to do this by working with the original camera files.
For Fantastic Beasts: The Crimes of Grindelwald, we did just that by building a system that can process Alexa 65 material with the same turnaround times and level of quality our clients are accustomed to.
We knew early on that we needed to build something completely new. We didn't want to create something that we were going to use only once; we wanted to create something long lasting that could be integrated with our pipeline and processes going forward.
Our engineers in London and Los Angeles worked with us and FilmLight to build a completely new system, integrating our dailies software with their Daylight system. This enabled us to bring together FilmLight's hardware and software ability in processing original Alexa 65 files with the versatility and standardisation we have achieved over the years using our proprietary Technicolor Dailies Manager Systems.
We ended up building a system for Fantastic Beasts 2 that was capable of processing original Alexa 65 Raw files at full debayer. We were able to bring to our clients a service where acquiring, processing and backing up Alexa 65 data feels much like a normal Alexa SXT workflow, with the added bonus that we were effectively QC-ing their actual OCN.
Definition: Can you explain more about the workflow and colour pipeline. Was it an ACES show?
Technicolor: The colour pipeline was built by our DI colourist, based on an ACEScct colour space. We worked closely with the DIT on-set, Peter Welch, to provide him with all the colour science and transforms for his on-location system. The dailies colour grade was completed on FilmLight's Daylight system by our Dailies Colourist. We received a daily Colour Decisions List (CDL) made on-set. In the near-set, our Dailies Colourist graded the dailies using Peter's CDLs as a starting point. These colour values were then transferred into our Pulse system where it was stored as metadata per clip. When a pull was requested via Pulse, the CDL values were exported per shot as support files (ccc, cc, cdl) for automated delivery to VFX or 3D Stereo Vendors. Original camera files were stored on our Pulse system for instant access during post-production, whether this was a pull requested for VFX work, 3D Stereo-Conversion work or a trailer DI grading session.
VFX shot reviews were conducted on a Technicolor-supplied FilmLight Daylight System. Each VFX Vendor submitted their shots following the same support-file-per-shot workflow. This allowed each VFX shot to be reviewed with the colour grade set by VFX supervisors. The Daylight system also allowed the colour grade to be revised on-the-fly and passed on to VFX Vendors. VFX shots with their CDL support files were then sent to 3D for stereo conversion and stereo reviews, as well as to Technicolor for the final DI.
Definition: How did you prepare for the digital intermediate?
Technicolor: The workflow supervisor's role was to support the DI Team. He gathered information from the production, editorial and VFX departments, then worked with our DI team to establish the best workflow methods to meet production's expectations for a successful DI.
We had two immediate challenges. VFX Production wanted to use its own ExpeDat server for shot submissions instead of using Aspera Faspex or Shares. The company also wanted to set the colour for its VFX shots, ie make necessary colour changes that worked best for VFX.
It was clear that we needed a plan to streamline the flow of incoming data and a way to track VFX shots and their CDL (colour) values. We asked VFX vendors to submit shots with their CDL values stored as a ccc file-per-shot and to make all submissions available to us.
Together with the magic coding work by DI pipeline specialist, Simon Hargreaves, we built a data automation pipeline that can auto-download any new VFX shots submission package from production's ExpeDat server. Once the package was received, each shot was verified for name, length, format, presence of ccc file and if it's a duplicate version. Any issues were automatically reported back to VFX Production via email. As part of the auto-process, the CDL values per shot were logged into the project's database. These values were then immediately available for injecting into a VFX EDL via our EDL processing scripts and ready for conform. We also set up automation for editorial turnover conform packages, as well as all packages from the 3D Stereo-Conversion vendor.
Definition: What deliverables were requested? What was the process?
Technicolor: Fantastic Beasts: The Crimes of Grindelwald has been mastered at Technicolor for many distribution formats for theatrical and home video, in both 2D and 3D, including:
• 2D Theatrical (Xenon projection)
• 2D IMAX
• ScreenX
• 2D Dolby Vision Theatrical
• 3D Theatrical
(4.5 and seven foot lamberts versions)
• 3D IMAX (special 1.9 aspect ratio)
• 2D Home Video
(2.40 and 1.78 pan and scan versions)
• 3D Home Video
(2.40 and 1.78 pan and scan versions)
• HDR (high dynamic range)
• Home video
 The mastering process began with the digital intermediate for 2D theatrical, during which time the feature was conformed and colour graded. Once the content was approved by the creative team, it was rendered and wrapped into a Digital Cinema Package (DCP), which was then released in theatres for moviegoers to see.
IMAX uses the same files to create the theatrical DCP and go through a process called Digital Media Remastering (DMR), during which the content is modified for the best viewing experience on large IMAX screens.
"We ended up building a system for Fantastic Beasts 2 that was capable of processing original Alexa 65 Raw files at full debayer."
Fantastic Beasts 2 also gets a special release for ScreenX, for special viewing in theatres with additional projection of the left and right walls for three total screens. Additional 'B-Roll' content is pulled and delivered to our ScreenX vendor who works to create additional content for an immersive theatrical experience.
To complete the 2D theatrical deliverables, we also mastered for Dolby Vision. Technicolor is able to securely route content and work directly at Dolby's facilities in Soho Square to do another colour-grading pass on Dolby's extended dynamic range laser projector. Once that content was approved, we rendered out files at a higher 4k resolution, which were delivered to Dolby for them to wrap the Dolby Vision DCPs.
Fantastic Beasts: The Crimes of Grindelwald was shot in 2D and then converted to 3D in post-production. Technicolor worked closely with the Stereography company, Vision3, which works with multiple vendors to converteach shot in the feature from 2D to 3D. After completing the Digital Intermediate for 2D, the process began anew during which the 3D content was conformed and colour graded. In addition to colour, the 3D work required doing a stereo depth pass when the 3D viewing experience is adjusted. Once creatively approved, we repeated the process of deliverables for the 2D elements created. For IMAX 3D, there were also special Visual Effects created that appear to pop out of the screen by coming out of the 2.39 original aspect ratio.
Finally, Technicolor worked to master for home video in both 2D and 3D, which again required a colour grading pass. Our colourist worked to carry the creative intent of the projected image on to the small screen, and also performed a pan and scan for the image to fit the full frame on a standard 16:9 television.
For home video mastering, we once again worked at Dolby's facilities on its Pulsar monitor to grade in HDR, which is moving to become the new standard for home entertainment.
The Pulsar monitor allows for grading at up to 10,000 nits, although limited to 4000 for distribution. The HDR grading allows for a greater dynamic range with more information in highlights and more vibrant blacks. We then rendered the files and sent them to Los Angeles for downstream distribution
 "Fantastic Beasts 2 was shot in 2D and then converted to 3D in post-production."
Definition: Can you explain how your VFX pull software, Pulse, was integrated with the almost 8000 shots that was needed to be delivered to VFX vendors?
Technicolor: Technicolor Pulse was to act as a central portal to store and deliver all shots and frames to each of the film's eight VFX vendors. Over the course of a year, which encompassed a shoot lasting five months and a seven-month post-production period, more than 800TB of rushes stored and more than two million frames were pulled and delivered to VFX vendors through Pulse.
All VFX pulls were ACES Linear EXR plates. We set up Pulse so that VFX editor, Steve Peng, and his team had the option to either pull the plate at the working format, or natively in 6.5K. A few shots were needed from the first Fantastic Beasts film, so we were able to take this media and match it to the working format for the second film.
 We also gave direct access to Pulse to the 3D team at Vision 3. They were able to log in and pull their own drama plates. All deliveries were automated and delivered directly where they needed to go. This saved hours of upload and download time for multiple teams across the project.
Fantastic Beasts 2: 
Aerial Team and Flown Gear
• Director: David Yates
• 2nd unit director: Stephen Woolfenden
• Visual effects supervisor: Christian Manz
• DOP: Philippe Rousselot
• Aerial DOP: Jeremy Braben
• Aerial technician: Oliver Ward
• Helicopter pilot: Giles Dumper
• Locations: Seven Sisters, London; Interlaken, Switzerland.
• Shots: Establishing and location element plates, photogrammetry
• Camera and lens: ARRI Alexa 65, lens 55-110
• Platform: Airbus AS355 Twin Squirrel with Shotover K1