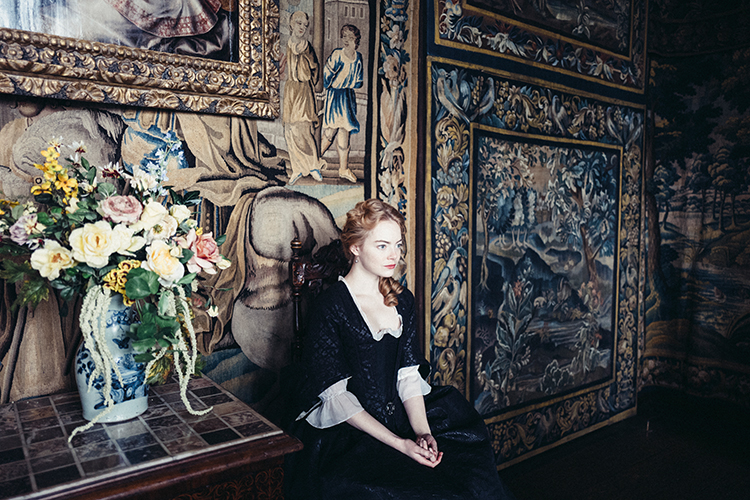 Confessions from a Rental Company 2019
This time last year we ran a rental special. now we revisit the topic to find out what's changed in 2018.
Questions: Julian Mitchell
Definition: What gear has been the most popular this year, and has it surprised you in some cases?
Judy Doherty, Head of Marketing, Panavision US: With the evolution of larger-sensor digital cameras, large-format cinematography is flourishing, and thus has emerged as a popular trend. Additionally, large-format optics with vintage characteristics are also a popular choice for feature and series production. Panavision is renowned for its full line of top-quality optics, including the biggest selection of large-format lenses and anamorphic glass. As demand for these lenses has risen, Panavision has been responding – and will continue to – through our investments in both the restoration of classic lenses and designing new ones with a variety of classic looks optimised for large-format photography. Filmmakers now have more choices than ever before to create new looks, and Panavision is poised to offer a range of solutions for their creative intent, whether it's content for the big screen, television or streaming services.
Danny Howarth, Head of Sales and Technical operations, ProVision: It probably won't surprise you to hear that in the most part, the Alexa Mini has reigned supreme in 2018. However, we have also seen an increase in Raw/4:3 Cameras. Q4 of 2018 has seen a significant further demand for Sony Venice.
Matt Marner, Director, Video Europe:
The Arri Alexa Mini has continued to be our most popular camera this year. We now own over 60 of them and they are continually on hire. New cameras such as the Sony Venice, Arri Alexa LF and RED GEMINI are also performing very well since we purchased them.
Definition: Is customising products or developing products part of your future plans? Is this a new trend for rental companies?
Judy Doherty: When a filmmaker comes to Panavision with a vision, we deliver. That has been the culture since the company was founded. At its heart, Panavision is really a global technology company. From research and development to engineering, and then to the actual manufacturing, and in particular the breadth of technology on the optics side, it's a very strategic, vital part of the company. Depending on the set-up and what is required for a filmmaker to achieve their vision, we can even customise and manufacture accessories and brackets in-house.
The spirit of collaboration is our way of life, and the dialogue between the filmmaker and Panavision's engineers drives almost everything we do. Our understanding of the filmmaking process, supported with our expert engineering departments around the world, make us one of the most fast-moving and proactive rental houses in the world.
Danny Howarth: Providing bespoke and customised one-off solutions is all part of our service; modifications of existing products and finding new and innovative ways to assist production is key for us at ProVision.
Matt Marner: Yes, this is something we'd like to do in the future for sure. I've seen other rental companies do it and it's a great service to be able to offer to your customers: well DOPs to be precise! If you're going to do it though, you need to do it properly with the right set-up which includes personnel, investment and tight relationships with a range of manufacturers.
Definition: The drama market is expanding: are you finding you are investing more into it?
Judy Doherty: Panavision is a full-service, international company that works on everything from big-budget features to student films. Meeting the needs of the production crew is a priority for us, whether it's a short film or a ten-part series for Netflix or Amazon. Our staff have the expertise to understand that, whether they need something as small as an adjustment to some gear or an order that can accommodate and service a global production. Being able to have a group of people behind the scenes that can address any needs that arise is important to us.
And with Light Iron in our fold, we understand the whole process, from pre-production to post. Customers appreciate one-stop services, and a single point of responsibility. By investing in post-production, we have been able to more fully serve our clients, providing a complete portfolio of creative choices and an efficient, seamless experience all the way through to deliverables.
Danny Howarth: The drama market has always been our main focus and speciality for the last 30 years. Providing bespoke packages including camera, lighting and grip kits tailored to suit each production gives us a unique position within the drama hire market enabling us to pass on efficiencies to our clients.
Matt Marner: Yes it is, and in 2019 we are going to be targeting this market with a completely fresh approach: watch this space!
Definition: What large-format equipment are you or have you invested in? How big is this market going to be and how quickly will it grow?
Danny Howarth: We have started and will continue to invest in large-format cameras and glass. Sony Venice, Cooke S7s, Cooke 1.8x Full Frame Anamorphics as a starting point, and also looking at Zeiss Supremes and Arri Signature Primes. I think the rise to full-frame will be a steady one. That said, I believe it is inevitable.
Matt Marner: We've invested in the latest cameras and lenses from all the major manufacturers. I believe this will be a niche market for the higher-end production.
Definition: Is development in the lighting business slowing down? How will apps help? Should all lighting companies be developing apps?
Judy Doherty: As one of the world's largest manufacturers of modern lighting equipment, Panalux, a Panavision company, is constantly innovating, expanding and creating a more user-friendly experience for gaffers and cinematographers.
For example, the Panalux AmphiTubeX1™ is a low-voltage (SELV), portable lighting system that is safe on land and underwater. Containing high-power LEDs, the tubes are specially sealed for use underwater, tested to 30 metres. The convection cooling system allows the tubes to be used wet or dry at full power impressing gaffers throughout Europe and South Africa.
As technology has become more intuitive and reactive, so have lights and the way they are controlled – such as through apps. Apps allow simplified customisation and ease of use, especially on demanding rigs or enclosed sets. The focus remains on the lights and the effect they create, enabling cinematographers and gaffers creative options and ultimate control of their lighting. Ultimately, while wireless control has become very popular, eco-friendly solutions with multi-purpose controls are key.
Danny Howarth: I would say the development of the lighting business is steadily increasing. The increase in controllable LED fixtures such as the Arri SkyPanel range is continually evolving with firmware; therefore the control of such development is having to evolve with it.
The use of more complex DMX, LumenRadio and Art-Net systems on location and in the studio is becoming more commonplace, additionally we've seen greater crossover with entertainment lighting sector. App control is great for single fixture control and further developments from manufacturers are always well received.
Matt Marner: This isn't really our field although we do have all of the latest lights. I think that development has come on leaps and bounds over these past few years so I would say that a slowdown
is inevitable.
Definition: With the move of Channel 4 to Leeds will you look to open more offices in the North?
Danny Howarth: ProVision have been based in Leeds since 1989 and have a very loyal and supportive customer base, having sizeable operations in both Leeds and Manchester we're always looking to expand our operations as the industry increases. Channel 4's arrival in Leeds will hopefully offer us some fantastic opportunities, and we look forward to working very closely with them in the future.
Definition: What kind of equipment do you want to see more development in; are there equipment areas that are lacking?
Danny Howarth: Power generation – being continually reliant on diesel generators for location power is not sustainable long-term. We are currently looking into more carbon-neutral and sustainable sources of location power.
Matt Marner: I think every manufacturer out there has every base covered to be honest with you.
Definition: What are some of the big productions you have worked with?
Judy Doherty: We are honoured to be the rental, services and technology company of choice for some of the most compelling visuals being created by the filmmaking community around the world. Recent projects we've collaborated on range from The Favourite, Black Panther, Avengers: Infinity War, Mission: Impossible – Fallout, Aquaman, Mary Poppins Returns, Destroyer, and Blackkklansman, to Homecoming, The Marvelous Mrs. Maisel, The Crown, This is Us, Will & Grace, Patrick Melrose and Fahrenheit 451.
Danny Howarth: War of the Worlds (Lighting), Mammoth Screen for BBC; Vera, ITV Studios; Victoria Mammoth Screen for ITV; Good Karma Hospital, Tiger Aspect for ITV; The Worst Witch and The Dumping Ground for CBBC; Coronation Street and Emmerdale ITV Studios.
Definition: How do you think Brexit will affect you?
Matt Marner: Not too sure yet, it is too early to tell.