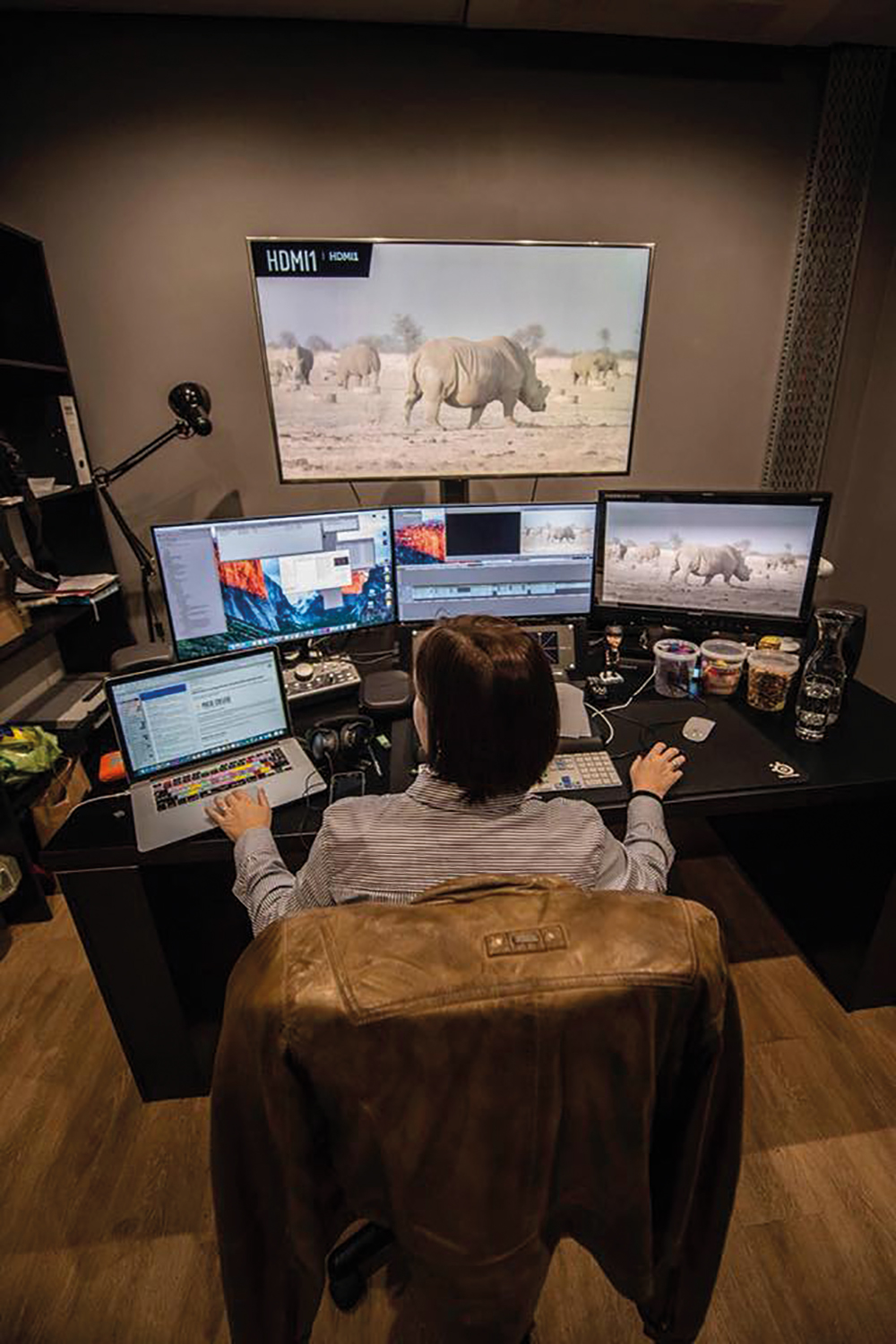 Women in Post
Posted on Oct 10, 2019
As part of our series profiling women in the film industry, we showcase the females paving the way in post-production
---
Words Chelsea Fearnley / Pictures various
Susan Lazarus
Job title: Freelance post producer
Location: New York, USA
Portfolio: imdb.com/name/nm0493841
Recent work: BlacKkKlansman, Inside Man, The Boxer, Only Lovers Left Alive
Susan Lazarus studied art and photography at Stony Brook University and began her career as a stills photographer for the Guggenheim Museum in New York. She was inspired by the camerawork of experimental filmmaker, Ed Emshwiller, and approached him to work as his assistant.
She explains: "I hoped to move into cinematography, but the road for women was extremely difficult at that time. So, I took an apprenticeship syncing dailies and became an assistant to the sound editor on a documentary. This opened my mind to the creative joys of sound and I was subsequently invited to become a producer on Image Before My Eyes, where I directed the shooting of the stills from which the film was based, and was the assistant editor and sound editor."
After joining the Motion Picture Editors Guild and working on large-scale features, such as Reds and The King of Comedy, Lazarus recognised the need for the equivalent of a line producer in post, to help finish films more effectively.
"I approached independent producers with the idea, and became one of the first post-production supervisors in New York," she recalls. "Early on, I worked with the wonderful editors Dede Allen, Thelma Schoonmaker, Claire Simpson, Suzanne Baron, Sarah Flack, Lisa Zeno Churgin and Kristina Boden, so I always felt the strong presence of women in post."
At this stage in her career, Lazarus has worked with many filmmakers who she is proud to support. She's also been active in the preservation of films in which women have had a major creative role through New York Women in Film & Television. Her advice to women in post: "Learn your craft and keep up with technology. Nourish your sense of humour. Persist."
Maxine Gervais 
Job title: Supervising senior colourist
Location: Los Angeles, USA
Portfolio: technicolor.com/maxine-gervais
Recent work: Messiah, The Ballad of Richard Jewell, Between Two Ferns, Night Hunter 
After graduating from Laval University in Quebec, Canada, with a degree in Fine Arts, Gervais found work in a production software company. She explains: "They trained me on the technical side of things and put me on the technical team. This was the first step into my colour journey."
Gervais later received a postgraduate certificate in Computer Technology for Cinema and Television and established an impressive career as a finishing artist. She recalls: "I worked for Discreet in Montreal, then in London for the production of the Harry Potter film franchise. After that, I worked for Pacific Title and MPI, before landing here at Technicolor in Los Angeles."
Gervais has now worked on over 50 blockbusters and critically acclaimed feature films, receiving three Hollywood Professional Association (HPA) nominations for Outstanding Colour Grading for her work on The Book of Eli, Pacific Rim and Alpha, for which she made Hollywood history as the first woman to win this award.
Gervais concludes: "I used to think that women – strong feminist women – would always stick up for each other and be as tight as the 'boys club', but that's not really the case, so don't count on that." Her advice is: "It's important to pay no attention to the stereotypes and just be yourself."
Élodie Ichter
Job title: Colourist at HARBOR
Location: New York
Portfolio: harborpicturecompany.com/artist_post/elodie-ichter
Recent work: Once Upon a Time in Hollywood, The Irishman, Okja, The Hunger Games: Mockingjay – Part 1 and Part 2
Ichter studied editing at École Supérieure de Réalisation Audiovisuelle in Paris. In her last year of school, she discovered the process of colour timing and fell in love with the colouring process.
She recalls: "After five years in Paris, I moved to London for a job as a DI editor at Deluxe. A year and a half later, an opportunity arose to work at EFILM in LA under a colour artist I had collaborated with in my final year of school." That was ten years ago and, for the past year, Ichter's experience has taken her to work as a colourist at HARBOR, where she has been focused on two big projects: The Irishman and Once Upon a Time in Hollywood.
She notes: "For both films, I worked on the dailies as well as the finish, because it was important for the DOPs to establish a look early on. Not everyone can become a colourist, but with more women rising through the ranks, there's a mix of ideas coming to the table. This is also happening with DOPs – when I'm told I'm working with a female DOP, I feel excited. It's a different relationship; it's women holding hands and working on something amazing together, which is still quite unique in this industry."
Brad Pitt as Cliff Booth, a stunt double, in Once Upon a Time in Hollywood, which Élodie Ichter worked on as a colourist
Hannah Melia
Job title: Editor/assistant editor at
LA Productions
Location: Liverpool, UK
Portfolio: laproductions.co.uk
Recent work: BBC Moving On, 5Star Clink 
Melia's continuous work for Liverpool-based LA Productions presents her as an emerging young talent in the industry. Her career began after completing work experience for the award-winning production company while studying film and television at Edge Hill University in Lancashire.
"I worked five days a week over the summer period. And during term time I would work there one day a week. It was a great place to put my knowledge and craft skills into practice," Melia recalls.
Following her graduation, she joined LA Productions on a full-time basis and has already worked on the critically acclaimed BBC anthology series Moving On, as well as new 5Star prison drama, Clink. She received her first editor's credit returning to Moving On for the upcoming season, which is currently in production.
 "For anyone wanting to get into editing, I would say: learn, practise and show initiative," Melia advises. "Use your spare time to practise and hone your craft skills, and be sure that you keep abreast of developments on the software side. Avid Media Composer and Blackmagic's DaVinci Resolve are two tools that feature heavily in my day-to-day."
 She concludes: "Right now, editing is a male-dominated field, and it can be intimidating coming in as a woman. However, the industry is evolving. There's a great range of work from female editors out there – including Star Wars, Jaws, Pulp Fiction, Taxi Driver and Goodfellas. These editors are amazing role models for women starting in their career today."
Daniëlle Nel
Job title: Freelance editor
Location: Cape Town, South Africa
Portfolio: imdb.com/name/nm4693070
Recent work: Tomb Raider, Inside Man: Most Wanted, Samson, Critters Attack!
"In 2001, I started my career as a junior editor at a production company cutting promo videos. I worked a year on minimum wage, cutting 16-18 hours a day for six days a week and struggled to make ends meet," begins Nel. "So, I made the decision to go freelance. I felt there had to be a better way to get into this industry. I borrowed some money and purchased an edit suite. It gave me the freedom to do what I love and move away from promos into broadcast, documentary and, much later, film. And, so the saying goes, the rest is history."
In a career that has spanned more than 19 years, Nel has completed work on major feature projects, including Tomb Raider, Samson and Last Ones Out. "I am blessed working with some exceptionally talented men and women that value my input," enthuses Nel.
She adds: "Of course, it's still hard being a woman in a predominately man's world, but I find people who know me – who know my worth and don't doubt my skills. I also feel that, as a woman, I can bring another perspective when it comes to cutting stories together, so viewers can watch films through another set of eyes."
Alicia Vikander in Tomb Raider, which Daniëlle Nel worked on as first assistant editor
Kaitlyn Cortes
Job title: Freelance editor
Location: New York, USA
Portfolio: kaitlyncortes.com
Recent work: Branded content, Rosa's Esperanza, Sucker, Half Life
A professional freelance editor based in New York, Kaitlyn Cortes always knew she wanted to work in the film industry, but it wasn't until she first began editing that she found her true vocation in life.
She explains: "I decided I wanted to go to graduate school to strengthen my editing skills, as well as be able to work with a variety of people on different projects. So, I ended up going to the Brooklyn College Feirstein Graduate School of Cinema, where I earned my master's degree in Post-Production."
Cortes has now worked on a variety of projects including television, narrative, commercial and documentary. She does her editing using Avid Media Composer, Adobe Premiere Pro and DaVinci Resolve.
She says: "Advice I would give to others who want to work in post is be as involved in the community as you can. Some of my biggest opportunities have come from people I've met or have previously worked with." She concludes: "If they had a good experience working with you, they're more likely to want to work with you again or recommend you to others."
Alexis Guajardo
Job title: Head of TV Post-production at Company 3
Location: Los Angeles
Portfolio: imdb.com/name/nm4113260
Recent Work: The Boys, Lost in Space, Love, American Gods
Alexis Guajardo moved to Los Angeles to find work in post-production. She was initially interested in editing and VFX, but struggled to get her foot through the door of the industry.
She explains: "It was during the recession that I moved, so nobody was hiring at that point. I managed to get a job in client services at Company 3 and, as I began to learn more about what this company did, I started to wonder about colour correction. I was then hired as an assistant to the director of DI for commercials, where I was cultured on the technical side of post."
Guajardo's interest was piqued at this point and she took on film scanning for commercials full-time. After working her way into operations and later producing for a number of colourists at Company 3, she joined the newly inaugurated TV finishing department as the head of post-production: "I was asked, 'Do you want to do it?' and I said, 'I don't really know how, but sure, let's do it'. So, that's where I am now and I've been doing it for four and a half years."
Guajardo concludes: "If I could pass on advice to women wanting to get into the industry, I would say that it's OK to change your mind. A lot of the time, people beat themselves up thinking, 'This is what I chose, this is what I have to do,' but it's OK to try out new things and keep learning – having a wide range of knowledge can work to your advantage."
The Netflix remake of Lost in Space, for which Alexis Guajardo was a producer
Ana de Mier Y Ortuño
Job title: Film editor
Location: Munich, Germany
Portfolio: imdb.com/name/nm3802996
Recent work: The Most Beautiful Girl in
the World, The Three Musketeers, The Baader Meinhof Complex
A committed industry veteran, with credits including 47 Ronin and The Three Musketeers, Ana de Mier y Ortuño studied architecture and was working as a DJ before setting foot in an editing suite for the first time.
"I had no formal training, and no idea what I was getting myself into," she reveals. "I didn't even realise that editors were the ones responsible for the final cut that audiences watch, but once I did, the process fascinated me."
Ortuño took on every opportunity to hone her craft. She went from intern to assistant editor to assistant stereographer, before finally getting her big break. And Ortuño has been cutting box office hits ever since – she was recently nominated for a German Film Award for her work.
She says: "You wait so long to land that big opportunity. And when you finally do, there's always a small element of self-doubt. You end up asking yourself, do I know what I am doing? But never lose confidence in your ability."
Her advice? "Work hard, and be prepared to sacrifice time with family and friends. Always learn to voice your ideas, concerns and suggestions. You're collaborating closely with people for months on end, so communication is critical."
Valentina Riva
ob title: Freelance video editor
Location:  Bristol, UK
Portfolio: thisiscraft.co.uk
Recent work: BBC Natural World, BBC YouTube channel Earth Unplugged, National Geographic The New Boundaries of Dentistry
A Wildscreen Panda Award winner, Riva began her career as a junior editor at a small production company, working on advertising and corporate projects, eventually heading up post-production. She then decided to widen her horizons by going freelance, editing content for clients including the BBC.
She says: "Since I started editing, I have seen an increase in women in the industry. It's still not an equal split, but the numbers are rising, and I'm proud to be a part of that." She adds: "These days, each type of project comes with its own challenges. Some days you'll be working on content for YouTube where you need to condense 70 hours of footage into just two minutes. On another day, it will be a documentary that requires you to craft a narrative that will keep an audience's attention for an hour or more."
Her advice is: "Take every opportunity that comes your way. Remember, each project has the potential to teach you something. Don't underestimate the value of good, strong and clear communication. Don't be afraid to express your opinion. After all, you're the artist. Equally, don't take it personally if at first you are ignored. People will eventually take notice as you gain more experience."
Katie Jordan
Job title: Colourist at HARBOR
Location: Los Angeles
Portfolio: harborpicturecompany.com/artist_post/katie-jordan
Recent work: The Dark Crystal: Age of Rebellion, Suicide Squad, The Hateful Eight
Katie Jordan grew up in California and studied Film at the University of California Santa Barbara, but always felt more drawn to post-production, she says, "because I love being in the edit suite and collaborating on the computer".
After graduating, Jordan followed
her passion and got a job at EFILM, where she began assisting some of the company's
most senior colourists. From observing their craft, she cultivated her own talents and has since worked on a number of acclaimed productions.
Her most recent work at HARBOR includes Netflix's TV adaptation of eighties cult favourite, The Dark Crystal, which is a ten-episode series called The Dark Crystal: Age of Rebellion. Jordan reveals the series was a huge undertaking.
A still from Netflix's The Dark Crystal spin-off series, on which Katie Jordan worked as a colourist
"It blurred the lines between TV and film and was more expansive than any film I've ever worked on. But it's indicative of where the industry is at right now, because TV and film are melding together and the expectation for quality on both is the same," she explains.
Her advice for women in the industry is: "It's important to help each other: promote other women and promote yourself. I think the biggest difference between men and women in this industry is that men are more likely to take ownership. Don't be afraid to say you did something and let others know that you're worth it."
Lily Kleinman
Job title: Freelance picture editor
Location: New York, USA
Portfolio: lilyedits.com
Recent work: Half Life, Maturity and branded content for clients including Adidas, Cosmopolitan magazine, and Mercedes-Benz USA
Born and raised in NYC, Kleinman's interest in storytelling developed from people-watching at an early age. "I recognised film as an important medium for my creativity, often employing my younger sister to perform my scripts to camera," she recalls.
"Directing seemed like my path until I discovered Windows Movie Maker and the art of editing. Directing the performance in the edit felt sneaky and clever, finding the story's true malleability in post. Today, I cut on DaVinci Resolve, however, I'm equally skilled with Media Composer and Premiere. When freelancing, you have to be flexible and have a good understanding of the tools you might come across."
Graduating from the film conservatory at Hampshire College, Kleinman joined Florentine Films as a post-production assistant before pursing an MFA in Post-Production from the Feirstein Graduate School of Cinema. She has now edited numerous episodic, short-form, branded and feature projects, specialising in comedy. Highlights include Half Life and her TV editorial debut, Maturity.
She says: "The best advice ever given to me when I started is now advice I like to give: always leave the ladder down, especially for other women in film. It's tremendously important to help other female filmmakers make connections and find opportunities whenever possible."
Claire Shanley
Job title: Post producer at HBO
Location: New York, USA
Portfolio: imdb.com/name/nm1755555
Recent work: The Plot Against America, The Deuce, The Looming Tower, Divorce 
After studying Philosophy, which she describes as having a "bearing on everything in the world", Shanley began her career working as an assistant editor and editor at Avid Productions. Then, for want of more technical support, she became a field engineer within the company.
"My experience in this role led me to becoming director of technology at THE Tools, and from there, I continued in the same role at Broadway Video, which is known for producing Saturday Night Live."
Shanley then founded Sixteen19, a post facility based out of the Brill Building on 1619 Broadway. After launching in more locations around the US and in London, she decided to move into television, where she started producing. She explains: "I've always loved editorial work and, as someone who's interested in form and how systems influence storytelling, as well as everything from the logistics of workflows or how VFX integrates into the cut, post has always been my area of expertise. I think a lot of people don't know that post-production is a job,
but all of these worlds are so integral to what we do."
She emphasises that getting into the industry is all about playing the long game: "A lot of people expect immediate results – New York is busy right now and you can move up more quickly – but it's about showing you care and that you're invested in the outcome of even the mundane details, because post is all about the details."