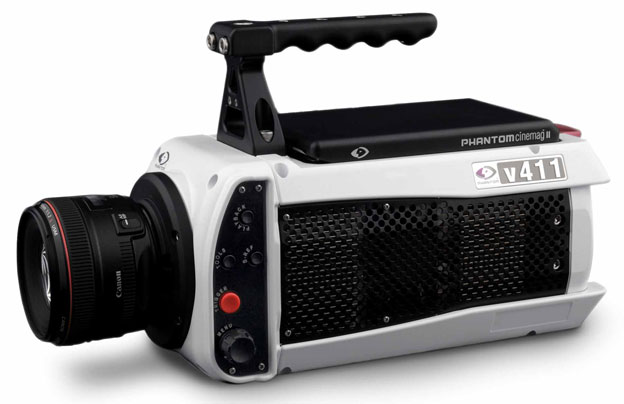 Vision Research Launch New Slomo Camera For Non-Broadcast Markets
Posted on Jun 27, 2012 by Alex Fice
The new v411 isn't high definition so is bound for non-broadcast markets like explosives testingVision Research who make the Phantom range of high speed cameras have added a new one to their one megapixel (Mpx)-v-Series line of digital high-speed cameras, the v411.
Bucking the 'all high definition' new product trend the v411 has a top speed of 4200 fps at a full resolution of only 1280×800 pixels. Although its CMOS sensors and have larger 20 micron pixels that allow better shooting in low light, which is often an issue with high speed imaging.  The camera is bound mainly for the scientific research, product development, ballistics, explosive testing markets
Features include Phantom CineMag compatibility for on-camera storage and long record time applications, an image-based auto-trigger functionality and an internal capping shutter for hands-free and remote black references.
Additionally, for the first time ever, Vision Research is offering upgrades within the Phantom 1 Mpx v-Series camera family.  Now users with a limited budget can buy at the low end and upgrade performance later.  Upgrades are available for the v311 to the v611 or the v411 to the v711.