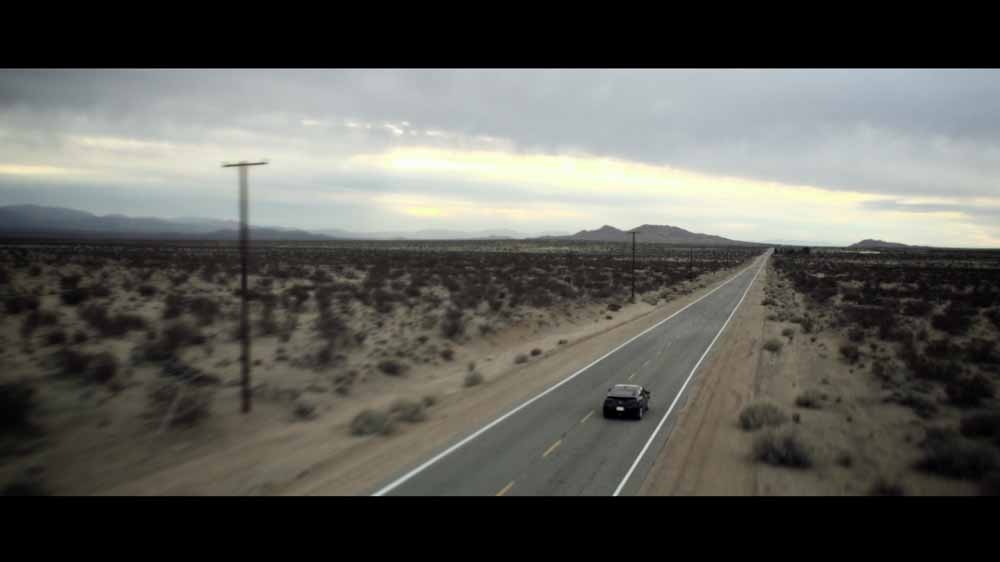 Zombie Shooter
Posted on Jun 27, 2012 by Alex Fice
Although a self-styled 'Digital Kid', film is still a love of Soskin'sIdentified for the Hollywood fast track Director Josh Soskin has just had his Zombie Ride short bought by General Motors for their Chevy VOLT commercial. Herald a Canon 5D Super Takumar Zombie Apocalypse. By SIMON WAKELIN
Californian filmmaker Josh Soskin hit the commercial airwaves in Europe recently when American manufacturer GM purchased his apocalyptic spec spot Zombie Ride to advertise the Volt, Chevrolet's first generation gas-electric car.
Created deep in the California desert Zombie Ride exemplifies Soskin's signature style, one that employs cinematically inspired visuals, engaging music, subtle sound design and spot-on casting. The work also highlights how a fully-kitted EOS Canon 5D Mk II with old school glass became instrumental in creating a specific look that accentuated Soskin's creative ideas.
Zombie Ride features two terrified chaps driving away from a zombie apocalypse in the middle of the desert. The situation looks dire as they chug to a halt, out of fuel in their gasoline guzzler. Terror ensues as they exit the vehicle, vociferous zombies closing in for the kill. Suddenly a Chevy Volt zips up next to them, steered with perfection by a stunning British babe. Astounded, the men jump in and speed away from the clutches of the Undead.
The spot was shot over two days at the El Mirage Lake, a dry lake bed deep in the Mojave Desert in California. Soskin directed while cinematographer Rob Hauer lensed the action.
Zombie Ride was shot using the Arri Alexa and EOS Canon 5D Mk II digital cameras, the latter lending a vintage feel to affairs through the use of old Super Takumar lenses: a hybrid set up of 28mm f3.5, 35mm f2 and 50mm f1.4's attached to the body of the 5D with a Pentax M42 screw mount. The set-up successfully captured footage displaying beautiful flare and creamy tones.
"The appeal of the Canon 5D with old vintage lenses is sexier than any HD camera that shoots a raw format and depend on colouring to get their style," notes DP Rob Hauer. "Plus it was maneuverable. I would grab the 5D and begin shooting beside the Alexa (while Scott Dropkin was operating the A camera Alexa). Or Josh and I would run off together and shoot bits with the 5D while the Alexa was being built in the morning. It wasn't just that Josh would run off with the 5D when I was shooting the Alexa. Josh and I would always team up together on each shot."
Director and DoP shooting with Arri's ALEXA, Rob Hauer with ALEXA, Josh Soskin pointingLighting throughout the shoot was achieved using available light, primarily bounced off an 8×8 frame of unbleached muslin to better match the warm light coming off the desert sand. HMIs were also used in select scenes when the sun was lacking, or very low on the horizon.
Meanwhile, the Arri Alexa rolled with Zeiss Super Speed Primes and a 300mm Canon. "We used the strength of both camera in ways that made the commercial better," says Soskin. "To have the Alexa around for big wide shots and high speed shots was perfect – especially where you don't have that kind of trust in a DSLR. But the Canon became the obvious choice because of its availability to run-and-gun and capture handheld stuff. Plus we absolutely loved the look of the Canon footage right out of the camera."
The EOS Canon 5D was adorned with a Red Rock Micro 'Captain Stubling' DSLR bundle, a kit designed to put the camera everywhere while staying light. "The Canon allowed us to get into places where the Alexa would never go," says Hauer.
Immediacy reviewing footage in bright desert terrain would have been virtually impossible on the Canon 5D were it not for another addition – the Zacuto Z-Finder Pro 2.5x. "It clips on the back and darkens everything down so you can easily adjust the focus and exposure in bright light," adds Hauer.
While Soskin and Hauer loved the pristine quality of Alexa footage both admit that the EOS Canon HDSLR led the way. "We just loved the quality of those lenses," says Hauer on the Canon/Takumar combo. "HD sensor technology is so clean and sharp that we ended up gravitating toward something that gave us what was essentially missing: optical imperfections projected on the chip from lenses almost 50 years old."
Soskin admits to being a devoted digital filmmaker. "I'm definitely a digital kid," he quips. "Just from the standpoint of not breaking the flow of a great performance I really appreciate it. I put the actors before anything else."
That's not to say he doesn't appreciate celluloid. Soskin's short film Moving Takahashi was completely shot on Kodak film (again with Hauer behind the camera).
Of more importance than recording medium is, "…character and story because that's what informs the audience, not the camera," says Soskin. "What any good director does is secure great performances from their actors. On Zombie Ride we didn't have traditionally trained actors, but they were fantastic and gave me everything I needed."
Soskin also notes his ongoing camaraderie with Hauer as a huge part of making compelling films. It's a partnership that allows both men to experiment. "Our creative experimentation transcends the usual working relationship that a director and cinematographer share," says Soskin.
"We embrace different optical choices and create many visual experiment," adds Hauer on the pair's working relationship. "Josh is also great because his approach to directing is all about efficiency and very similar to documentary filmmaking."
Soskin's documentary approach can be traced back to a stint at Current TV, a progressive media company led by former U.S. Vice President Al Gore. Soskin began directing at the network, cutting his teeth on documentaries covering global issues for its youth-oriented audience. Modern Day Pirates first garnered Soskin national acclaim, a penetrating look at pirating along the notoriously dangerous straits of Malacca.
Soskin then co-found Houseblend Media where he shaped other commercials that have won him much acclaim including Detention for Microsoft, a Grand Prize winner for Microsoft's commercial competition at the Tribeca Film festival.
Treasure for Glaceau vitamin water is yet another gem, a warm frolic in the Pacific Ocean aside two surfers who come face-to-face with a stunning mermaid. Treasure collected top prize for Glaceau's commercial competition at the Cannes Lions Ad Festival and showcased in theatres across Latin America. Java giant Starbucks have also benefited from Soskin's eye with Journey, an in-store promotional short unveiling the journey of coffee beans from the fields to the brew.
After two short years of directing, Soskin is jazzed to have sold Zombie Ride to GM. In terms of the commercial's creativity and branding, he notes that it's a subtle sell – but one that plugs the audience directly into Volt's identity, an electric car than never lets you down.
"I don't want viewers to feel as if they are being marketed to," explains Soskin. "You'll notice that the Volt stays hidden until the very end of the spot. If you show too much product audiences don't care. They need to love the story and understand the sell in a fun and exciting way before they identify the brand."
With the success of Zombie Ride comes another new adventure for the Californian filmmaker. In the past few weeks news broke that Soskin has signed with international production house STATION FILM.
"Here is a director who has the ability to embody a brand's core values and respond to the spirit of our times," explains STATION partner/ exec producer Michael Di Girolamo on the Soskin vibe. "Zombie Ride perfectly illustrates this. It's work that triggers an emotional response in the audience and plugs them directly into the heart of the brand."