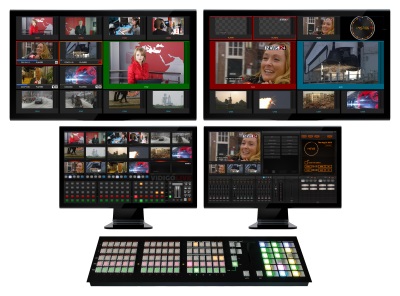 VidiGo will reveal world's first cloud based live multi camera production workflow at IBC 2015
Posted on May 8, 2015 by Alex Fice
The world's first cloud-based multi-camera live TV system will be seen at this year's IBC Convention.
A cloud-based live production workflow is difficult to achieve but a working product could change the game of live TV production and potentially halt the need for OB trucks.
VidiGo's R&D lab has demonstrated the first streaming multi-viewers and streaming controlled user interfaces of their software based live TV production workflow, called VidiGo Live. They promise extremely low latency and with that live remote production could become a reality. This new breakthrough technology will be a game changer in Outside Broadcast, regional television networks and the registration of sport events.
The technology is quite similar to the latest innovations in the gaming industry, like for instance the OnLive Game Service, just acquired by Sony. VidiGo developed a similar technology, optimised for the broadcast industry. They create streaming proxy's with full control over latency, bandwidth usage and image quality, creating a workflow that is really suitable for TV production.
"Now we have both the visual feedback from the cameras fully streaming and the UI streaming, we can really say we have created the first Cloud Service in live TV production." Said Peter IJkhout – CTO VidiGo. " I am convinced that this will create a complete mind shift in TV production, especially in the mid-end market. If I were responsible for production, I would not invest in a new OB Van anymore. That really comes to an end real quickly."